SOME SPOILERS AHEAD.
It's makeover week! Perhaps the most anticipated episode of every cycle of America's Next Top Model aside from the finale, when we find out who wins. It's always exciting to see the new looks the girls get and to see who freaks out over getting their hair cut or dyed or touched in any way. And this season did not disappoint. But before we get there…
At The House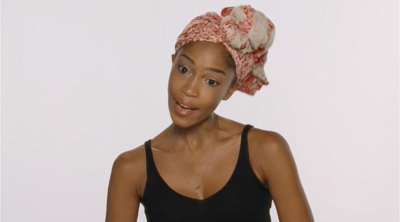 Drama. Again. As if there never is. And this time it's from Christina. I'm honestly shocked that it took her this long to cause drama in this house – or at least be at the centre of it – considering how she conducted herself during the auditions and what happened there. I still think that people misunderstand her to a certain degree. I mean, she was right that it was rude for Sandra not to apologise after bumping into her. That being said, how she expresses herself is problematic. She comes off very curt and short; like she's verbally goose necking.
The Makeovers
Coura is so perfect that she got nothing done. I prefer Brendi K. with a buzzed head; she's so much prettier. Rhiyan doesn't look much different or elevated to me. In fact, she looks like a singer and not a model. Kyla looks so much better after her makeover; she doesn't look like a child anymore and it actually boosted her sex appeal. I love that Law and Drew were there for Jeana and that Law held her hand during the makeover. It was so touching I teared up a little. Her makeover was the most impactful and moving. She was always beautiful, I always loved her facial features and losing the wig puts all of the focus on them.
Sandra looks more refined and like a model. Christina didn't get much done expect a change of hair colour. It suits her skin tone, though. I just wish that she wasn't tilting her head downward and looking angry in her makeover photo. I thought Liberty was going to get a very red colour, but this auburn-ish ginger looks so amazing on her. Pardon the pun, but it is fire! Law was right, she no longer looks like a small town girl from Idaho. She looks incredible. Erin's look I don't think did very much for her; she looks the same except with wavy hair.
Rio looked like a cool soccer mom with her before look and now with this one she looks like a singer, but it also ages her a bit. Her looks just doesn't impress me at all. I prefer Ivana's look before; this one does nothing for her face and it doesn't help that it looks like it wasn't combed thoroughly. Liz looks like a rock star…and Betsy Johnson. Khrystyana's look certainly exoticises her, but I'm not sure that it elevates her. Shanice, like Coura, got nothing done but that was because she has psoriasis and couldn't get a sewn in weave.
The Video Shoot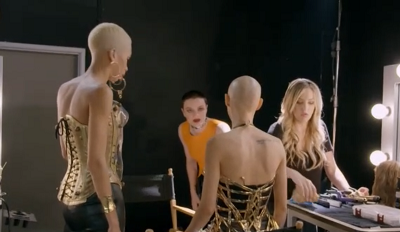 These girls turned it out on set for these videos. The makeovers seemed to have boosted their confidence – except in the case of Brendi K. – and they looked so good, sexy and strong. At least some of them did. As with every shoot there were some girls who just didn't deliver.
I didn't agree with Drew about Rhiyan. I liked what she was doing and she looked gorgeous. I did agree with him about Ivana though. He summed it up perfectly when he said that she was a hot mess. She had no rhythm, her movements were jerky and she was just all around awkward. Showgirls was not a good reference. Shanice looked confused about being in front of a video camera. She moved like she thought that she was doing a photo shoot.
Brendi K. didn't have any rhythm either. She didn't look comfortable and like she gave up before she even got in front of the camera. She let the makeover get the best of her. The worst person she could have complained to about it was Jeana and Rio gave her such a positive pep talk and said, to me, all of the right things to make her feel powerful and beautiful. Unfortunately, Brendi K. just wanted to wallow in self-pity.
After the shoot, my two people to go home were Ivana and Brendi K.
Judging
Jeana's video wasn't particularly fierce to me. Pretty, but it lacked that extra something to make it really "wow." Liberty's video was energetic and sexy; in a word, spectacular. That hair flip was amazing and she kind of looked like Kesha. Rio didn't look attractive in her video to me; that mean mugging did her no favours. Christina in her first two shots looked hot, in the third she looked boring and in the last one just weird. Coura definitely channeled Grace Jones, but her crazy faces were a little over the top. She could have reeled it in some. The first shot was boring as Tyra said, but I think that the last one was kind of sexy.
Shanice's reel was boring and low energy. She did the same face in all of them. I agree with Tyra about Khrystyana; her's was boring as well and the only great shot was when she pushed off of the wall. The mouth hanging open was unattractive, though. Brendi K.'s was surprisingly good. She looked really sexy and confident. Kyla's was "meh" for me. She looked beautiful, but she wasn't giving anything. Sandra's was boring, yes, but she looked like a model.
Rhiyan looked kind of lost to me. Erin was h-a-w-t HAWT! Liz looked like she described herself; a cartoon character. But it worked. Her video had energy and a lot of personality. The pouting was a bit much, though. Ivana looked confused. Her was not good at all.
Seeing all of the girls' videos, Ivana was the one I had pegged to go home…
The Elmination
…and she was. I was afraid that Shanice was going to be sent home. She was saying for the entire episode that she would be and every time she said it, I said that she wouldn't be. I was just very confident that she would be staying. I think the right person was sent home.
Random thoughts:
Seriously, are their looks in the opening their makeovers?
Lol Liz was looking at Law and Drew like she wanted to bone them.
Wait, so where did the looks in the opening come from?
America's Next Top Model airs Tuesdays at 8PM on VH1.
Tell us how can we improve this post?