SOME SPOILERS AHEAD.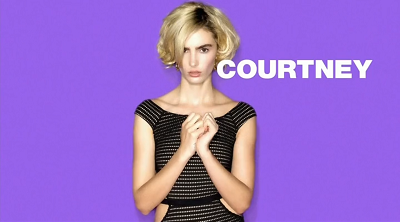 This episode more or less revolved around Courtney. Depending on how you felt about her before and how you feel about her now, that was either a good thing or a bad thing.
For me personally, the way she was presented in this episode really made her look like the snake, professional victim and attention whore that Tash has been saying she is. Courtney has pretty much been positioned as the villain in this cycle…I would have expected that to be someone like Marissa or maybe even Binta; because of how bitchy the former has been and the aggressive, confrontational nature of the latter.
In this week's challenge, the girls  were paired off and given thirty minutes in which they had to create Snap Chat stories with a message, while modelling lingerie in the streets of New York City. This was the beginning of Courtney's villain arc. She was paired with Binta and her behaviour was less than admirable. Binta being Binta (read previous paragraph), she didn't help the situation and neither of them were being particularly cooperative, but it was the fact that Courtney did not participate in Binta's video but insisted that Binta take part in hers that did not do her any favours.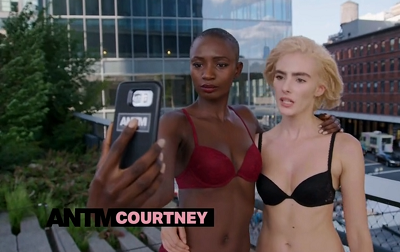 And then of course, Courtney won the challenge. Which to anyone with eyes – and certainly it was to Courtney herself – should have been a shock. Courtney's video was one of the worst of the bunch. Marissa, Kyle, Paige, Tash, Cody and Binta herself all had videos that were better than Courtney's by far. Courtney lacked energy and personality; she was flat, boring and lifeless and the frustration she felt during the challenge was more than evident. Her performance was terrible. She won purely because of her message and I agree with Binta to some extent; because she had a black person as her "prop." Binta did nothing but stand there and look pretty. I understand that it was Courtney's video and she was to be the focus, but she could have involved Binta more.
I don't appreciate how Binta came at Courtney on the way back to the house (at some point her role as the angry black woman in this house is going to get old), although I do think that it's time someone got on Courtney for her behaviour.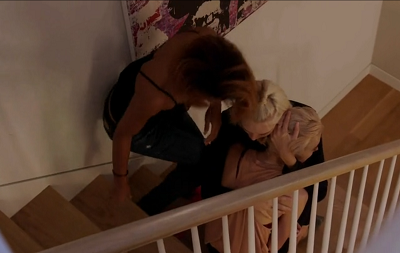 It's interesting how after the not-so-warm reception Courtney received from some of the girls the night before, she found herself falling on the stairs and hurting her head, back and arm the next day. It's even more interesting that none of the girls in the house saw it and what's the most interesting thing about this little event is that we, the viewers, didn't see it either…
The photo shoot this week was centred on social media as well, the platform this time was Instagram. The girls went to a Paper Magazine party and served as each other's photographers; they were tasked with taking photos throughout the night and choosing three photos that told a story.
By the time judging was half over and they'd started calling out the girls that were staying, I'd forgotten about Tatiana, Giah, Binta, Marissa, India and Courtney's photos. Their photos were good but clearly not memorable. I loved Paige's photos; she was the centre of attention and her poses and face were flawless. I agree with Law about Tash's photos; I didn't like anything about them and they were boring. India didn't look like a model in her photos; she looked like some random girl at the party. Kyle's were awesome but she was lost; I had to look for her in the last two – my eye didn't immediately catch her. Coryanne faded into the background in hers; they were bland.
They truly saved the best for last with Krislian. Her photos were amazing! She really brought it this week. Her photos were stunning, the last one especially. I could see that one in a magazine, on a billboard and as part of a campaign. The judges' reaction was hilarious and I agree with them wholeheartedly. She really stepped up her game and I couldn't be more proud of her or any other contestant this cycle. I am so glad she was called first.

I find myself consistently disagreeing with the judges about who is sent home. Tash was far more consistent than Coryanne. Yes, her photo last week was great, but Tash has been the stronger competitor and has delivered better photos than her every week. Tash should have stayed.
Random thoughts:
Giah does not look like a model at all, not in photos and not when she's just hanging around normally. She's just pretty, there is nothing interesting or edgy about her look.
I like Rita as host, she does a good job. The judges still don't stand out or have made an impression. At this point I'm glad I see very little of them. They're not as great as Nigel, the Jays, Janice or Kelly.
DJ Khaled needs to have a major role on this show next cycle. He has so much energy and personality.
How is it that this cycle stresses the importance of social media but they've gotten rid of the social media aspect of judging?
First time I agree with the order Kyle was called in.
I would have called Paige second and Binta third.
America's Next Top Model airs Mondays at 10 PM on VH1.
Tell us how can we improve this post?