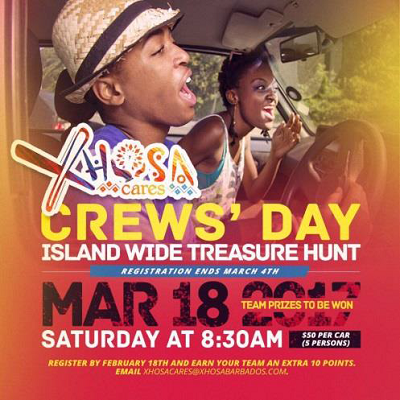 In March 2017, XHOSA CARES, extends its outreach, to engage the community in a fun Team Challenge. Gearing up for the summer season, Xhosa Barbados capitalizing on the Carnival excitement just ending, introduce the XHOSA CREWS TREASURE HUNT, a new XHOSA CARES Initiative.
With a mission to revolutionize the Crop Over Festival, two years later, XHOSA BARBADOS has not failed to deliver. Using their brand of excellence to raise awareness of Barbadian heritage; an appreciation for Barbadian culture and creative talent and funds for social causes and the sense of Charity in us all; they redefined Crop Over's impact on general society. In their inaugural year, they supported the Diabetes Association of Barbados, in 2016, the Precious Touch Foundation's 'Make a Wish' programme and launched a section with a Barbadian designer, showcasing homegrown talent.
Registered teams armed with clues will be on an Islandwide Treasure Hunt Adventure, on and off the beaten track for prizes. In the true Xhosa spirit, 'We don't Pose We Party' with our crew, it will be a day of friendly competitive camaraderie, with a quest to win big for their favourite charity.
The Treasure Hunt starts at 8:30am on Saturday March 18, 2017 and ends with a Crews' Lime and Prize Giving Ceremony from 2p.m the Vaucluse Raceway, St. Thomas.
The First Xhosa Barbados' Crews Treasure Hunt is powered by the support of; Barbados Public Workers Cooperative Credit Union, Slam 101FM, Digicel, Burger King, WIBISCO, Stoli, Banks, Atlantis Submarines, N2N Make Up Artistry, J&S Fitness, Jammin' Cruises, Bansuri Spa, Automotive Arts, Blades Trophies, Shine Automotive, Dare to Bare, Express Bikini, Roast, Jammin Cruises & Glitz Entertainment.
For further information and to confirm your joining on Saturday, contact Coordinator, Ms. Niara Fraser at info@xhosabarbabados.com or at telephone number (246) 255-1028
Tell us how can we improve this post?