SOME SPOILERS AHEAD.
For fans of The CW's Reign who are feeling the loss of their favourite series based on the life of a British historical figure, that plays fast and loose with historical accuracy, amps up the melodrama and is filled to bursting with very pretty human beings, this may be the series to fill the void.
This doesn't have as enthralling an opening episode as the aforementioned series about Mary Queen of Scots. Not one that leaves you eagerly anticipating what the rest of the season – and the series – has to offer, but it's captivating enough to persuade me to give it a few more episodes before deciding if I like it and will stick with it. As I said in my recap preview, the whole concept is intriguing.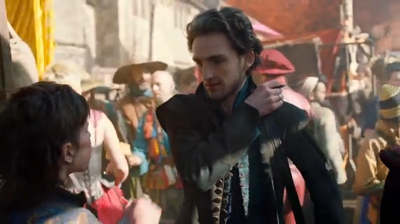 Will makes his way to London with his big dreams of being in theatre, leaving behind his wife and three children. He's immediately duped by the beggar child Presto, who tries to steal his money. I honestly thought that he wouldn't have been, he seemed to have been totally aware of what was happening. Then Presto seemed to genuinely want to show him where the theatre was once Will mentioned that he was going there. But nope, he took Will to an execution instead and then pick-pocketed him while Will was distracted by flashing back to another disembowelment he'd witnessed as a child.
But Presto stole a rosary Will had hidden in a handkerchief (and a letter he was to give to a Catholic relative) instead of money and steals the letter from Will who is himself a Catholic. I didn't at first understand why Presto took the letter until much letter when he tried to use it to curry favour with Topcliffe, a fervently anti-Catholic and anti-theatre Protestant priest who is immediately despicable. Truly, I hated the man within the first sentence that come out of his mouth. Presto too, really, since he tried to out Will.
So far I don't actually care about Will as a character, not deeply, but I do cheer for him and want him to succeed. I dislike Presto for selling him out to Topcliffe. Presto is a bit more sympathetic than will, though, since he's a child and a beggar who only wants to have enough money so his sister can stop prostituting herself – hence why he went to Topcliffe. As much as I felt for the boy, I was still happy that Topcliffe proved to be every bit the a-hole his first appearance promised and didn't pay Presto for the information as the child had expected he would.
I understand that given his lot in life, indirectly being responsible for someone's death means little to him and Will was a total stranger but still, it was a crappy thing to do. He led Will to the public execution of a fellow Catholic and was perfectly fine with setting him up to meet the same fate!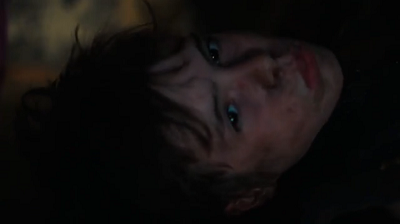 A scene that didn't work at all for me was the one in which Presto hid under his sister's bed as she serviced a client. Up until that point the show had been doing a good job of making him sympathetic but in this scene it just felt melodramatic and forced. The show was trying way too hard to make us feel sorry for him and the acting was painful to watch (his pained expression and thrashing about as he overheard). Presto cutting himself on an arm riddled with cutting scars was the icing on a terrible scene that didn't resonate in the least.
Perhaps the most intriguing character so far is Christopher Marlowe. He at first seemed upset about Will writing a play that was advertised as having been written by him and a little jealous. In fact, I assumed that he had planned to hand him over to Topcliffe to get rid of a rival. But once he saw the play he changed his mind and offered up someone else as Will instead. It's fascinating watching him be that much of a contradiction and it should be fun trying to figure out exactly what he wants, how he thinks and what he's trying to do.
Will has no idea how close he came to being executed or that Marlowe was behind it. I look forward to him finding out and seeing how he will react. The trailer makes it look like Marlowe will take Will under his wing and introduce him to the wonders of celebrity and success, perhaps even be a bit of a mentor to him. So if that becomes their relationship dynamic, it makes Will discovering the truth more exciting.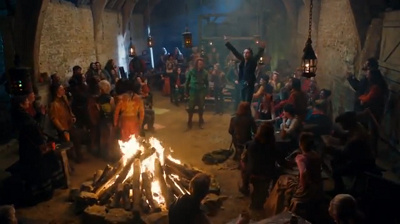 I do like that the characters speak in a way that at the very least resembles the kind of speech used in Shakespeare's works. It makes the dialogue more interesting to listen to.
Speaking of Shakespeare's works, there are a few nods to them here and the people in his life who will, by the show's account, inspire them. Like his love interest, Alice, dressing as a man to walk the roads safely at night. A clear reference to Portia and Viola and Nerissa from Twelfth Night and The Merchant of Venice, respectively.
As for Will's budding relationship with Alice, I don't really buy it. I don't feel any chemistry between the two as yet. Her feelings for him are more obvious in that I didn't feeling anything coming from him at all.
Overall, I liked this episode and will continue to watch the series for the time being.
Random thoughts:
I love that this is basically a rap battle.
You have a wife Will! And kids!
It's a miracle the Watch didn't hear Alice laugh.
Will airs Monday at 9 PM on TNT.
Tell us how can we improve this post?