HBO finally dropped its long anticipated Sci-Fi western epic "Westworld" this week; which means viewers, we have much to discuss. To say expectations were high for this particular series would be putting it mildly, after all some media outlets where predicting it would be the next "Game of Thrones". Right out the gate, it's not, however what it does have is the perfect mixture of ingredients to make it a show to follow closely.
So brief overview of the episode- we start off in a small town where a young woman named Dolores says goodbye to her dad and rides away to a local shop. She is an innocent girl who loves the small community of which she interacts with. Little does she know that the man she misses, Eddy, is now back in town and looking for her. After finally meeting up with her, they return to her home to be then killed by a gunslinger (Man in Black). Yes in the first moments of the show, the main protagonists die. The Man in Black is apparently just a visitor to this adult themed amusement park, a visitor who kills and tortures these "hosts" for information. To what end? Later episodes should shine more light on this.
Westworld itself seems to be a well thought out theme park where any customer can play out their wildest fantasies . Want to have wild sex with a saloon girl? Want to rob banks and get away with it? Anything at all you desire, Westworld can make come through just for you. For a price of course. The robots "hosts" who inhabit this world are very human-like, for some they might be too human.
Behinds the scenes of this futuristic theme park we have the head of the Programming Division, Bernard Lowe, played by Jeffrey Wright. By far the most prestige actor in this series is of course Sir Anthony Hopkins who plays Robert Ford, the founder and chief of Westworld. The "hosts" are his very creation and during the course of the episode he hints towards having a bigger agenda later in this season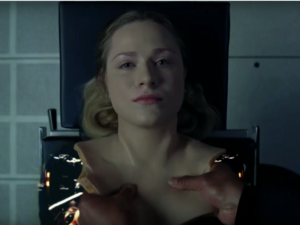 So what worked; the performances for one were flawless as expected, even though one could argue nothing much happened in this episode. Jeffery Wright was on point, showcasing a man who loves every aspect of his job, especially when the programs in these robots go beyond his expectations. Ed Harris' character as the gunslinger was truly terrifying. His cold collected demeanor, coupled with his fantastic outfit, created an air of uneasiness about him whenever he was shown on the screen. He was the T-100 this series needed to push this plot along, this plot that so far is a slow burn.
It's that slow burn that holds the first episode down so far- since it's strictly relying on the intellectual strengths of the script, it leaves it lacking heavily in action which it needs. The plot and characters have a lot of weight, which can be a good thing; however it needs more to retain viewership rather than just a lot of science deep dialogue.
This to remember from Episode one of the first season:
Boobs are every where.
No superheroes in this world?
Who takes care of the pests problem in this world, fleas are everywhere.
The promo for next week episode is located below
Tell us how can we improve this post?