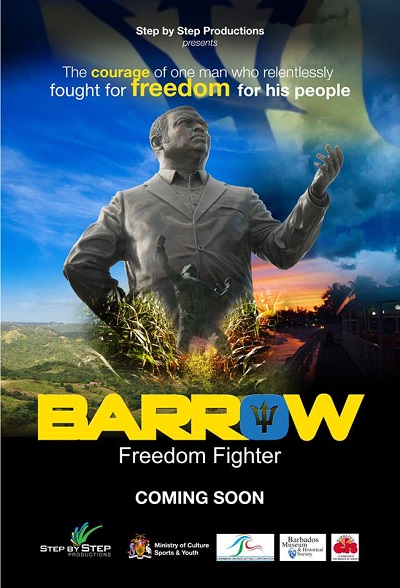 Step by Step Productions has released the trailer for the film Barrow: Freedom Fighter.
Written and directed by Marcia Weekes, the creative force behind such Barbadian films as Hush (1, 2 & 3), Chrissy and Vigilante, the film stars Adrian Holmes, Lisa Arrindell Anderson, Robert Riley, Sean Michael Field, Stetson Wiltshire, Mac Fingall, Ronnie Morris, Anderson Armstrong, Ronnie Clarke, Adrian Greene and Tony Thompson.
The docudrama was made in celebration of Barbados' 50th year of independence and focuses on the Caribbean island's first Prime Minister, The Right Excellent Errol Walton Barrow. Barrow served his first term as Prime Minister of Barbados from November 30th, 1966 to September 8th, 1976, and again as the fourth Prime Minister from May 29th, 1986 to  June 1st, 1987 when he died suddenly.
In 1998 he was named one of the country's ten national heroes by an Act of Parliament.
Barrow: Freedom Fighter will premiere on November 26th, four days before independence, at Limegrove Cinemas, with a red carpet reception beginning at 7 PM. Tickets to the premiere are currently on sale. Visit the film's Facebook page for more information.
Watch the trailer below.
Tell us how can we improve this post?