Voting has closed for this year's International Bashment Soca Monarch competition and we finally know the twelve finalists moving forward to challenge reigning monarch Lil Rick for the title. As with the announcement of the semi-finalists, the finalists were revealed on 98.1 F.M. The One, HOTT 95.3 F.M. and Slam 101.1 F.M. at 3:00 P.M. today, as well as the Yello Barbados and International Bashment Soca Monarch Instagram pages.
Once again, Barbados is widely represented in the competition, with three-quarters of the finalists hailing from the island. The other three finalists hail from Guyana, St. Vincent and the Grenadines and St. Lucia.
The twelve finalists are:
Blaze Anthonio – "De Forenah"
Jagwa – "Bounce"
King Bubba – "She Always Bend Over"
Mara Rose –  "Handle It"
Marzville – "O.M.G. (Oh My Gosh)"
Mole – "Deh Wid Um"
Sita D Lyrical Diva – "Twirl"
SK – "Reverse"
Subance & Mighty – "Two Clap"
Underdawg – "Ben Over"
Sugahrhe – "Press My Button"
Walkes – "I Waan Meet Meat"
The competition and beach party will take place on July 6th at Pirate's Cove. The winner will walk away with $60,000, second place with $15,000 and third place with $5,000. All performers will be paid an appearance fee. The beach party will be headlined by International Soca Monarch Mr. Killa. Tickets are on sale. See the image below for ticket outlets.
Follow International Bashment Soca Monarch on Facebook and Instagram for updates and more details.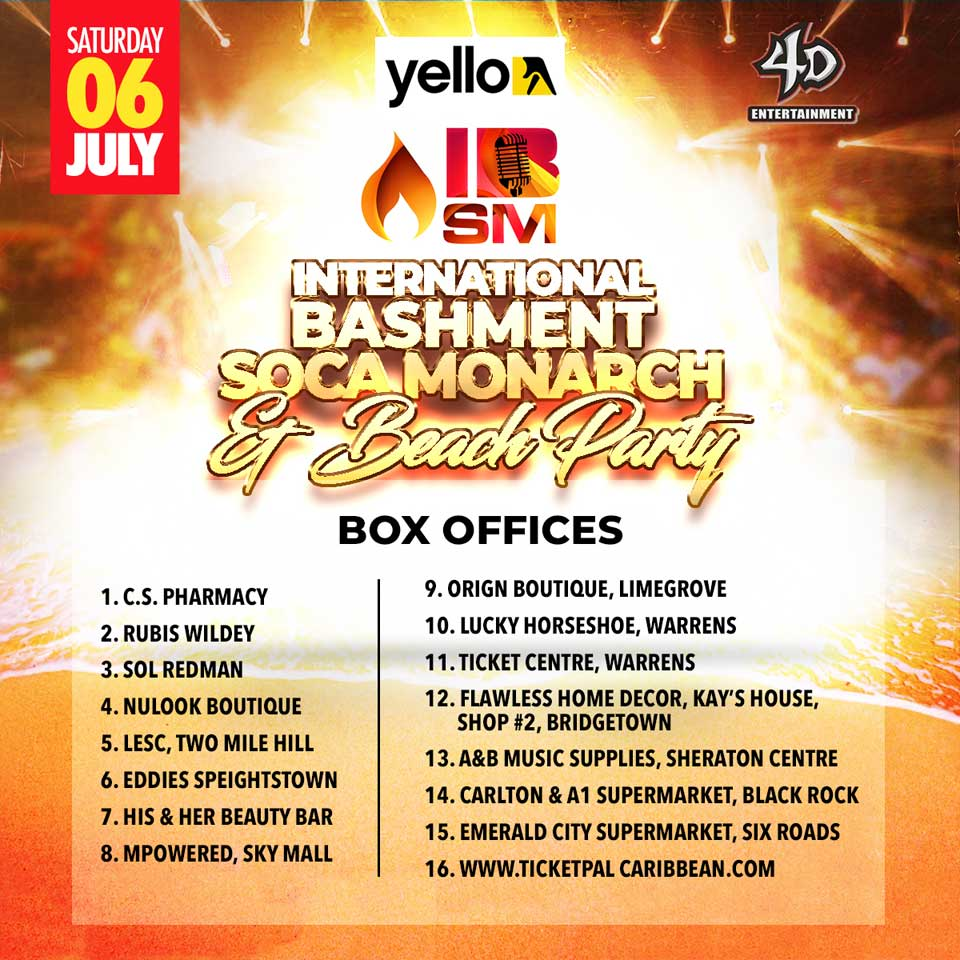 Tell us how can we improve this post?