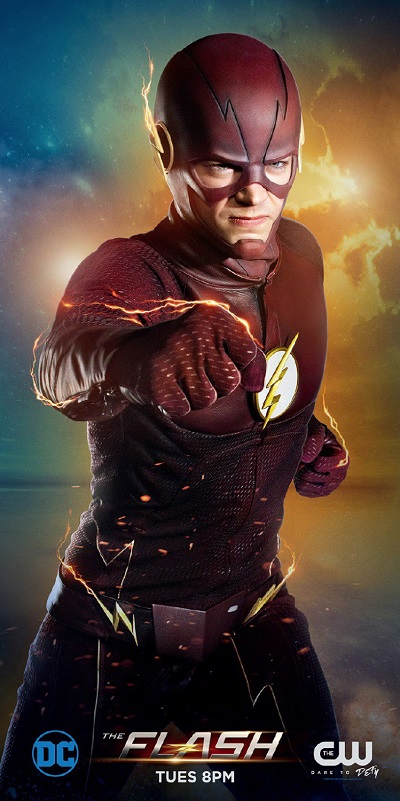 Premiere Date: January 24th
Network: The CW
Cast: Grant Gustin, Candice Patton, Danielle Panabaker, Carlos Valdes, Tom Cavanagh, Rick Cosnett, Jesse L. Martin, Keiynan Lonsdale, Tom Felton
Synopsis: His name is Barry Allen and he is, at present – and once again –  NOT the fastest man alive (Hey Savitar). To the outside world he's an ordinary forensic scientist. But secretly, with the help of his friends at Star Labs, he fights crime and finds other meta-humans like him. After defeating Zoom and saving the multiverse, he ran back in time and created the alternate timeline "Flashpoint." He restored the timeline to how it was only to find things weren't as he left them. He brought new threats to their world (AGAIN!) and he's the only one fast enough to stop them (if
Why we're watching: The longer this series continues the more it's flaws are apparent, because the writers continually do the same thing. The villain is always a speedster faster than Barry that he needs to get faster to defeat and Barry always defers to time travel to fix things (despite how catastrophic the consequences turn out to be; and if the trailer for the first episode of the second half is any indication, he still hasn't learnt that lesson). The first half of the season was spotty at best and the only real highlights were Caitlin Frost, Cisco, HR and Wally getting his powers. Really, they're the only reasons to watch this show at this point because those characters are more interesting and compelling than Barry, especially Caitlin. The shows repetitive nature and the writers' refusal to make Barry move forward as a character beyond him leveling up as a speedster has made this season less fun to watch than the previous two.
Recapped by: K. F. Cumberbatch
Tell us how can we improve this post?