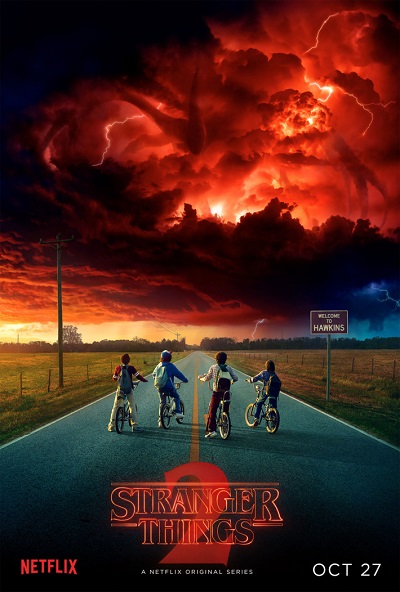 Premiere Date: October 27th
Nertwork: Netflix
Starring: Winona Ryder, David Harbour, Finn Wolfhard, Millie Bobby Brown, Gaten Matarazzo, Caleb McLaughlin, Natalia Dyer, Charlie Heaton, Cara Buono, Matthew Modine, Noah Schnapp, Joe Keery, Sadie Sink and Dacre Montgomery.
Synopsis: It's 1984 and the citizens of Hawkins, Indiana are still reeling from the horrors of the demogorgon and the secrets of Hawkins Lab. Will Byers has been rescued from the Upside Down but a bigger, sinister entity still threatens those who survived. – Netflix YouTube Channel.
Why we're watching: The first season of Stranger Things more or less came out of nowhere and immediately impressed audiences and took the world by storm. This series is the definition of an overnight success. Fans have been clamouring for more since it's first eight episodes hit Netflix last year and we're finally getting more. We get to see more of the Upside Down, the lasting effects of Will's time there and Eleven is back! Most intriguing is the spider creature; what it is, what it wants and how it will come into play. The trailer promised a season as good and rewarding as the first and I'm certain it will deliver on that.
Tell us how can we improve this post?