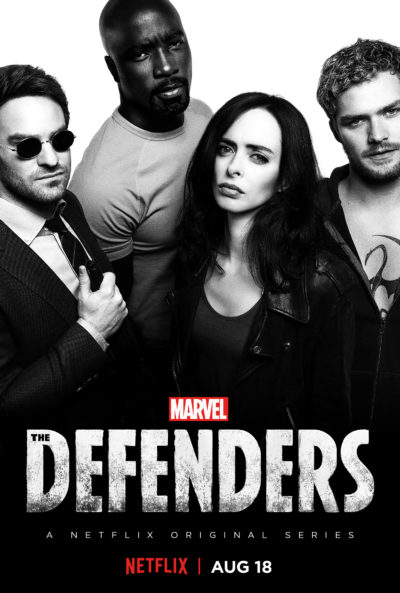 Premiere date: August 18th
Network: Netflix
Starring: Charlie Cox, Krysten Ritter, Mike Colter, Finn Jones, Rosario Dawson, Sigourney Weaver, Elden Henson, Élodie Yung, Deborah Ann Woll, Scott Glenn, Rachel Taylor, Carrie-Anne Moss, Eka Darville, Simone Missick and Jessica Henwick.
Synopsis: It will take an epic team of heroes to save New York City. Daredevil, Jessica Jones, Iron Fist and Luke Cage come together as The Defenders. – Netflix.
Why we're watching: It's finally happening! The Marvel Cinematic Universe's team-up, crossover series we've all been waiting for; The Defenders. Well, perhaps not all of us, especially after Iron Fist; decidedly the weakest of Netflix's Marvel series. But the performance of that series, hopefully, isn't an indication of how this series will go. After all, Daredevil and Jessica Jones are unquestionably the best of the four series and it's more or less interchangeable which one is on top. So with such a wide variance in the quality of Netflix's Marvel offerings, it's up in the air how The Defenders will fare. Fingers crossed that it will actually be good.
Recapped by: K.F. Cumberbatch.
Tell us how can we improve this post?