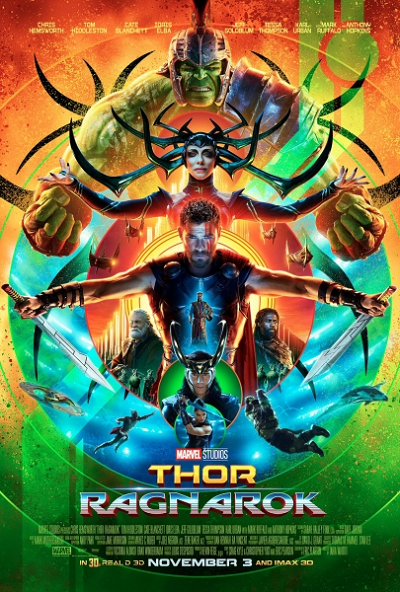 Thor: Ragnarok is the third film in the Thor franchise and the seventeenth film in the Marvel Cinematic universe. Written by Eric Pearson, Craig Kyle and Christopher Yost and directed my New Zealand director Taika Waititi, the films stars Chris Hemsworth as Thor, Tom Hiddleston as Loki, Cate Blanchett as Hela, Mark Ruffalo as the Hulk/Bruce Banner and Tessa Thompson as Valkyrie. When Hela, the Goddess of Death, escapes her imprisonment and threatens Asgard and banishes Thor to the planet Sakaar, he must escape the planet and assemble a team of heroes to stop her and rescue his home.
The direction here is strong. The film feels so different from the first two Thor movies and – despite the 80's music and overall vibe and the vibrant colour aesthetic – also feel different from the Guardians of the Galaxy films to which it has oft been compared. Taika Waititi is no James Gunn, but his personal style as a director is just as distinct. Fans of his work will no doubt feel his fingerprints all over this film.
Adding to the difference of this film is it's comedic tone. It is, as the trailer showed, far more comedy heavy than Thor and Thor: The Dark World. Thor's ignorance of the human world and his "fish out of water" state when in Midgard were always played for laughs. And although there is a bit of that here, the comedy flows from elsewhere this time around. Particularly because Thor himself is more of a comedian.
Even as Marvel took the character in a more comedy driven direction with each subsequent film in which he appeared, his serious nature was still present. Even up to Avengers: Age of Ultron. Here, it is almost absent. Gone is the serious, Shakespearean, God of Thunder from Marvel films past. Thor spends the majority of the film cracking jokes and doing funny things even when in "serious moments." The comedy may be a little too much at times, since it undercuts dramatic moments and strips them of the gravity that they should have.
That being said, Waititi really gave Chris Hemsworth the opportunity to flex his comedic muscles. A talent we've gotten glimpses of here and there…and he's really good at it. Hemsworth shines here, playing this version of Thor. His best moments as the character, or at the very least the most memorable, have always been when he's being funny. Or shirtless (there's more of that here as well). So it was much appreciated that Marvel took advantage of this other side of Hemsworth's acting talents in such a big way. It made Thor an even more likeable character than he already was.
Hulk is also a source of the film's comedy and it's a little strange to see him with so much personality, since up to this point he's been little more than a giant, green, rage monster. It's also strange to see him do things other than "smash" and having complex feelings. We've seen him in the Marvel Cinematic Universe before, but in Ragnarok he's like a whole new character that we're only now getting to know since we've spent so much time with Bruce.
His characterisation here adds so much more to Hulk as a character, gives the audience a deeper appreciation for, understanding of and bond with him and expands the Banner/Hulk dynamic. Before this film, Hulk was just a weapon. Now he's an actual person.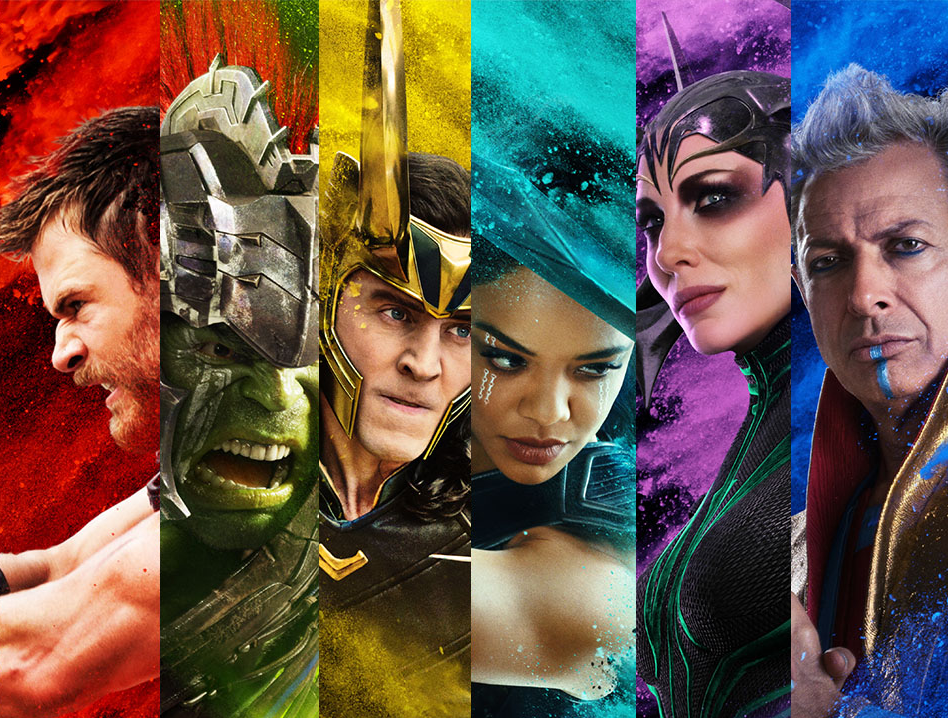 Loki, well…continues to be Loki. Waititi and Tom Hiddleston did nothing new or different with the character or added anything to him in any way really.
In terms of the new characters, Valkyrie was a nice addition to the Marvel Cinematic Universe roster. She's cool and a badass. She has clear motivations and every fight scene that she had demonstrated her prowess as a fighter and proved why she was a valkyrie to begin with. It was also nice that Marvel [MILD SPOILER: Highlight to reveal] didn't go the route of making her a love interest (though some viewers saw sparks between her and Hulk) [MILD SPOILER]. Tessa Thompson did a very good job in playing the character and further appearances from her in the Marvel Cinematic Universe are most welcome.
Hela somewhat suffered the same fate as most other Marvel villains, in that, she was just there as more of a plot device than an actual character. She didn't have much of a personality beyond "female baddie who wants to take over the world(s)" and didn't leave much of an impression beyond how absolutely gorgeous Cate Blanchett looks in her make-up and costume. Hela isn't in the film much and didn't do much besides kill a lot of people. And she did that in the first forty of the one-hundred and thirty minutes of this film.
Speaking of Blanchett, despite not being given much to work with or do, she, as always, delivered an excellent performance. Her villain walk was a particular treat, as was all of the other ways that she physically embodied and portrayed Hela. From the way that she stood, to the way that she moved her arms, Blanchett played Hela in every little way that she could. She was Hela. Blanchett never fails to bring it as an actress.
The real MVPs of the film, however, were Korg and the Grandmaster. Korg is the comedy highlight and each and every one of his appearances is a riot, particularly when he introduces himself to someone. He's a great one-off character. We don't need to see him again, but more appearances couldn't hurt. The Grandmaster is just precious because he is Jeff Goldblum doing all of the Jeff Goldblum things that we love him for. It's obvious that he's enjoying himself and having fun with the role. Plus, he gets some of the best moments in the film, the post-credits scene being one of them (and it somewhat resembles Rob Pearlman's post-credits scene in Pacific Rim).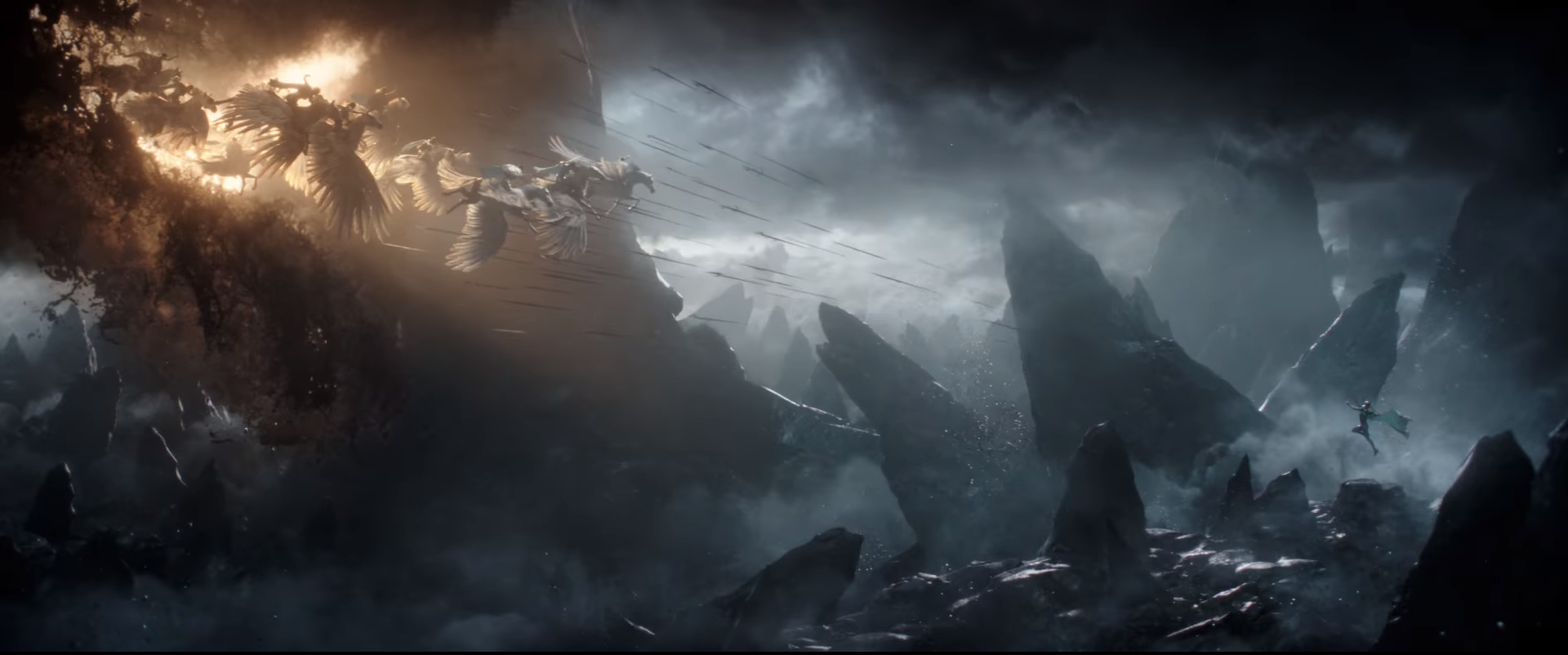 There are some very beautiful shots in this film. The opening shot in particular, though obviously computer generated, is such a strong and stunning image. As is every shot in the Valkyrie battle against Hela, as seen in the trailer. So too would have been a later shot featuring Thor, Odin and Loki, if only the green screen had been done better. Even so, it's still very pretty to look at. It certainly helps that the production design is amazing and gave the cinematographer something spectacular to capture to begin with. Every location has it's own distinct look, most notably Sakaar with it's brilliant colours, and all of them work.
Thor: Ragnarok is well made film. It's also funny and enjoyable to watch. It doesn't take much to out do them, but it is truly the best of the Thor films. Taika Waititi was an inspired choice as a director and he brought out the best in his cast. Taking the Thor films in another direction certainly worked for the franchise, especially now that it has embraced more of the cosmic, out there elements of the mythos. Something that it owes to the success of Guardians of the Galaxy. 
Tell us how can we improve this post?