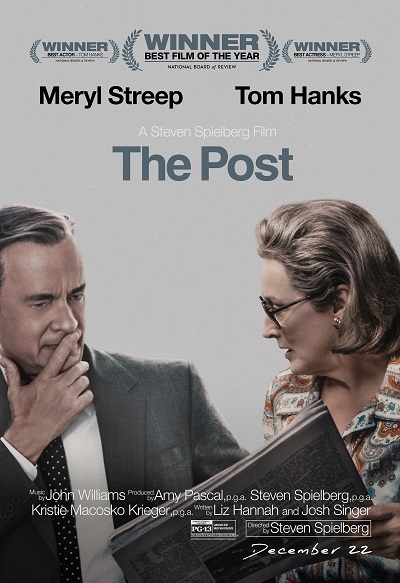 The Post is a 2017 film starring Meryl Streep and Tom Hanks, written by Liz Hannah and Josh Singer and directed by Steven Spielberg. It is based on the true story of the Washington Post and their involvement in the publishing of a top-secret government study known as the Pentagon Papers, which detailed the United States' involvement in the Vietnam War.
The first half of The Post is slow and kind of boring, but every time Streep appears on screen here it's riveting. The second half is where it truly becomes compelling  because it actually gets to what the film is about; the Pentagon Papers. Specifically how publishing them could hurt the Washington Post and the brief (in this film) court battle that ensued. The film opens with the papers and then seemingly forgets about them until they're relevant again.
That's because the first half focuses on setting up the second half; establishing what's at stake for the Washington Post and laying the ground work for Streep's character's – Katharine Graham's – character arc. It's necessary story and plot development that does pay off in the end, but at two hours long the film could have been shorter overall and the bulk of that cutting down could have been taken from the first half. It could  have been more concise. Really, though, the Washington Post and Katharine Graham are more or less the same thing in this film since the paper is so inextricably tied to her in many ways and any loss to it is a loss to her and vice versa. What she cares most about is the paper, her family business and its legacy.
Aside from government corruption, the film tries to address female empowerment, particularly in the case of women in the work place in executive positions. This is explored through Katharine Graham, but it is worth noting that women (two specifically when not counting extras) are shown to be working at the Washington Post and although they are fairly minor characters, they are portrayed as on equal footing with their male counterparts. Hence why women in executive positions needs to be specified. It perhaps muddles Spielberg's feminist message that some women at the Washington Post are treated with respect while others (Katharine) are not, however. For Katharine her arc is about literally finding her voice and it's wonderful nonetheless to see her discover it and her own power and owning it.
Graham is arguably the main character and the centre of the film. It doesn't spend nearly as much time on delving into who Hanks' Ben Bradlee is or developing him as it does Katharine. She's pretty much the only character you end up connecting with so she's the only one you really care about. She's quiet, timid and meek for much of the film, but even then there is a strength, competence and passion in her that is apparent. She does spend a lot of the film's run time struggling to realise her own power. By the time the film reaches it's climax and starts to wrap up, you're cheering for her because of who she's become and how far she's come.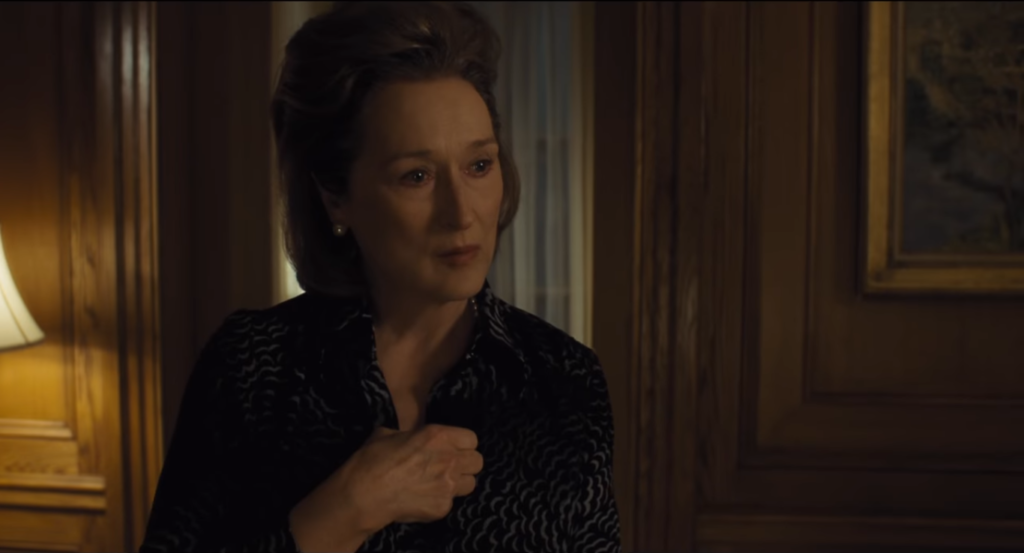 Streep carries the film almost entirely on her own. Hanks is there and he does his job, but next to Streep he looks like he's phoning it in. She outshines him. The two do have good chemistry, however, and despite their characters being somewhat antagonistic toward each other at times, Streep and Hanks convey mutual respect that Katharine and Ben have for each other very well.
Streep is captivating in her performance and as stated before, the riveting parts in the somewhat dull first half of this film belong to Streep and she brings that brilliance to the rest of the film. She brings an elegance and poise to the character that, given who she is and her social position she would or would be expected to have, but Streep exudes it very naturally with the way she moved, the way she held herself and the way she spoke. When Katharine is meek, Streep speaks softly and delicately, but when the character moves past that she still does. However, there is a force behind it that wasn't there before and Streep demonstrates that shift beautifully.
In the same way that Gary Oldman and his performance was the only thing of note in Darkest Hour, so too is Streep in The Post. Thrilling and enthralling as The Post may be when it finally picks up in it's second half and as well made as it is, it's not a memorable film. It suffers from a boring first half, having two leads that only one of which is interesting and the other is largely forgettable, a lack of tension and in some cases drama when there should be and just generally missing something that makes it special or gives it heart. It's not exactly a waste of time, but it isn't a "must-see."
Tell us how can we improve this post?