The Lodge School Model Search 2017: The New Revolution was, for the most part, a very entertaining event. Particularly because of M.C. Mac Fingall who did a very good job of keeping the audience occupied and amused in between segments, especially when organisers were not ready to continue the proceedings, which happened fairly often. Not only did the show start roughly thirty minutes late – at which time the M.C. went on stage – the start of the first segment was delayed even after that. Despite the rough start, the opening segment "Cadets and Models" was an impressive demonstration of the talent of the school's cadet unit drum corps and an exhilarating start to the event.
The obvious winner from virtually the beginning, Kaila Bovell Lewis, deservedly won the the title of Ms. Lodge School Model Search 2017. Joining her in her victory was Shomari Mosely, Mr. Lodge School Model Search 2017. The two were presented with their prizes by the winners of the last Model Search, which was held four years ago.
The eight contestants competed in five segments: Vintage, Retro, Futuristic Career, Avant Garde and Marvel. Of the five segments Vintage (and Marvel in general) were the only ones in which the contestants' clothing matched the theme. In the other three, Retro, Futuristic Career and Avant Garde, only one or two students embodied the idea.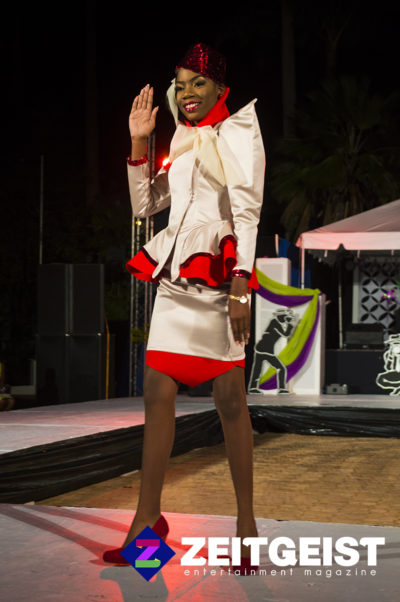 In Retro only Kaila Bowell Lewis' and to some extent Shaquille Landers' looked to be referencing styles from previous decades. Hardly anything in Futuristic Careers looked futuristic except for Futuristic Flight Attendant as worn by Keila Butcher – which was an outdated, 1960's/70's idea of what fashion of the future would look like – and Kaila Bovell Lewis's Futuristic Scientist.
For the avant garde segment contestants were tasked with creating clothing from recycled materials like bubble wrap, glass and tires. However, using unconventional materials barely scratches the surface of what makes avant garde fashion avant garde. Of the contestants, only Sherliza Griffith and Rashida Harrison's attire fit the theme and Kaila Bovell Lewis' would have been better suited for Futuristic Careers.
It's not clear if the Marvel segment was specifically aimed at characters from Marvel Comics and it's various other properties, but since six out of the eight contestants were dressed as Marvel characters it can be said that this was the intention. Keila Butcher and Kaila Bovell Lewis, however, depicted characters from DC Comics.
The show featured an opening adress from principal Winston Dowrich, vocal performances from students Kadijah Medford, Raheem Searles and Ashley Lashley, Water Warrior David Davis and soca artiste Anderson "Mr. Blood" Armstrong and a dance by the Barbados Dance Theatre. The standout performance of the night was by car impersonator Shamar Weekes, who wowed the audience with his spectacular imitations of cars right down to brand and model.
There were also giveaways of Burger King vouchers and a raffle for an iPad air, which was presented by Major Kellman.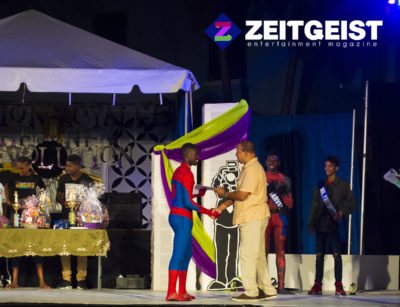 The show lost it's momentum during it's anticlimactic and, frankly, messy prize giving ceremony which they attempted to start before the judges had even finished tabulating. The prizes were not on stage, nor were the contestants and in a moment similar to Steve Harvey's Miss Universe flub and Warren Beatty and Faye Dunaway's at this years Oscars, the wrong winner was read for the first category; Mr. Photogenic. M.C. Mac Fingall, who had done an admiral job all night in moving the ceremonies along, tried to salvage the situation, but the damage had already been done. By the time that winners Kaila Bovell Lewis and Shomari Mosely were announced, the show was a dud and finished two hours later than it's scheduled time.
That being said, it was a student organised event and that alone was impressive considering that it ran more or less smoothly up until that point.
Mosely won the most prizes, taking home six in total. He won all five of the segments – Vintage, Retro, Futuristic Career, Avant Garde and Marvel – and of course, the title of Mr. Lodge School Model Search 2017. Bovell Lewis also won in the Retro and Futuristic Career segments.
Here is the full list of winners:
Photogenic Male: Nicholi Standard
Photogenic Female: Rashida Harrison
Vintage Male: Shomari Mosely
Vintage Female: Keshawna Straker
Retro Male:  Shomari Mosely
Retro Female: Kaila Bovell Lewis
Futuristic Career Male: Shomari Mosely
Futurist Career Female: Kaila Bovell Lewis
Avant Garde Male: Shomari Mosely
Avant Garde Female: Rashida Harrison
Marvel Male: Shomari Mosely
Marvel Female: Keshawna Straker
Fourth Runner Up Female: Sherliza Griffith
Third Runner Up Female: Keila Butcher
Second Runner Up Male: Shaquille Landers
Second Runner Up Female: Rashida Harrison
First Runner Up Male: Nicholi Standard
First Runner Up Female: Keshawna Straker
Mr. Lodge School Model Search 2017: Shomari Mosely
Ms. Lodge School Model Search 2017: Kaila Bovell Lewis
You can view photos from this event over on our Facebook Page.
Tell us how can we improve this post?