SOME SPOILERS AHEAD.
Things weren't going well at all for Alexandra in this episode. Things escalated very quickly for her. They went from crumbling to all together imploding by the end of the episode. And all because of Matt.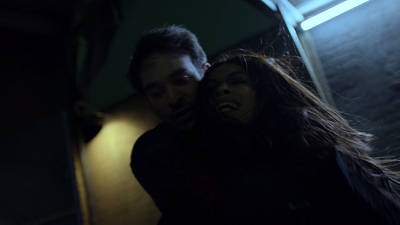 Matt let his feelings get the best of him! Separating himself and Elektra from everyone. It kind of worked out in the end though because he managed to get through to her. She paused and was actually listening to him when he tried to talk to her. And she attacked Murakami when he interrupted them! That was not a good thing for Alexandra because he already questions her leadership and doesn't seem to like her reliance on Black Sky. Alexandra saw the entire thing and looked really worried.
Had Matt not run off on his own, they perhaps would not have caught Sowande. In so doing however, he threatened all of their loved ones. A good chunk of this episode was dedicated to the Defenders collecting those close to them and stashing them in the police station with Misty.
Given that the Hand is everywhere and in everything, it was probably the safest place for them when virtually nowhere is safe. With Colleen there – albeit injured – and as the only person with extensive martial arts training, if anything were to happen she could at least put up a good fight. Trish and Misty with their respective martial arts and police training should be able to do some good as well.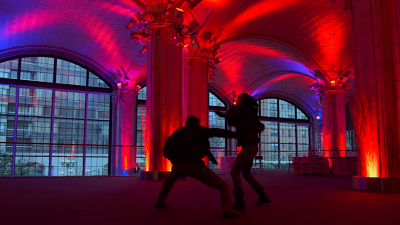 Speaking of training, Jessica should probably learn how to actually fight at some point. Beyond just swinging somewhat wildly and relying on her strength. She's not like Luke, she can be hurt and killed. She got her ass handed to her a little when she went for Trish, who I expected to jump in and fight given her aforementioned training. Not that she'd have been able to take down a Finger of the Hand, but her friend was fighting and she would have been capable of helping out. It'd make sense if she jumped into action to defend not just herself, but Jessica as well (even though Jessica has powers).
Matt really exposed himself with his interrogation of Sowande. He didn't ask about the Hand and what they were planning at all, he just asked about Elektra. The more he and Sowande talked, the more his relationship with Elektra was becoming apparent. He has been highly emotional for the duration of this series and I thought he'd let his feelings get the better of him, again, and had killed Sowande before they could get any answers out of him. Luckily, he was able to show some restraint.
I love Stick. I really do. He's the no-nonsense, old, wise guy and resident badass that ever team needs. While the Defenders were busy squabbling over Matt hiding his relationship with Elektra from them – and justifiably so, he really should have been honest with them – no one was paying attention to the awakening Sowande and he got his hands on Danny.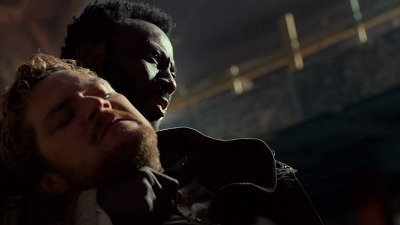 I really thought that the Hand had finally gotten a hold of him and Sowande's repetition of the word "key" confirmed my theory that Danny is the literal key to unlocking the door. But nope! Stick just calmly and easily decapitated Sowande. No hesitation or anything. He just dealt with the problem. No one saw it coming. Not even Sowande. And without the resources to bring him back, the Hand lost a finger, reducing their number to four. Or rather, three, since Alexandra was kicked out more or less.
I knew that Murakami was going to turn on her. All of the signs were there. There was quite a bit of dissent between the five Fingers, but he was the most distrustful and had openly questioned Alexandra's leadership and Elektra's effectiveness as a weapon. After expressing his doubts in front of the other Fingers, they've all mutinied against Alexandra. But she won't take this lying down.
Matt was right, Elektra is still in Black Sky somewhere. I'm not quite sure if she's completely remembered everything. I don't think that she has. I think that at this point her instincts are pointing her somewhere (like Matt's apartment) and she's operating on residual feelings left over from when she loved him.
Random thoughts:
Gao just straight up shot the dude. I like Gao.
Danny's fighting didn't look bad in this episode either.
Bakuto's alive! Makes sense.
Matt's in the suit!
Trish and Karen need to link up!
It's a coup!
All eight episodes of Marvel's The Defenders are currently available for streaming on Netflix.
Tell us how can we improve this post?