The Pixel costs how much???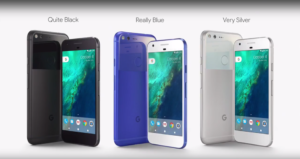 Yes Google officially announced their new handheld devices yesterday, and after months of rumors we finally have solid facts to work with. Even though as usual, Google's flagship was the main attraction this year as it always is, it seems a greater effort this year was made to showcase the new software rather than the hardware behind the device.This article however is about the Pixel, but before we go on however, two quick points to note:
How weird was this announcement event. There was little energy in the room and I am pretty sure they kept supporting the "jokes" with canned laughter.
R.I.P Nexus brand, you will always be in the hearts of us true android fans. You will never be forgotten.
Google released the Pixel and the Pixel XL, which are 5" and 5.5" respectively. Both have AMOLED screens, use 4GB of RAM, and have similar camera specs. The differences arrive with the screen size as mentioned earlier, the screen resolutions and the battery capacity. The 5" comes equipped with 2,770 mAh battery, while the larger XL version comes with 3,450mAh.
The camera brings a 12MP sensor, 1.55µm pixels, with an f/2.0 aperture to the table, which apparently gives the Pixel the title of the best camera in a phone right now. Google showed off the electronic image stabilization on stage and it looks quite impressive, though reviews of the device will put that to the test.
Google Pixel and Pixel XL have the same storage options with 32GB and 128GB (for those who really want to be offline). To add to the pot, the Pixel phones get unlimited Google Photos storage for photos at full resolution. It is worth noting that this year, this is no wireless charging available for the phone, or dual front-facing speakers.
The Pixel brand debuted with the best and the most expensive Chromebook, and then ventured into Android with the Pixel C tablet. All of which were not cheap to say the least and the two phones are priced similarly – pricing starts at $649 for the smaller 5-inch Pixel with 32GB of storage, available for preorder today. That number scales up to $749 with 128GB of onboard storage, $769 for the larger Pixel XL with 32GB, or $869 for the XL with 128GB. Verizon in the US gets an exclusive "Really Blue" version, with the Quite Black and Very Silver versions available at several retailers.
Tell us how can we improve this post?