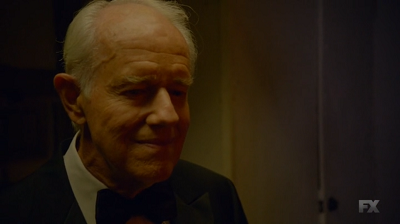 This series is going in a direction I didn't consider and it's doing that by exploring the murders of Andrews other victims. It took me a while to realise that the entire thing would be dedicated to the Miglins. It is called The Assassination of Gianni Versace and in the last two episodes it focused on him. However, he wasn't the only person that Andrew murdered and his wasn't the only family that suffered because of his crimes. So I appreciate it that the show is telling the stories of his other victims. They should be told. And flashing back to them further contextualises why Andrew killed Versace and develops him as a character as well.
I loved Judith Light here as Marilyn Miglin. I enjoyed her performance. I got the impression that Marilyn knew that Lee was gay, though. It looked that way to me. As much as it was apparent that they cared a great deal for, were devoted to, respected and loved each other, there seemed to be an unhappiness beneath it to me. Especially when she asked him what he planned to do while she was gone, right before she left for her flight. I thought that even though Lee sequestered himself in a room to have the phone conversation with Andrew, she overheard and knew that he was coming. But she didn't know that he was gay. She was just being a loving wife and perhaps I was looking into it too much.
When Andrew did arrive at the Miglin's home, he wasted no time in killing Lee. He wasn't even in the house for a good twenty minutes before he pulled out his gun to shoot the man. Ultimately though, he wrapped Lee's head in masking tape (what is it with him and doing that?), dropped a bag of cement on his had and stabbed him. Then he dressed him in women's underwear and laid out gay porn magazines around him.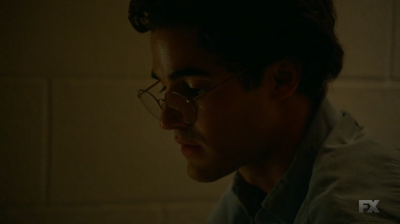 I didn't understand why Andrew did the last part or why he told Lee that he was going to "disgrace him." He hadn't done anything of the sort with Versace and humiliation, so far as we'd seen, wasn't part of his modus operandi. Then I remembered that the reason he was doing this in the first place and going after who he was, was because he was envious of these successful men who made a name for themselves. It's why he burned Lee's sketch of the Sky Needle and asked if he'd broken ground or gotten funding yet; it would have been a great achievement for the man to have been behind the tallest building in the world.
The way that Andrew talked about the Sky Needle gave him away as well; "looking down" on the Sears observation deck, putting them out of business and not understanding Lee's humility in not naming it after himself. It looked like he didn't just not understand but that he was angry that Lee was so humble.
Not only did Andrew kill Lee, he stole a car and other valuables from the Miglins. Which was almost a good thing because the police were almost able to catch him by tracking the car phone in the vehicle he stole. And it wasn't even the police's fault this time that they didn't catch him. It was the media's. They put out a story that the police were tracking Andrew that way. The police were so close to getting him too. "Closing in" they said. It should be illegal for the media to leak details of ongoing investigations.
Random thoughts:
Why did she go in when the officer told her not to?
Did we just see the moment when he decided to target Versace?
I guess he likes big red trucks,
I don't think that Andrew was going to kill that man until he begged.
The Assassination of Gianni Versace: American Crime Story airs Wednesdays at 10PM on FX.
Tell us how can we improve this post?