SOME SPOILERS AHEAD.
It can never be said too many times how much of an amazing mother Joyce Byers is. Really. She's the best.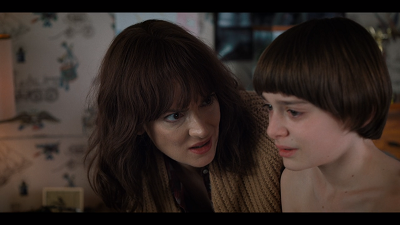 My heart breaks for Will most of all, but also for Joyce. She's trying so hard to help Will through this and to bring all of this to and end so that he no longer has to suffer, but this goes so far over her head and past her abilities. This is Joyce, however. She will find a way. More evidence for why she is, perhaps, the best mother in fiction ever, is that the adapted the temperature of the house to make Will comfortable.
She didn't force him into the tub, or freak out and go off on him because some scary thing is possessing him and she doesn't know what to do other than just…make him be normal again. Which is a valid response to such a thing happening, but it's also pretty typical. Instead, she's remaining calm and trying to understand him and what he's going through. Accommodating him and the ways that he and his body are changing. Working with him, not against him and rolling with the punches. She's meeting him where he's at. I love that about her.
When Hopper blew up at Eleven for leaving the house, I thought it was adorably hilarious how, just like any other kid her age, she was throwing a bit of a tantrum. I'm just always happy when she gets to act her age, given her life experience. It got a lot less cute when she started using her powers. Even though I knew that she wouldn't hurt Hopper, not on purpose, I was still scared that she would. And even herself given her nose bleed.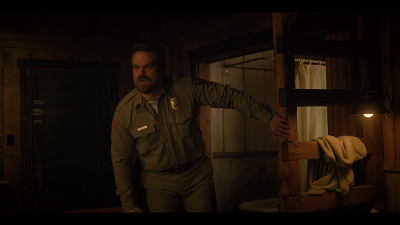 I understood that Hopper was only angry because he was scared, but he was really harsh with her. Threatening to send her back to Hawkins Laboratory, knowing how traumatic that experience was for her, was going way too far. There was no need to go there and he even made her cry. It was kind of  sweet moment when he tried to apologise to her but couldn't. And I liked how, despite being mad at him, she she ultimately did what he said and cleaned up after herself. I know they call each other friends, but they're just the perfect father/daughter pair at times.
The moment that she asked about her mother, I knew that Eleven was going to try to find her. We saw it in the trailers. I didn't know how she was going to get to that point, since Hopper had told her that her mother is dead and, reasonably, she would have believed it. The fact that she reached out to her mother, however, does contradict that idea. Unless it was a shot in the dark attempt. Given Terry's mental state, I figured that she would have been able to see Eleven – or rather, Jane – when she appeared in front of her. Although it could have been a case of it looking like she had seen Eleven, just like how it looked like Mike had seen her when he hadn't. I prefer to believe that she did see her.
Jonathan and Nancy were once again adventuring alone together. It's almost like they're meant to be…I was so mad at Nancy for calling Mrs. Holland and telling her to meet so she could tell her the truth about Barb. But then I thought that there was no way that she was so stupid and that she and Jonathan must have been setting a trap for Hawkins Laboratory, knowing full well that her phone was tapped. I was right.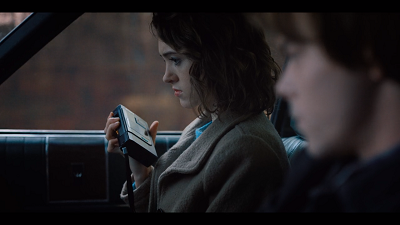 I never would have thought that she would have recorded their capture, however. That was a stroke of genius. Except, wouldn't her bag have been searched before they were detained? Or did Dr. Owens, in his arrogance, underestimate them? I wouldn't put it past him. I'm a little wary of what Nancy plans to do the the tape, though. That could be very reckless, depending on what she does. At this point, we really don't know.
The thing that Joyce and Hopper have in common that I love about both of them is that they make connections very quickly. Like Joyce did when she noticed that Will's drawings linked together like a puzzle. And Hopper immediately pieced together the drawings, Joyce's observations about them and what Will said and figured out that they were vines and they were killing the plants and doing so from underground. Again, Hawkins Laboratory has no idea what they're doing.
I give them kudos for following Hopper's suggestion and taking samples from the dead plants and the soil, but every time I see Owens his arrogance is more apparent. He does know that its spreading. They're trying to hold it back. But he wholeheartedly believes that their efforts are working and the rotting plants have nothing to do with the Upside Down, despite the trail of them leading back there. It just boggles the mind how someone can be so obtuse. This man has to be lying.
Dart is a baby demogorgon confirmed! Kind of? No one explicitly said it, but, he does have a flower face and flower faces don't lie. When I saw Dustin's mother calling their cat Mews for a feeding, I just knew that Dart had eaten the cat. It's only a matter of time before it starts eating people. Dustin needs to kill that thing.
Random thoughts:
That girl put the fear of god in Hopper.
Steve did try to warn you Nancy.
At some point these boys need to let Max know what happened.
All 9 episode of Stranger Things are currently available for streaming on Netflix.
Tell us how can we improve this post?