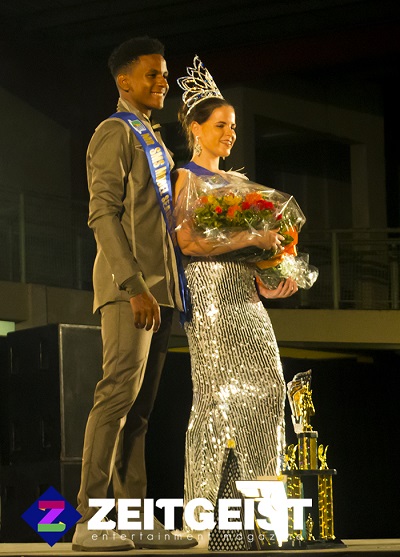 Last Saturday, after five months of hard work, a number of photo shoots and a night of competition and camaraderie, Shomari Smith and Dana Begg claimed the titles of Mr. and Miss SMS Model Search 2018. Joining them on the, figurative, winners' podium were first runners-up Tramal Whitehall and Tiana Jerson and second runners-up Brandon Sealy and Kiann Conliffe. All of them were the clear front runners of the competition from virtually the beginning.
Begg additionally won Best Improved Female and also shared the prize for Best Unity with her king Shomari Smith, who took home the Principal's Achievement Award as well.
In the first two segments, which were each split into two sections, the contestants wore designer clothing. The girls wore swimsuits from Suga Apple Swim by Kimberly Ann Boyce, in a section dubbed "Suga Apples" as well as dresses from Pink Lemonade by Rotchelle Parris. As for the boys, they were styled by odBo!h in T-shirts from their Street Approved Camo, Tie-dye and Cosmo collections in a section called "odBo!h Way of Life" and by designer Lisa Holder.
The students did well overall in these segments, with the girls pulling ahead of the boys. As a group, the girls had better runway walks. As stated previously, Begg, Jerson and Conliffe stood out as top performers amongst the female contestant more or less from the start, but Alika Rouse deserve special mention for the "Suga Apples" section; she stunned with every step she took as she strut up and down the runway.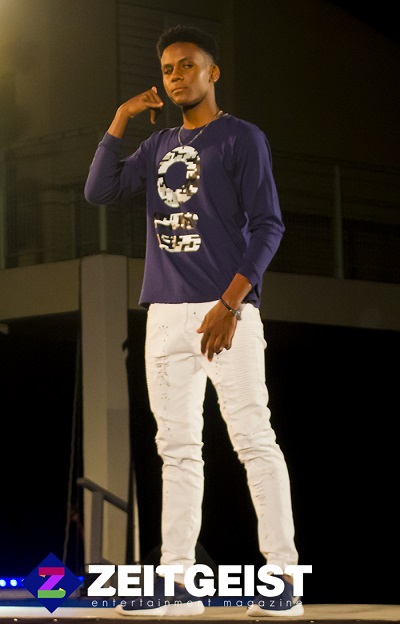 Of the boys Smith, Whitehall and Sealy immediately stood out because they had so much personality and were, for lack of a better term, "extra", but in a very good way. They had charm, charisma and were likeable and endearing. Of the three however, Whitehall was an apparent audience favourite; he got the loudest audience response (aside from Pirez who pretty much had the biggest crowd response of all of the boys) for the first few sections.
They boys did at times look quite a bit uncoordinated in the parts of their sections when they had to perform as a group; like they didn't have the choreography down pat and it was obvious when they were waiting for and watching each other for their cues.
The third segment, Unity Collection, was a joy. In this segment the contestants had to collaborate with each other and create their own looks inspired by the latest Marvel Cinematic Universe blockbuster, Black Panther and each look had to feature a wild cat print.
The students did exceedingly well in creating the designs for this segment. These were some show stopping looks. As much as I love cosplay as an art form, I loved that despite the section being inspired by a film, the students didn't go in that direction. In fact, none of the designs looked like costumes from the film, except perhaps Killmonger's Black Panther suit which was black and gold. I was expecting Black Panther and Dora Milaje costumes. Instead the students focused on fashion and not on costuming.

"Legacy" was the final segment. This was the haute couture segment and the contestants were tasked with envisioning themselves as the legends of tomorrow. They didn't need to wear formal wear, but they could. For the most party they went in that direction, particularly the girls.
The boys' looks were decidedly more drab than the girls' in terms of their use of colour. The only boy who used a great deal of it was Shamani Ashby who wore a bright red shirt. The boys did all look very good and fashionable, however, particularly Sealy who looked every bit the classy gentlemen. It's no surprise that he won the segment.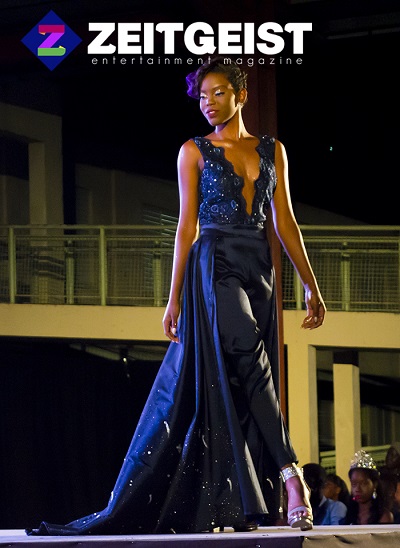 The girls looked beautifully stunning in their gowns, of which it was tough to pick a favourite, but the most eye catching were those worn by Jerson, Begg and Rouse. Vaughn, however, gets a special mention for being the only girl to wear pants. Begg's dress was clearly difficult to walk in, but she never once faltered. She powered through it and made it work.
The show also featured prize giveaways, a special appearance by the Alexandra Model Search 2018: Fashion Movement contestants, a performance by singer and St. Michael School student Megan Greene and a performance by MC for the night, Kirk Brown.
Visit our Facebook page for a full album of photos from the show: SMS Model Search 2018: Legacy.
Here is the full list of winners:
Most Improved Male: Rashad Crichlow
Most Improved Female: Dana Begg
People's Choice Male: Ben Pirez
People's Choice Female: Tiana Jerson
Mr. Photogenic: Ben Pirez
Ms. Photogenic: Kiann Conliffe
Best Unity Male: Shomari Smith
Best Unity Female: Dana Begg
Best Legacy Male: Brandon Sealy
Best Legacy Female: Tiana Jerson
Principal's Achievement Award: Shomari Smith
Second Runner-Up Male: Brandon Sealy
Second Runner-Up Female: Kiann Conliffe
First Runner-Up Male: Tramal Whitehall
First Runner-Up Female: Tiana Jerson
Mr. SMS Model Search 2018: Shomari Smith
Ms. SMS Model Search 2018: Dana Begg

Tell us how can we improve this post?