As we settled in the abandoned gallery of the old Oistins library, I was extremely excited to meet Shelway Gaskin, cartoonist, illustrator, and animator, especially after seeing all that he's been doing on his Instagram account.
Gaskin leaned on the chipped hand rail with his earphones tossed over his shoulders and spoke freely of the random inspirations which birthed most of his personal projects and his humble beginnings as a child scrawling images that were resemble his favorite cartoon characters. At the age of 22, the self-taught cartoonist continues to perfect his art skills in animation all while studying film at the Errol Barrow Centre for Creative Imagination.
Searching through his Instagram feed, I was truly impressed not only by the technical quality of his cartoon portraits of people and animated shorts but also how funny and relatable his more recent comic strips were.
I've seen the many memes on Facebook illustrating the annoying person asking an artist "can you draw me???". But I must confess, while I was able to get through the interview keeping it cool as he showed me some of his other work, I was inwardly screaming "draw me next, puh-lease!" I'm not sure if one of his many talents also include mind reading, but surprisingly enough it was him who offered to do a piece just for this article. And here's the results!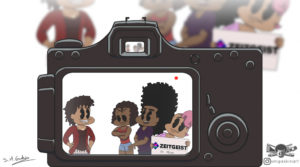 The characters you see up there is from one of Gaskin's earlier comics, Shootin' the Breeze, that he just happened to be rebooting around the time of our interview. The look of the comic, he said, was inspired by Chibi Style anime, "I had these three characters and I wanted them to appeal to everyone. They're cutsey and I really liked how they look".
They are many types and techniques used in animation, Gaskin said, and his goal is that one day he'd have the technical skill to do them all. But for right now, his specialty is 2D animation; which is done frame by frame.
Not going too deep into the technicalities of film, Gaskin explains that 24 frames or 24 pictures/drawings generally makes up 1 second in a movie. Meaning to animate in 2D, calls for him to draw each frame, or sometimes every other frame, with slight adjustments until "life" is created.
For a better understanding of what his usual artistic process, Gaskin released on his channel a behind the scenes video showing what went into the making of Mama Luigi, a reanimated piece he completed last year.
However, it took him a lot go practice to get where he is today. Starting animation at the age of 8, Shelway simply began with copying what he saw on television as a child which included cartoons like Tom and Jerry and Archie. "They were bad, like really really bad, thank God they're lost to time" said Gaskin but though the animations weren't the best, it was something he said he really loved at that young age.
Highly influenced by shows on Cartoon Network most of us 90s kids are familiar with Gaskin listed the shows Courage the Cowardly Dog, Looney Toons, and Dexter's Laboratory as some of his favourites. However, it was the Pixar movies like the Incredibles which really provoked him to get into animating and creating seriously.
"When it comes to actually doing animation, I'm self-taught but I learned animation from watching a lot of behind the scenes stuff like Walt Disney. I remember I had a Bambi tape that showed you how to draw classical animation, so I tried doing that. Again, I had the Incredibles that really inspired me so I watched the behind the scenes for that" Gaskin explained.
Although he had the passion, Gaskin said that he didn't always have the finances for everything he wanted to do but had to find creative ways to get around that obstacle and continue to create.
So, we know what has inspired and influenced the look of his comic strips and animations, but what inspires the stories they tell? "Randomness, utter randomness", he said.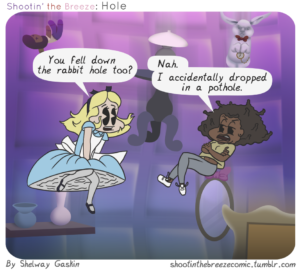 "Anything from an encounter I've had that I found humorous [to]something silly that has happened in society or maybe just a random thought. I'm daydreaming and I have this random thought
that makes me think, wow, why did you think that…I'm putting that somewhere" Gaskin added.
His advice for anyone interested in animation, "Do it. I've met a lot of people who like animation and want to go into animation but they don't really do anything. So first off, you have to actually do it, no matter what…use Microsoft Paint if you have to, that's how I started. It wasn't great, but it was something".
Looking at the work of other animators for inspiration is another tip he gave but added that although people list programmes as a major reason they haven't tried anything, they are a lot of free software out there that people can start with. But his general message for those out there who believe their developing an interest in animation is it's not as hard or impossible as it seems and "if you're passionate about it, I say go for it".
The animation industry in Barbados, Gaskin said, is not even at a stage that it could be even described as a baby. And one of the things Gaskin believes discourages people from pursuing animation, whether as a hobby or career, is its absence from syllabi in teaching institutions. "There's nobody really here to teach us and…it's a little sad, a little disheartening. And that's why I say if you really want to get into animation, just push for it", he added.
He's done some graphic work as well, which I know of because he did an awesome poster for my thesis film before I even knew the extent of his talents. He also hopes that one day he would be able to do work for bigger studios but with the freedom to still do a couple of his personal project like Shootin' the Breeze, which he hopes to make into a fully animated series. Gaskin's overall future goals is just to make a name for himself doing animation.
He's on his way to doing that in Barbados with his work reel spanning from commercials shown at Animekon and animations for the TV series Route 10. To see more of the cool stuff Shelway has worked on check out his reel here and follow him on Instagram @smgaskinart.
Tell us how can we improve this post?