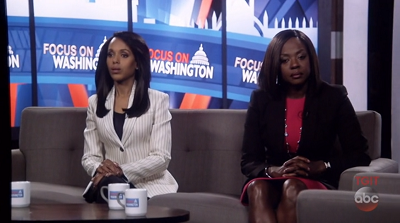 The scenario that some of us TGIT fans had always wanted to see happen has finally made its way onto television; Olivia Pope and Annalise Keating have met one another and worked on a case together! Nothing could have made it more perfect except for the inclusion of Meredith Grey, but she probably would have been hard to write into the crossover (unless the case was medical?). Plus, the crossover is really all about the #BlackGirlMagic of the Pope-Keating duo.
This was one of the best episodes in this final season of Scandal and was, in some ways, tonally different from the rest of the season. This episode marked a turning point for Olivia Pope since her fall from grace and a return to form for the character. The version of Olivia Pope that she became over the course of this episode was the Olivia Pope we fell in love with in the first season; the Gladiator In A Suit, the Woman In The White Hat, the Good Guy. And man was it refreshing to see that  Olivia Pope again.
I actually did like the idea of Olivia teaching at a university, even though it was supposed to be an indication of how low she'd fallen. I liked it because one, it kept her away from the temptation of seizing power again – which I'm sure was part of the reason she did it – and two, it would have been her way to pay it forward. She didn't seem to much like that she was doing it, however. Annalise showing up in her class as everything. It was such a role reversal for her and her entrance was gold. It was kind of funny that Olivia had never heard of her.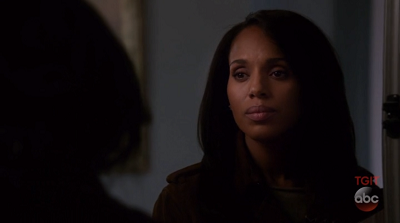 This episode managed to make me feel sorry for Olivia, which was surprising. I did still feel like given everything she'd done she was well deserving of her state of being, however, seeing her so unhappy and lacking confidence in her skill as a crisis manager did make me pity her. Particularly when she went back to Annalise after having read the case file and calling her the problem with the case. She seemed so defeated. Despite her assertion that Annalise's reputation was too sullied for her to fix it…she'd fixed worse. And the fact that she thought that she couldn't was pretty sad. Annalise with her trademark harshness pretty much verbally bitch-slapped Olivia into action and seeing Olivia walk away with her famous Boss Lady Strut was thrilling.
I also felt sorry for Olivia due to  the fact that everyone she knew and love had turned on her and were actively working against her to stop her from accomplishing something that, this time, she was actually doing for the greater good and not to further herself and her political power. She had selfless reasons for aiding Annalise in getting her case heard by the Supreme Court and everyone thought the worst of her. I can't blame them, though.
The meeting with Mellie was a complete sham, she had no intentions of doing anything because of Olivia's involvement, and I was surprised that QPA got involved in stopping Olivia. Quinn was understandably blinded by revenge, but although I want her to rain down vengeance on Olivia, this was not the way or the case for her to do so. She would have let the desire to get back at Olivia get in the way of a righteous cause and necessary change and so would Mellie. The difference between the two was the fact that Quinn changed direction and did the right thing, like I had no doubt that she would. Mellie remained on the wrong side.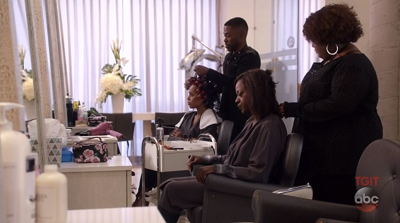 I loved the hair salon scene with Olivia and Annalise. I wasn't surprised that they butt heads and read each other for filth. It totally made sense given their strong, Type A personalities. I didn't like that Olivia threw Annalise under the bus after the meeting with Mellie failed, so I was glad that Annalise threw Olivia's own failure back into her face. It was an entertaining exchange to watch and very funny. I guess you could say that Olivia won because she ended the conversation, but really, they both did in that scene.
I also really enjoyed their joint interview scene. When Michaela raised the idea I thought that it was brilliant and sure to be dramatic, but it wasn't. Instead the scene was all about Olivia and her apologising to everyone, which I thought was very sweet. Given that this was the Scandal side of the crossover it made sense that this scene would be Olivia's, but I would have liked to see more of Annalise (I adored how Olivia complimented her) and see her get questioned about her own muddy history since it was a chief concern of Olivia's. I think she would have handled it the same way that she handled the question about her firing, so it would have been a bit repetitive had it been turned on Annalise.
I'm not up to date in How To Get Away With Murder, but it was clear in the episode that like Olivia, Annalise was at a very low point and struggling through it. I appreciated that they were both in similar positions and that this episode and that it was in some ways about the two of them lifting each other higher.
Random thoughts:
Abby: "Well you know what they say: "Those who can't do…""
They are so missing Olivia even if they don't want to act like it.
You hang out with Olivia just because she's black too? Negro please!
Now Olivia knows who Annalise is!
Lol Michaela is so star struck by Fitz. Hopefully he doesn't sleep with her too.
That is not what Marcus was about to say.
Olivia doesn't look pleased to have confronted Quinn.
Clearly I need to catch up on HTGAWM since Michael out here almost kissing men who aren't Asher…
Annalise in this yellow coat though!
Scandal airs Thursdays at 9 PM on ABC.
Tell us how can we improve this post?