SOME SPOILERS AHEAD.
One thing that former Queen of ABC, Shonda Rhimes (she's at Netlfix now) has excelled at, is making fans of her shows wait by elongating anticipation. That is exactly what she did with this episode. Who else wanted to and expected to see Fitz "confront" Olivia after catching her with another man? Instead, we got a flashback to what Fitz was doing leading up to that moment, during the first one hundred days of Mellie's presidency. It may not have been what I wanted to see, but I still appreciate it.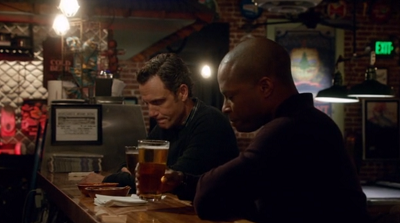 I love how both Fitz and Mellie – former husband and wife – work with each others' exes. One, that they do it at all and two, that they do it without having each other for it. I've loved Mellie and Olivia as a power couple pretty much since the moment it became a thing and I love Fitz and Marcus as a power couple almost as much. They give Mellie and Olivia a run for their money.
Marcus was right in saying that the majority of Fitz's success as president was due in large part to Olivia. In fact, the same could be said of Mellie so far. Olivia was the power behind both of them. So yes, she does deserve to have an entire wing dedicated to her in his library. I don't quite agree that Fitz reduced Olivia to a, as Marcus put it, "homewrecking black ho" and I don't think that Fitz's original plan for how to include her would have reduced her to such. As much as it wouldn't have paid her the professional respect she deserves.
It would be wise of Fitz to acknowledge her role in his life professionally, more than personally, to preserve both of their legacies. It would be pertinent of him to acknowledge their romantic relationship, only because the public knows about it already and it would be conspicuous not to. But it shouldn't be emphasised.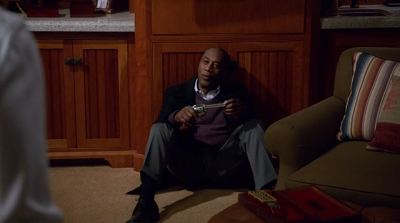 Since we're talking about her already, am I the only one who isn't convinced that Olivia would make a better, more ethical and moral Command than her father? That she would do the right thing and in the "right way?" I fear an Olivia Pope with as much power as she currently wields. She doesn't exactly have clean hands and has proven that she is more than ready and willing to dirty them further. The first two episodes of this season have proven what kind of Command she would be.
I don't think that Eli is being an alarmist and I don't think that his concern is something that should be ignored or dismissed. It's Eli Pope! As I said about him in my recaps of the last season, he is a man that doesn't scare easily. So when he is and he issues a warning about the thing that he's afraid of, you need to pay attention because it's a legitimate threat. His conversation with her in the season premiere and his conversation with Fitz here are foreboding. I do think that Olivia will be corrupted by her power if she isn't already.
It was very predictable that he eventually would, but I'm glad nonetheless that Fitz showed his supported for the protester. He still has some power and apparently (judging from his visit to the supermarket) is still very popular. All he needed to do was go to the statue and praise the man's efforts. That's it! For a second I thought that he would pull up a chair next to the protester and and stay, but that wouldn't have worked logistically. What with his security detail and all of the trappings of being a former president. Really, a small gesture was enough.
Random thoughts:
That kiss was a goodbye judging by this season so far.
Does Fitz know how to cook?
He doesn't.
Aww, he's so ready to jump in and help Mellie.
A wild Eli appeared.
Scandal airs Thursdays at 9 PM on ABC.
Tell us how can we improve this post?