SOME SPOILERS AHEAD.
The moment Tom showed up I knew he was the one who killed Frankie!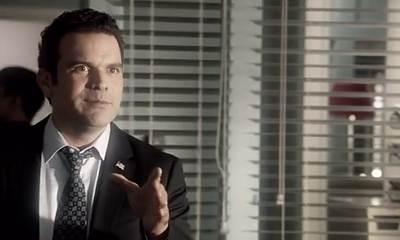 As this episode progressed I found it more and more unlikely that it was Cryus. Especially after we saw the flashback of Frankie so graciously handing him the Vice Presidency. He was so happy he cried! And I felt so happy for him then. That flashback made me realise exactly how much Frankie appreciated, trusted and respected Cryus. Far more than Fitz, Liv and company ever did. And that's why Cyrus loved him so much. I don't think he would have killed someone who treated him that way.
And oh my. Liv really dug into him during that flashback when Cyrus won the vice presidential debate. It felt very uncharacteristic of her to be so venomous and scathing toward him. To demean him and insult his abilities that way. They've had their differences and have always had a contentious relationship, but that tear down was particularly bad and I don't recall her ever having been that nasty toward him.
I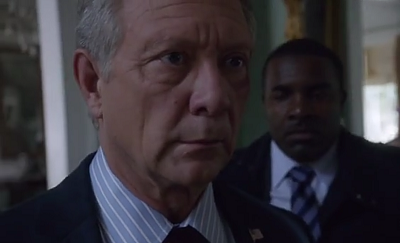 felt so bad for him when he was being arrested and taken away. I would have preferred if Tom had actually shot and killed him, because this is harder to watch when everything that happened between Frankie and Cyrus prior to Frankie's death is considered. Cyrus went so far to protect Frankie from himself by having Tom take care of Jennifer. I really do believe that he didn't think Tom would have gone as far as he did, but at the same time he should know Tom well enough by now.
I never thought that anything was going on with Frankie and Jennifer. He was too much of a stand up guy; too good, too honest and too virtuous. Cyrus' history with Fitz and Olivia and that whole debacle of their relationship, greatly informed his judgement and decision making when it came to Frankie and Jennifer.
Tom is getting precisely what he wanted by making Cyrus suffer. I also think a lot of it is his being jealous of Frankie because Cryus loved him so much. Unfortunately, it fits neatly into Liv's narrative of Cryus' guilt.
As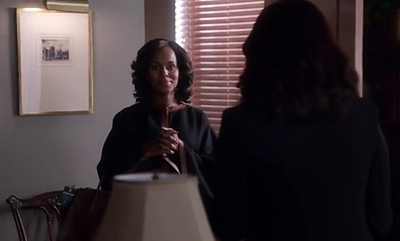 much as I didn't believe that Cyrus was guilty, I was really hoping that Liv was not wrong. But she was. Which is very disappointing. It was a little frustrating that she reveled in her victory after discovering that Tom had confessed and said he did it on Cyrus' orders. Fitz still doesn't seem particularly convinced to me, so I'm counting on him to realise what is going on.
I don't like how strongly Abby seems to believe that Liv is playing Fitz just so that Mellie can become president. I absolutely believe that that desire is what is pushing Liv right now – and perhaps clouding her judgement – but, it was annoying that Abby seemed to think that Liv was trying to manipulate the situation. Everyone seemed to think Liv was up to something. Even Cyrus. I don't think that is what Liv is doing. I think she genuinely believes that it was Cyrus.
Random thoughts:
Barbados shout out!
Quinn and Charlie's lovey-doveyness is a little nauseating, but I'll take it if we get more of Huck's hilarious discomfort.
Literal snake in the grass!
Scandal airs Thurdays at 9 PM on ABC.
Tell us how can we improve this post?