SOME SPOILERS AHEAD.
At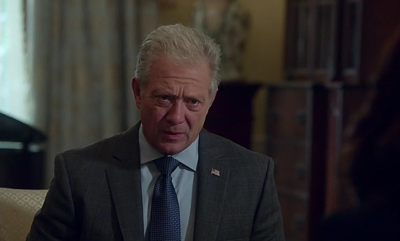 the beginning of the episode I was having a hard time embracing Cryus as the mastermind behind Frankie's murder. There really wasn't anything as yet that was convincing evidence of his guilt. In fact, there wasn't any evidence at all. But I did not want to believe that Liv was wrong, especially when she felt so strongly.
Then, at the end, Huck found the video of Cyrus and Frankie arguing. It's still not enough for me to come down firmly on the side of "Cyrus did it", but it's enough to strengthen the idea that he had something to do with it. It was certainly enough for Fitz.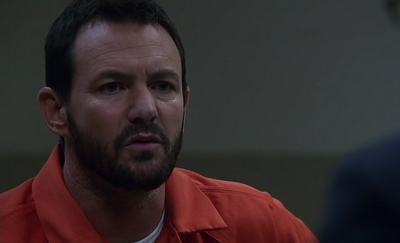 I'm not convinced that Nelson is the killer either. The conviction with which he proclaimed his innocence was very persuasive. I'm not ruling him out entirely; just because he said he didn't do it doesn't mean he didn't do it. There is a ton of evidence against him and it lines up perfectly. Perhaps too perfectly. The evidence does feel somewhat fabricated.
I'm still 100% positive that there was a conspiracy behind Frankie's death and I'm more inclined to believe, at this point, that maybe both Cryus and Nelson are being framed – Nelson clearly more so than Cyrus – by an unknown third party. Papa Pope did very readily volunteer Cryus.
I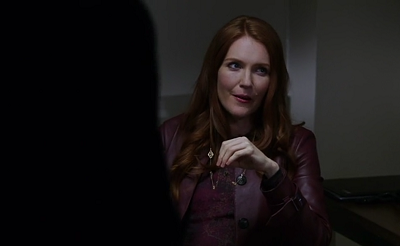 really don't like what Abby did by enlisting Jake to intimidate Nelson into confessing. I can't and don't trust his confession at all because of that. I know that she's just doing her job and I do like to see her throw around her power, but she was just infuriating in that moment.
I don't really think I ship Mellie and Marcus. I do want her to be happy – the woman has suffered enough over the course of this series – and he does seem to truly give her that, but as Liv said, getting involved with him is something she cannot do if she wants to be President.
The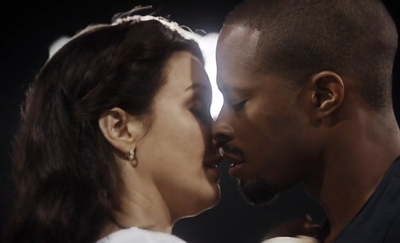 second Liv gave Mellie that look as she was gushing about how in love with him she was, it was clear that Liv was gearing up to do what needed to be done; break them up.  That lecture she gave Mellie about Marcus' apparent opportunistic ways was a test. And Mellie failed. The joy Mellie was feeling was clouding her judgement. We knew, Liv knew and Mellie knew that getting involved with Marcus would not do her career any favours
I also think Liv's expression was her feeling bad for having to take away Mellie's happiness.
I'm hoping, though, that Marcus wasn't using Mellie to get ahead in his career and genuinely loved her.
I don't think Cyrus' offer of making her Vice President is a bad one. Granted that he didn't kill Frankie, of course. I don't exactly think that she should outright dismiss it.
Random thoughts:
Stay away from him Mellie!
I choose you Mellie.
I just told you to stay away from him Mellie.
Does Angela want Liv to kill her? Because that's how she'd get Liv to kill her.
I'm mad at Abby too Liv.
Abby sit down and stop being such a busy body.
Scandal airs Thursdays at 9 PM on ABC.
Tell us how can we improve this post?