SOME SPOILERS AHEAD.
Scandal is back with a bang! Literally. The episode opened with an explosion (a very bad CGI explosion but an explosion nonetheless) and then flashed back to the events leading up to it.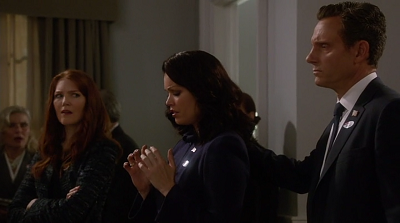 We got to find out who won the Scandal election and, unsurprisingly, it wasn't Mellie. I never thought that she was going to win. I couldn't see that many people voting for her. But apparently, very many did because the race was a close call between her and the winner, Francisco Vargas. But just when we – and Mellie – think she suffered a crippling defeat, the writers (as always) throw in an unexpected twist; Francisco was shot and gravely injured. And then died. Unceremoniously.
Ignoring the implications of his death and what it meant for the presidency for a moment, I was a little disappointed that this is how that character was written off the show. I really liked Frankie. He was one of my favourite characters from last season and one of the few on this show who didn't have questionable morals or resorted to underhanded dealings to succeed. He was a genuinely good person. He legitimately won the election then to just die? Just like that? Couldn't do Frankie any better?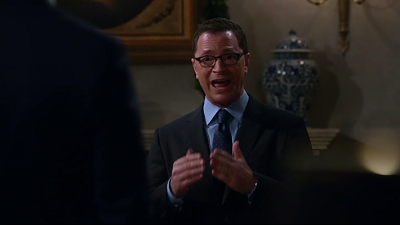 When he died and the presidency was left up in the air and David told Fitz it was up to him to choose the next president, I was sure it would have gone to Mellie. That is a way that I could believe her becoming president. And like Olivia said, I think she would do an amazing job at it. But then Fitz gave it to Cyrus. Cyrus! Mellie lost not once, but twice. That had to have been rough. Especially after the talk she had with Fitz on the balcony.
I would have really liked to see Mellie as president but, alas, it was not meant to be.
I 110% believed that it was Cryus who had Frankie killed after Papa Pope made his argument as to why it was him. Before then I was a little iffy on that assertion,because Cyrus always seemed to want to be the man behind the man in power, not the man in power himself. But after their investigation turned up no evidence that it was him I'm not so certain anymore.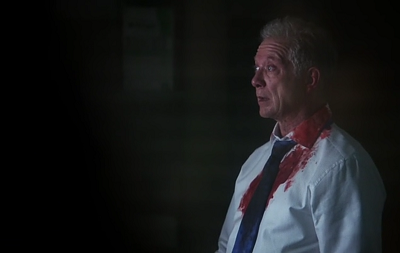 He did seem terribly shaken up by Frankie's death; which is believable because Cryus did actually like and care for the man. But on the other hand, it's believable that he would have pretended. But then he looked to be taken by surprise when Olivia confronted him at the end of the episode. But he could have been acting there as well. I was so back and forth coming on to the end that at this point I can't pick a side. I need more information.
It is clear, though, that there is some kind of conspiracy behind Frankie's death. Why someone would want him dead remains to be seen.The woman Quinn and Huck were looking for obviously had something to do with it. But there is the question of her willingness as a participant and why Cyrus was chosen as a scapegoat. That is, if he is a scapegoat and not the mastermind behind the whole thing.
Whatever the whole conspiracy is, we'll find out over the course of the season. Olivia is a woman with a mission and she always gets her man!
Random thoughts:
Why was Fitz's information wrong?
Fitz asking the question we all have on our minds.
I do not want Cyrus as president.
I love it when Fitz throws around his power as president and gets all commanding.
I was so convinced it was Cyrus!
Scandal airs Thursday nights at 9 PM on ABC.
Tell us how can we improve this post?