SOME SPOILERS AHEAD.
Mary continued to not handle Darnley correctly or treat him fairly.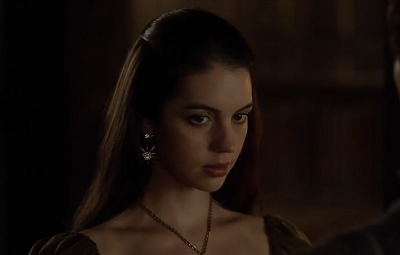 Firstly, she still refused to sleep with him to hide the fact that she became pregnant before they got married. I wasn't – and am still not – sure if she was trying to hide the fact that she's pregnant from him or that she got pregnant before they were married. In either case, it wasn't something she could hide for very long. Really, if she'd been trying to hide either from him then she did need to sleep with him, but he didn't seem particularly bothered when she told him. He was just happy with the news. I honestly expected her little secret keeping to blow up in her face by the end of the episode, but it didn't.
Secondly, she kept her meeting with the Hamilton family from him, since they have a long standing feud with his family and she didn't trust him to be on his best behaviour. Given Darnley's talent for screwing things up, keeping him away from the proceedings was perhaps a wise move. That being said, she still should have told him about it. That is not to say that she should be asking his permission, only that she should keep him informed. Their relationship isn't the best, but as her husband Darnley deserves her respect. At the end of last week's episode it really seemed like they were both willing to work on improving their relationship. It was really only Darnley who was, it seems.
He was rightfully upset when he found out and Mary had the gall to ask him to be the better man in the situation and put the past behind him for the sake of Scotland. As king, that is of course what he should be doing, but it wasn't particularly fair of Mary to make such demands of him for something she didn't trust him enough to tell him about in the first place. Given that Darnley was in fact the better man when he visited Lord Hamilton and admirably controlled himself whilst being goaded, had she discussed it with him at first and asked him to do so, the result would have been the same. I wish she'd been there to see it.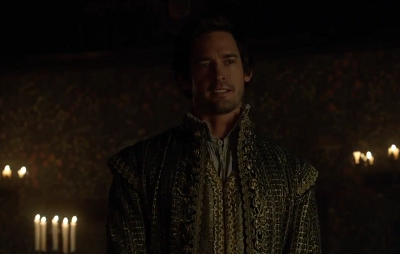 If there is one thing about Darnley – despite his failures – it's that he always tries to be the man that Mary wants and needs him to be and live up to her standards. But she never gives him credit for that. He would have been – and was – the better man simply because she asked him to be. It's not like he doesn't understand his duties as king either. He wants to be more actively involved in the governing of the country even; he wants to take on the responsibility of his position.
There was perhaps no way to prevent the debacle that result from Knox's playing Mary and the Hamiltons against each other. I was suspicious of the fact that Emily had any information to give James at all considering that Knox knew of their relationship. The man would have been extremely careful. It was still a surprise to learn that she was a knowing participant in the plot. I assumed that Knox had set her up as well. I don't blame her for wanting to hurt James and Mary, their exploitation of her was always sleazy considering her naivety and innocence.
Sadly, the whole mess meant that James needed to shoulder the blame and be banished from Scotland. I'm not so much saddened by his having to leave as I am that it means that Greer has yet again been unlucky in love. The girl just can't catch a break and her relationship with James ended before it could have ever started.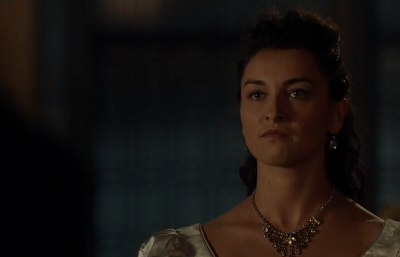 In France, Leeza continued to cause trouble from afar by sending a letter to Henry imploring him to return to France and take the throne from Charles. In an effort to spare her son his life, Catherine had Narcisse ask Nicole to convince Charles to abdicate the throne. Unfortunately for Nicole, this meant that she would need to disappear from court with Charles; something she didn't want because, surprise, she's in love with Narcisse. When he spurned her, she ended their partnership and refused to help.
I didn't buy that she actually had feelings for Narcisse and believed that she was only saying that so that she could stay at court. If Nicole has proven anything, it's that she cares only for herself. But her feelings are apparently real because it was incredibly easy for Narcisse to convince her that he was hesitant to love her due to his having loved and lost Lola. Despite the fact that Nicole expressed suspicion upon first hearing it. It was a genius play on his part, but it meant tarnishing the memory of the woman he still loves, for which he was understandably upset.
Because of a band of rogue Protestants taking Catholics hostage at the baptism of a child however, Catherine and Narcisse needed Nicole to convince Charles to take military action. When he did and the hostages were successfully saved (with the exception of the one that the Protestants killed), Charles got his first taste of what it felt like to be a beloved king when they came to the castle to thank and praise him. Just when his rule seemed to be on solid footing, his younger brother Henry (who looks at least six years older than him) came home. He assured Catherine that he wasn't going to go after his brother's throne, but I don't trust him. I believe that he's working the Leeza to take control of France. Catherine doesn't seem to believe him either, given the look on her face as she embraced him.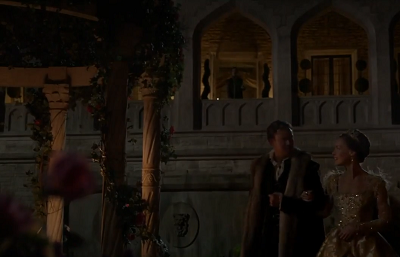 Elizabeth is herself trying to solidify her rule in England now that Mary has married Darnley, by seeking out a husband of her own. She threw a birthday party and entertained numerous suitors, eventually finding one that she was rather fond of. The only complication was that Gideon had developed feelings for her. Although she made it clear that their relationship is temporary and he understands that fully, he got jealous when he saw her with and she spoke kindly of the one suitor she liked.
He reacts angrily when she suggests they stop using contraception and test her fertility and cover up any resulting pregnancy with a hasty marriage to someone else. Gideon's confession makes Elizabeth realise that she has feelings for him as well. I was a little surprised at the passion with which Elizabeth expressed her feelings for Gideon; I couldn't help but think about and compare it to the feelings she had for Robert Dudley. She even hinted at the difficulties of the relationship she had with Dudley and Gideon assured her that he is not him.
I still find their relationship to be a little weird.
Random thoughts:
Why is Mary preparing for Hamilton's arrival when he hasn't even confirmed it yet?
You can't tell James about the pregnancy before Darnley, Mary!
I knew Elizabeth was meeting Gideon.
Dang it Leeza! Go away!
Are any of these suitors suitable?
I thought Knox left Emily.
Leaving Emily with Knox is a harsh punishment.
Reign airs Fridays at 9 PM on The CW.
Tell us how can we improve this post?