SOME SPOILERS AHEAD.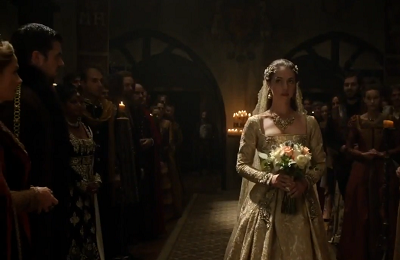 Mary and Darnley are finally married, but the road to their wedding has not been easy. Mary was still contemplating ending their engagement, eminent as their wedding day was – it was two days away – and Catherine was ready with a plot to ruin his reputation and his life if Mary so chose; she was going to spread rumours about Darnley being unfaithful with multiple women. At least this time, her solution wasn't murder.
As bad as things had gotten between Mary and Darnley, I still thought that she needed to Mary him in order to achieve her goal. If he'd been a total scoundrel and a terrible person – which he hadn't – then I would want her to get out of the marriage ASAP. But I believe that there is hope yet that they can find at least contentment together, if not love. They liked each other once and they can again. Especially since both seem to want to want to repair the relationship.
If only Bothwell would keep away from Mary and stop trying to seduce her. Kissing him out in the open when she had dozens of guests at the castle for her wedding to another man was a huge risk. He may have feelings for her and believe himself to be the love that Rizzio's prophecy spoke of, but Mary made her decision when she heard the prophecy and he needs to respect it. Said heir is apparently on their way. The choice has essentially been made for her.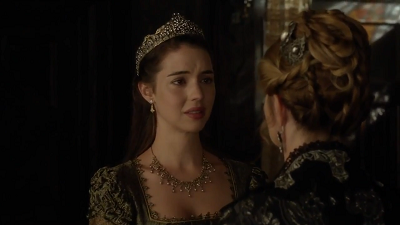 I wish that her decision to marry Darnley was solidified by her being dutiful to her responsibilities as queen and not by her being trapped due to an unexpected premarital pregnancy. I do think that she should sleep with Darnley at least once after the wedding. It's the one flaw in Catherine's plan; that Mary go on tour and announce her pregnancy when she returns. Darnley will know that Mary got pregnant before they were married if she doesn't and they're trying to hide that fact from him.
Catherine swooped in and saved the day by using Mary's wedding gifts to buy the loyalty of the border towns, something Mary feared to be unattainable without the Vatican's help (they withdrew their support when she interrupted a secret meeting between Darnley and a Cardinal). It seems to have been unnecessary since towns which hadn't been bought switched from English to Scottish anyway, simply because Mary had married Darnley. While this was great news for Mary, it had a devastating effect on Elizabeth.
The English queen's appearance in this week's episode was very brief. She placed the blame for her tenuous rule firmly on her father's shoulders, due to his rejection of her as his heir. Then she, shockinhly, slept with Gideon. I did not see that coming at all. I had to have missed every single clue that pointed toward it. Gideon had always been a faithful servant, subject and friend to Elizabeth, but his heart belonged to Mary. It remains to be seen if his feelings are now for Elizabeth or if he slept with her to comfort her, but I'm assuming the former is true. It was just weird seeing him go from one queen to another.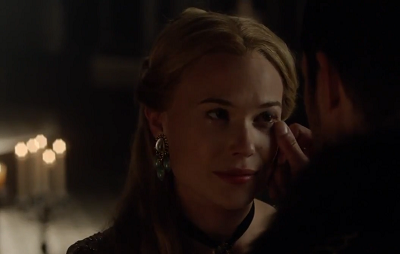 Greer had her own little romance  going on with James. One that was not interrupted by the appearance of Martin and James' realisation that he's Rose's father. I find James and Greer to be very cute together and they are my new favourite ship. Hopefully this time Greer will settle into a relationship that works. It's the final season and she deserves a happy ending.
I thought it was sweet how James encouraged Greer to let Martin take an active role in the life of his daughter. That being said, I'm with Greer that it's not a good idea. She eventually agreed to it, but it really isn't that great of a thing to allow. By virtue of his skin colour and that of Rose and Martin being around on a regular basis spending time with her, people will put two and two together and find out that he is her father.
James' other lady love, Emily Knox, didn't have it quite so good this week. Knox confronted her with the fact that he knew she was having an affair with James by showing her a woman who was being publicly shamed for adultery. He stripped her of her shoes and clothing and left her naked in the street. She later showed up at the castle, angrily staring at James as he caressed Greer's face. Emily is about to stir up some trouble.
Random thoughts:
Baby daddy drama for Greer!
Since when was Mary pregnant?
Oh. Well Lord White was handled very easily.
Does Lady Lennox really think that she can challenge Catherine in shade?
This Cardinal is a real misogynist.
I love that Rizzio got distracted by Mary's wedding dress, as stereotypical as it is now that it's been revealed he's gay.
 Really? Darnley got drunk before the wedding? If he wants to be a better man then he needs to just be a better man.
Leave Mary alone Bothwell.
Reign airs Fridays at 9 PM on The CW.
Tell us how can we improve this post?