SOME SPOILERS AHEAD.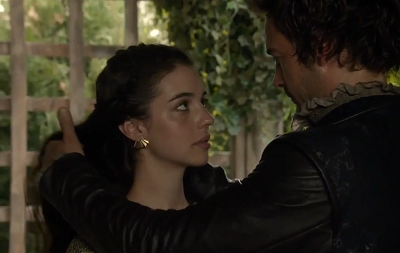 Henry Darnley is starting to grow on me and I am loving the budding romance between him and Mary. He's truly gone from the scoundrel that he was when we first met him, to a sweetheart who I can't help but hope Mary falls in love with and vice versa. The chemistry between them is amazing and after all that she's suffered, it's time that Mary had a happy ending.
It was Mary's past with Francis that prevented her from allowing herself to get closer to Darnley than she has already. Their marriage ended in such tragedy and I didn't realise the parallels between what happened to Francis and the assassination attempt on Darnley until she pointed it out. Arguably, the situation between herself and Darnley is far more dangerous than with her and Francis because her situation with Elizabeth and England is worse than it was then.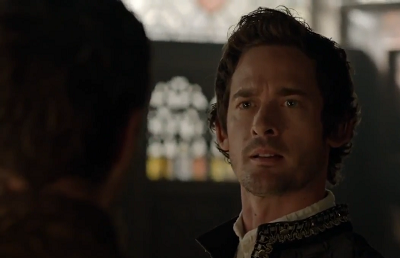 I admired Darnley's bravado in defying England when he rode away from the diplomat, but not so much after word was received that Elizabeth had sent her forces to retrieve him. He needed to take it down a notch and realise the severity of the situation. Sending him away was the best course of action, even though that was playing right into England's hand. Had he been at court for the engagement celebration, there would have been no easy way for him and Mary to defy England once again. I do love that he's not afraid of them.
I was cringing waiting for the moment when Keira would tell Darnley about the letter his mother sent. It's only a matter of time before he learns the truth now that she's there. She seems to have gone mad since their relationship ended and was that a threat that she made to Mary? For now Darnley doesn't seem to be interested in her and hopefully it stays that way. It likely won't and Keira will stir up trouble.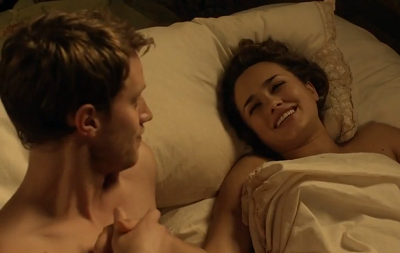 I was very surprised that Leith had actually agreed to the open marriage. It didn't last very long though. Catherine's words came true; seeing Claude, the woman that he loved, sharing her body with someone else poisoned his heart. He even repeated the words to Claude as he was preparing to leave. So much so that he almost let Luc die so that he could have her to himself.
I'm glad he didn't resort to that because that is not the Leith we've come to know at all. For him to have been driven that far says a lot. He couldn't even take comfort in the fact that nothing happened between Claude and Luc. But like he said, it would happen eventually. As much as I love him and Claude together I just can't hate Luc. He is a very good man. If Claude and Leith never go back to being a couple, I wouldn't be upset about her being with Luc.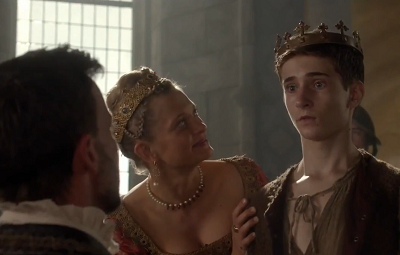 Things aren't going well for Catherine and Narcisse and by extension the French throne. Leeza has finally become aware that Charles has fled and gone missing. I knew what Narcisse was doing when he was being flirty with her when she was showing off the art she stole from French protestants. She really is a terrible person for one who is so devout. I was hoping that Narcisse's flirtations were enough to keep her from conducting her own search for Charles. But they weren't. She is her mother's child.
I had a feeling that Agatha was going to die. Gideon kept stressing that Elizabeth doesn't have the power to control that and I felt like it was a narrative indication of his daughter's fate. I had hope that the physician she called in could help her, especially when he reported that his treatment had worked. Said hope was short lived the moment that Elizabeth noticed his fingers. I thought he was a sham when he said that the roses would be very expensive. Who wouldn't take the opportunity to get as much money as they could from a queen?
Random thoughts:
We haven't heard the theme song in a while.
You aren't married yet Mary and Darnley!
But how will they know that any child Claude has is Luc's?
Oh great, Leeza's back.
Are Greer and James going to be a thing?
Don't let him die Leith!
Dear Leith, Greer is single. Got to Scotland.
Is Keira crazy now?
Reign airs Fridays at 9 PM on The CW.
Tell us how can we improve this post?