SOME SPOILERS AHEAD.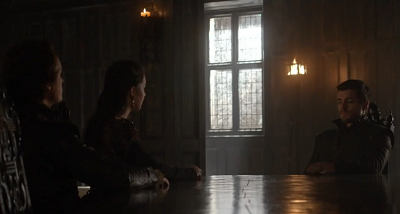 It was nice to have an episode in which Mary and James got along and she was not berating him. I was pleasantly surprised that she actually sought advice from him concerning whether or not to accept Gideon's marriage proposal and abdicate her throne or marry Darnley. And that she actually listened to him and did what he suggested by publicly displaying her and Gideon's affections for one another. She kind of had to include him in the decision since he would have ruled as her regent if she married Gideon, but I still liked seeing her behave that way toward him.
I thought that Gideon and Elizabeth's offer was a good one; everyone would win in that situation and it would have meant a peaceful resolution to the conflict. I believed Elizabeth when she said that the fortifications had been underway long before she made the arrangement with Mary and she chose to put her there because she was considering her safety.
Unfortunately, Mary heard about it from Lady Lennox, who I do think despite her telling the truth, was using it to get what she wanted. I can't entirely dismiss her concerns about Elizabeth not being able to move past her fear, however. Both Elizabeth and Lady Lennox said things I agreed with. Ultimately I think that Elizabeth would never have done anything to harm Mary if she could help it.
Now Mary has the not so easy task of courting Darnley after he witnessed her clearly being interested in someone else and losing the woman he loved.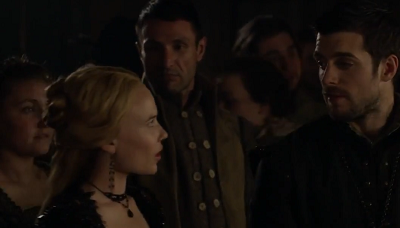 I'm a little surprised that Greer isn't in on the plot to seduce Emily Knox. She wouldn't have approached James about his attention toward her if she was. I'm with James on feeling a ways about taking advantage of someone so innocent and keen on keeping her marriage vows. I'm expecting that James' flirtations will go from just being part of a ploy to use her to becoming genuine.
It's only three episodes into the season and I think I've reached the peak of my tolerance for Leeza. I want her gone. Catherine needs to find a way to get her sent back to Spain. Over the course of this episode she went from annoying to unbearable. Especially when she came at Catherine for "daring to take [her] on" and threatened Claude in the church. I don't know why she's at French court and trying to remake it in her image. What's the motivation there?
Clearly the terms of her deal to free Narcisse are moot now since Narcisse got himself out of England. Her efforts transpired after he'd already left. She did nothing and is owed nothing. I'm glad that Narcisse is back in France and keeping his positions as Lord Chancellor. I'm not so glad that he wants nothing to do with sweet, little Baby John but I can understand. At least he's back home with his grandmother, aunt and uncle; people who love him and will protect and care for him.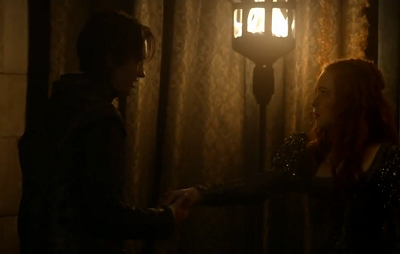 Is Charles sick and also going mad? Or is his madness making him sick or vice versa? I thought he was just being moody because he was sick, but it seems like he's going mad. Either that or he just said and did the things he did to Bianca to scare her off. The fact that she's missing greatly concerns me, though. I knew something bad was going to happen to her when Narcisse told her "If it pleases the King, don't stop." Those were very ominous words. And leave it to Narcisse to try to motivate a king with sex.
Random thoughts:
No! Not the Danish prince.
I love it when Catherine and Narcisse team up.
Catherine: "Some friend of his was roasted alive." She said that so flippantly!
This is why you do your own poisoning, Catherine.
According to history, Elizabeth, you will be the queen that survives.
Reign airs Fridays at 9 PM on The CW.
Tell us how can we improve this post?