SOME SPOILERS AHEAD.
There was quite a bit of confrontation in this episode and not just from the people you'd expect it from: Angel, Stan and Patty. Of course, their overall story had been heading there since episode one. There was confrontation in Pray Tell and Blanca's stories for this episode as well.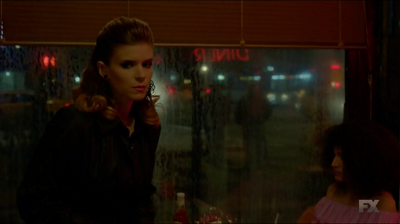 This episode picked up more or less right where the last left off with the confrontation between Patty and Angel. I was still surprised by how calmly Patty was handling everything. It was like she wasn't even angry, only hurt. Perhaps that was the case. Angel's reaction to Patty was a little disappointing simply because she was in no way apologetic. It's one thing for his wife to be this person she knew existed and never interacted with, but seeing her in person and witnessing her feelings up close should have stirred something in her. Angel just…didn't care.
Patty's ambushing Stan with a couple's therapy session was pretty amusing, as was his still trying to deny the affair at that point. Not just because we, the audience, already knew that she knew, but because given the circumstances it was too late to try to hide it. Patty didn't do what I thought she would, however. I expected the therapy session to be about them working to fix their marriage. Instead it was for her to tell him that she was leaving him. For some reason I never thought of her doing that.
I guess a good thing that came out of the affair was that now she's pushing herself to find out who she is and Stan can as well. If his breakdown during the session was any indication, perhaps he's confused about his sexuality. He does seem sure about wanting to be with Angel, though, since he went right back to her at the end of the episode. Which may not be the best thing? It's not clear if he went back to her out of love or because his family has collapsed and he hit rock bottom. I would like to think that it's the former.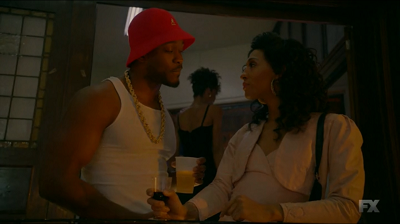 I really liked Darius, incredibly corny as he was it was still very, very charming. His flirting worked on me just as much as it did on Blanca. It was so nice to see her getting that kind of attention and acting like a giddy school girl with a crush. It was adorable. Unfortunately he was just a giant man whore. That revelation just made me think back to Ricky at the start of the season and a part of me was hoping that, like Ricky, he'd give up his whoring ways because he found someone he really liked in Blanca. Who knows if that would have happened though, because she dropped him as soon as she found that out.
I was 110% Team Candy and Lulu when they told her to just have fun with him. She didn't need to get into anything serious. I was quite disappointed when she showed up at the hospital. I so wanted her to "hoe it up" like her friends were telling her to. But Blanca doesn't want a Mr. Right Now, she wants a Mr. Right and that's fair. Her standing him up did lead to the awesome confrontation between her and all of her girlfriends and Darius. If that wasn't a girl power moment, then I don't know what is. Candy and Lulu were all for her just using him for sex, but they totally backed her up in that moment and respected her choice not to.
We also wouldn't have gotten that amazing duet between Blanca and Pray Tell had she gone out with Darius. That truly was the highlight of the episode and I need more musical numbers with those two in the future. I was very surprised by how well she sang and by the fact that her singing voice was quite masculine. I was expecting Blanca to be good for someone who wasn't a professional singer, but she was just good. Really good. The two of them singing together was just captivating. I suspect the poignancy of the song is what led to Costas confronting Pray Tell.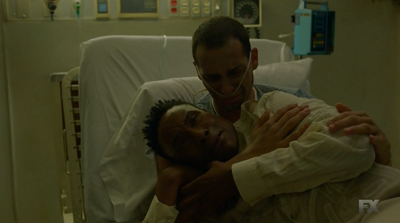 I've watched enough stuff to know that a character is about to die when they say something like:"When I die, don't be sad. Move on and find love." That was not in the back of my mind at all during Costas' speech. All I was thinking about was how much Pray Tell needed to hear what he was saying because he had been avoiding the reality of Costas' situation. He looked so much worse in this episode than he had in the last and it'd already been established that he wasn't getting any better. It was honestly a shock when Pray Tell got the call that Costas had died. Especially given that he'd literally just given him the speech.
I was glad that Pray Tell had opened up to Blanca about Costas' condition. The intervention worked. I think that that and Costas' words are what enabled Pray Tell not to spiral like he had been at the beginning of the episode.
Random thoughts:
Pray Tell is drunk as a skunk and falling apart.
I thought Pray Tell was about to tell the kids about Blanca.
I honestly forgot that Candy and Lulu are Blanca's sisters.
Damn. Pray Tell can sing!
Is Costas blind?
Well Stan got his butt kicked.
You go Lil Papi!
Pose airs Sundays at 9 PM on FX.
Tell us how can we improve this post?