SOME SPOILERS AHEAD.
I swear every episode of this show thus far has been more heartwarming than the last. This episode was so sweet. It was really weird having a Christmas episode at this time of year, but it was the perfect setting for the story that was being told.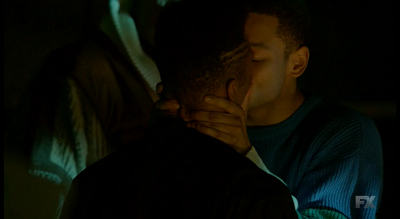 It looks like we skipped forward in time quite a bit. Damon and Ricky are actually in a relationship and not taking it slow, as friends, like Damon said they would in the last episode. Not only that, Ricky has now become an official member of the House of Evangelista, so they're practically living together. It was nice to see Ricky participating in a Ball and he looked very fine indeed. Why Damon felt the need to have Ricky win a trophy in order to be taken in by Blanca is beyond me, though. He knows her better than that; she doesn't run her House that way. Simply asking would have been enough, especially given that Ricky lived on the streets.
Everything wasn't going smoothly for Damon, however. He got kicked out of class by Helena and subsequently banned from Balls by Blanca, since they were distracting him from his studies. I think that Helena's outburst in class was very much driven by losing her former, star student; a role that Damon has now filled. He died before he got to see his dreams realised and she wants Damon to be able to achieve his. So she is pushing and wants him to work even harder than he has before.
I must admit that I laughed when Damon flounced out of the room after Blanca banned him. It was really funny. I empathised with how much it hurt Blanca to do that to him, knowing how much the Snow Ball, especially, meant. I was so happy when he came around later in the episode and recognised that Blanca was right and that it was for his own good.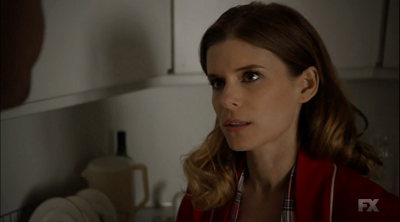 I really thought that Patty was going to find out about Stan and Angel in this episode. What with their daughter ratting Stan out for buying two gifts (as I knew she would) and his boss trying to sabotage his marriage by planting the seed in Patty's mind (which I'm not surprised by), I was sure it would happen. It almost did too, but Stan dodged that bullet. The season may only be eight episode, but at this point I think that it's too early for that to happen. I still think that it will, however, and that Patty came close to finding out will only make the later reveal that much worst.
I guess that I should have known from the second that Angel asked Stan to spend Christmas night with her that it wouldn't happen. I don't think that Patty and Stan's fight was the reason that he didn't, it might just have solidified the decision. That Angel's necklace was already in the jewellery box with Patty's bracelet means that at some point, before their fight, he decided not to. Maybe even when he was still in the jewellery store. Which only makes me less confident that this will work out for Angel and think that if it comes down to choosing between her and Patty, Stan will choose the latter.
I didn't dislike Elektra in this episode. In fact, I found her to be pretty amusing and funny. Not that her journey toward – what was at the time called – Sexual Reassignment Surgery, was funny, but that the heist to steal the Salvation Army donation collection bucket was hilarious. Although that isn't funny either since they were literally stealing from a charitable organisation. But the way they were peaking around the corner, playing their roles as they all came out and running around the corner in their very conspicuous coats was too funny.
I honestly thought that she was going to find out that she had HIV/AIDS when we saw her in the hospital. That, so far, had been the only time we had seen someone in a hospital in the series. I especially thought that that was going to happen when she said that she hadn't been to the doctor since 1979. It's nice that we saw a character in the hospital for something that wasn't HIV/AIDS related. We did still get that when Pray Tell went to visit Costas, though. If any of the characters in the show would have gotten gender confirmation surgery, I would have assumed it to be Angel, not Elektra. I wasn't surprised when she used the money she stole as a deposit on the surgery.
Random thoughts:
I thought Angel would have had this apartment already.
Lol he already had condoms in the drawer.
You suck at dancing Papi.
You don't have the right to be jealous, Stan.
Patty's mother is a grumpy old curmudgeon.
Aww, Blanca got a gift for Ricky.
Pose airs Sundays at 9PM on FX.
Tell us how can we improve this post?