SOME SPOILERS AHEAD.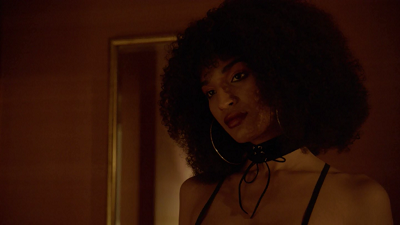 For a show made by Ryan Murphy about ball culture in the LGBT community of the late eighties, in this first episode, Pose is surprisingly subdued. It's not as over-the-top and extravagant as one would expect from a series that focuses on this subject. Although the show does turn it up a notch when it comes to the balls themselves, but it never quite wows there either.
That being said, it wa  s still a good start to this show. The balls feature prominently, but they're not the main focus; what this show is about is finding a family and a home that loves and supports you for who you are and exploring how houses – and house mothers – did/do exactly that for those in the LGBT community. Particularly those members whom are people of colour and/or trans.
This episode was a wonderful introduction to the characters that make up the main cast; Blanca, Angel, Damon and Stan. It did a very good job of making me sympathise with these characters and become invested in their stories.  Not just because terrible things have happened to them (Blanca has AIDS and Damon was beaten and disowned by his parents, for example), but because they're relatable and loveable. They aren't particularly well developed as yet, but this is only the pilot.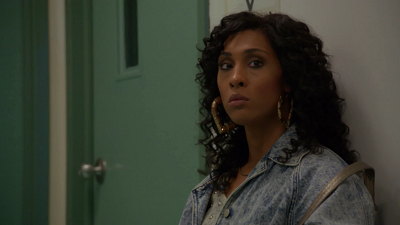 Of the four main characters Blanca is my favourite. It's unfortunate that she has AIDS, mostly because I wish that we could get away from telling stories about LGBT people that have to do with HIV/AIDS. It's like how every other movie about Black people is about slavery or the Civil Rights era. Her status, however, is neither here nor there. I just love how big her heart is and how much she cares about her children. She opened a house to secure herself a legacy, but she's not selfish or ruthlessly ambitious. She certainly wouldn't have her children rob an exhibition…
Angel's – and by extension Stan's – story is the one I am most interested in, however. Her dream isn't to leave a mark on the world or to become a star. All she wants is to be loved and accepted. I really want her to find it with Stan just so she can be happy and he does genuinely like her. On the other hand, he's so deeply closeted and clearly dealing with a certain degree of self loathing that his baggage isn't at all healthy for her. It's not healthy for him either. I don't want their relationship to be toxic. I want him to be the Prince Charming she said she wants. I want them to have a wonderful fairy tale romance.
The characters, so far, are what make the series worth watching. The acting…leaves a lot to be desired. The cast largely comprises of unknown actors who are so new that they have barely any credits on their IMDB pages…and their inexperience really shows. For the most part the cast did a decent job. Their acting was passable. By far the worst of the bunch was Dominique Jackson who played Elektra, the house mother of the House of Abundance. Her performance really lacked authenticity and emotion. The best of the newcomers was Indya Moore aka Angel. As for Ryan Jamaal Swain, the actor who played Damon, the aspiring dancer in the House of Evangelista, his dancing also left a lot to be desired.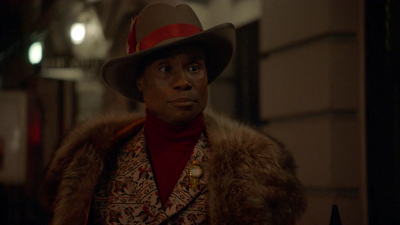 As a show that features characters who are part of a heavily marginalised group, Pose obviously has something to say. Several things, in fact, if this episode is any indicator of things to come. It is most definitely a show with a message. It is a very important message to be sure, but Pose has a very on the nose delivery that lacks a lot of subtlety. More that once the dialogue was very heavy handed and just took me out of the scene.
The most striking example of this for me was near the end of the episode when Pray Tell told Blanca how important it was for her to keep the House of Evangelista open, something that she – and by this point, the audience – already knows. Not only did Blanca herself talk about the love and community of the houses and how they give LGBT people a place to belong, her compassion and love for her children exemplifies exactly what a house is. She was the last person who needed to be told that and through her the audience has already seen what houses do for the LGBT community. It was a moment that was very unnecessary.
Though not perfect, the premiere episode of Pose was engaging and enjoyable. It definitely deserves being given a few more episodes to see if it's worth sticking with until the end.
Random thoughts:
Blanca looks like Cher.
They're not even trying not to get caught.
Dang, I thought his mother was on his side. She's not.
So he's just going to do cocaine openly like that?
But how will they pay for Damon to go to school?
Pose airs Sundays at 9 PM on FX.
Tell us how can we improve this post?