SOME SPOILERS AHEAD.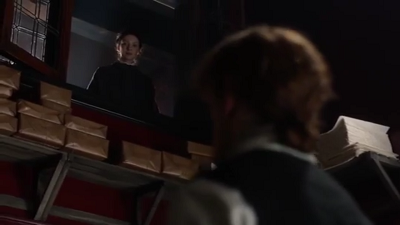 This was a very slow episode, but not in a bad way. The show took it's time in re-introducing Claire and Jamie to each other and us to them as a couple, after five episodes of seeing them apart and longing for their reunion. As Claire said when they sat down to dinner, they were "savouring each other." Just as we were savouring every beautiful moment of the two of them being back together and eagerly anticipating the moment when they consummated their reunion. And when that particular moment came, it didn't disappoint.
Before we get to that, though, can we just appreciate the first few moments of their reunion? Particularly when Jamie fainted? That wasn't the reaction I expected from him, but it was truly adorable. As was watching him pore over the photos of Brianna (his reaction to the bikini picture was hilarious). I so wish she had been there for him to meet in person. The only one of his children he has had the chance to have any physical interaction with is Willie and he had to leave him too.
It would have been nice if her reunion with Fergus hadn't been quite so brief. He's basically her child. One that she hasn't seen in twenty years. He's a grown man now! I'm hoping that in subsequent episodes they sit down and catch up and she gets to know him as an adult. We, the audience, don't know what his life is like now either. Is he married? Does he have children? I'd like to know these things!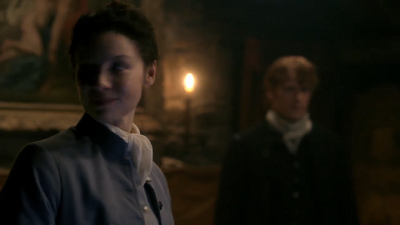 A slightly bigger question is whether or not Jamie and Claire will continue to live in the brothel. I'd imagine that they won't, even though Claire doesn't seem too bothered by it anymore. Honestly, when Jamie denied being a client of the establishment, I thought that her next question would be whether or not he was one of the prostitutes. Not that I would have expected him to have been; Jamie wouldn't do that. Still, it was the logical leap considering he lives in a brothel and isn't a client. How he is making his money, however, is arguably more questionable.
Is Jamie ever not on the wrong side of the law? We got a hint that he wasn't entirely on the straight and narrow with the two men who showed up at the print shop and then again when he met with Percival. Only for him to later state that he is a smuggler. One who already has an arrest record. He never fails to be the "bad boy" with a heart of gold.
But enough about all of this other stuff, let's talk about those love scenes!
The slow, purposeful way that Jamie and Claire undressed each other was so sensual and intimate. Here again they were savouring every moment. Claire's covering up and embarrassment at Jamie staring at her nakedness so intently was unexpected, but endearing. It made sense that she would be somewhat uncomfortable being naked in front of him again; the two were still getting to know each other again and she'd previously expressed some concern about her appearance since she'd aged quite a bit since she last saw him. But of course our Jamie always sees her as beautiful.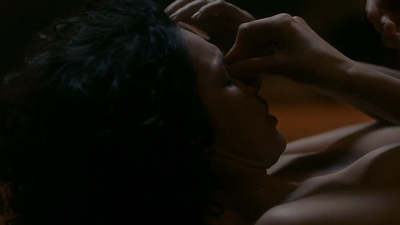 Some awkwardness in maneuvering around each other was to be expected; they hadn't had sex with each other in twenty years, they needed to relearn each other's bodies. Still, that Jamie hit her in the nose and then hit her head was adorably hilarious. It was a bit of a subversion, as was the fact that the first time they had sex in the episode, Claire told Jamie not to be gentle.
In these kinds of stories the sex is always perfect. No one is bumping into the other or being clumsy and uncoordinated. Sure, the second love scene was the slow, careful and tender sex one would expect. A scene in which Jamie and Claire did what they'd been doing all episode; savouring each other. But in this first love scene there was none of that. It was all twenty years of pent of desire and hunger for each other, released in a quick bout of passion. And in keeping with Outlander's treatment of love scenes in its three seasons, it wasn't gratuitous at all.
Random thoughts:
Jamie's in pants!
Well Geordie's a little rude.
Aww, Jamie was concerned about Frank.
Cockblocked in a brothel!
That is a lot of clothes to take off.
Young Ian!
Of course Claire would have no problem with the prostitutes and get along well with them.
Outlander airs Sundays at 10 PM on Starz.
Tell us how can we improve this post?