SOME SPOILERS AHEAD.
Our favourite time travelling World War 2 nurse and Scottish Highlander are back on our TVs and in our living rooms! Starz's Outlander has returned to television after a later start than the last season; September versus April. As the saying goes however, "good things come to those who wait." And the wait was definitely worth it.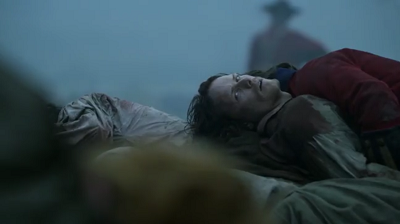 Through Jamie's flashbacks, as he laid dying in a pile of corpses, we got a glimpse into the Battle of Culloden from his perspective. Never was Prince Charles' incompetence as a leader made so clear as when he, Jamie and the rest of the leaders of their forces were on Culloden moor, under attack, and he did nothing. Even at Jamie's urging that he give the order to charge. The most he said in the episode concerned a cup.
It wasn't until he swooped in and saved Jamie that I questioned the whereabouts of Murtagh after the battle. With Rupert saying that he didn't know where he was and his not being with Jamie during his return to Lally Broch, I'm quite worried about him and I'm hoping that he's not dead.
The best part of the flashback was when Jamie finally got his revenge on Black Jack Randall. I suppose that in some screwed up way, Jonathan Wolverton 'Black Jack' Randall died in the arms of the one he loved? I must say that as much as I abhor the man – I can't decide if he's worse than Ramsay Bolton – I will miss his presence on the show. Thankfully, his death doesn't mean the end of Tobias Menzies' (one of my favourite members of the cast) departure from the series.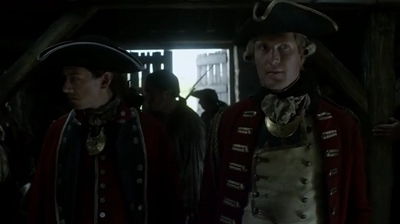 I can't have been the only one that shouted "Oh come on!" or some such exclamation when the Red Coats found Jamie, Rupert and the rest of the surviving members of the Jacobite army. I was so upset that Rupert died! Just last season he'd escaped death in the Battle of Prestonpans, then to die in the very first episode of this season. The one silver lining was that Murtagh wasn't there to get executed like the rest of them. I'd rather he'd have died in the Battle of Culloden if he's dead at all.
Jamie's rescue was very unexpected. I thought that Rupert would be the one to save him. John William Grey was mentioned in the recap at the beginning of the episode, but I thought nothing of it. It does feel like a plot convenience that his elder brother just so happened to be in charge of the Red Coats that found them and was such an honourable man that he wouldn't deign to besmirch his family's name by killing Jamie.
That being said, I was still relieved that Jamie had been saved. I wasn't afraid for him in this particular scene (I was when he woke up on the moor and the Red Coats were going around executing dying Jacobites), but still. Also, it was kind of  hilarious how much he insisted on being killed when he was so dutifully being ignored.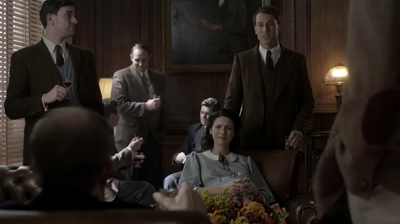 I think that not having seen Claire interact with the world as it was in her own time made the sexism she faced all the more startling and infuriating. You'd think that she'd have had it worse when she was in the 18th century, but she didn't. Then again, she wasn't exactly in the same kind of situations.
What was perhaps most shocking was that Claire just swallowed what Frank's boss said about her place being a domestic housewife and mother, going so far as to smile and agree with it. She's usually so feisty and speaks her mind. I suppose she held back so as to not get Frank fired and perhaps because she was so melancholy; she couldn't find the strength or will to fight back as she usually did.
I should have known that her and Frank's happy relationship was too good to be true. That fight between them was intense! Frank had a point though, that they needed to talk about their feelings and their relationship if Claire intended to stay with him. He wants a real relationship and family with her, but she won't let him love her. On the other hand, he knows that she's deeply in love with someone else and carrying his child. He can't expect her to just get over Jamie. They're both, in some ways, being insensitive to the others' feelings.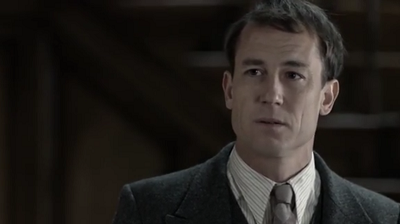 He did give her a choice to stay or leave him, but as we know from last season and the previews for this one, that she stayed. It was hard to see, given everything that was brought up during their fight, how they would or could have stayed together for twenty years and survived it…until the birth of Brianna.
Can we talk about how utterly disturbing that birth scene was? It wasn't just how sexist the doctor was being, but how he just disregarded Claire's request that she not be put under as she gave birth. It's hard to believe that in the 1940's – really, not that long ago – that patients' wishes weren't respected, especially in such a situation. He robbed her of participating in the birth of her child.
She had absolutely no agency or autonomy in that scene. No say in what happened to her body. No choice in how her child was delivered. No opportunity to be consulted in case there were complications (which most definitely would have fallen to Frank). There were so many layers of wrong there.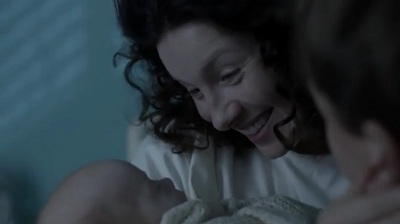 In any case, Brianna's arrival granted Claire and Frank their chance to start over and find some semblance of happiness in their relationship. Maybe even love. It was such a sweet and tender moment that gave me hope for how things would turn out for them. Then the nurse had to go and ruin it by asking about her red hair.
Random thoughts:
I love how the opening changes slightly every season.
Is Claire having a hard time adjusting to modern luxuries?
I don't know if I like Claire's neighbour or not.
R.I.P Rupert.
Frank's writing the letter Brianna found last season!
Keeping the father out of the birthing room is such a strange practice.
Outlander airs Sundays at 10 on Starz.
Tell us how can we improve this post?