SOME SPOILERS AHEAD.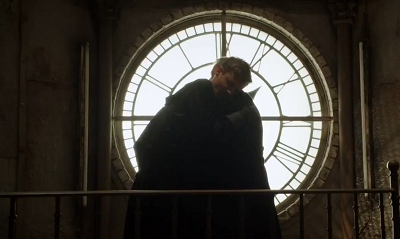 Every now and then this show manages to make Rumpelstiltskin sympathetic. I love him when he's at his best and I despise him when he's at his worst. He is usually at his best when he is trying to fulfill his duty as a father and in this week's episode we got to see him in the past and the present with both his sons; Gideon and Bae.
I like that Rumple actually tried to talk Gideon out of killing Emma. It wasn't out of the goodness of his heart or because he cared about her, he just didn't want his son to blacken his heart. Given that Rumple can speak from experience about how it's incredibly difficult to turn from darkness once you've chosen that path (the man tried and failed so many times), you'd think that Gideon would listen to him. He's so hellbent on killing Emma, however, that Rumples warnings fell on deaf ears.
Emma isn't to be the only one of Gideon's victims in his pursuit of Saviourdom; he went after the Blue Fairy to steal her magic and repair the sword that is to be used to kill Emma. Realising that he can't stop Gideon from executing his plan, Rumple decided to steal the Blue Fairy's magic for him so that he doesn't have to commit an evil deed. Which is all fine and good, but Gideon is still an active participant in and the facilitator of any evil deeds Rumple executes on his behalf. That doesn't exactly exempt him from not doing evil. He still is. I guess in Once Upon A Time  having  others commit evil for you won't blacken your heart but doing it yourself will.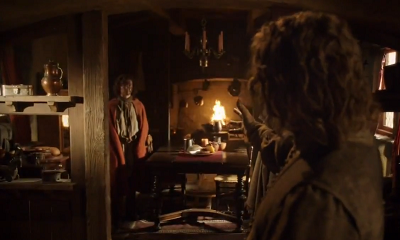 Back in the Enchanted Forest after the First Ogre Wars, Rumple tried to give up using dark magic for Bae. He did well with it too and Bae was very good at motivating him and convincing him that he could be a hero without it. Rumple even entrusted him with his dagger when they went to defeat Grendel. But Beowulf, because of jealousy or fear or hatred or all three, kidnapped and killed some of the towns people in order to lure Rumple into a trap and frame him for their deaths, berating and thus angering Bae when they try to stop him.
I felt for Rumple when Bae compelled him to kill Beowulf. The moment that motivated Bae to do that didn't feel like enough of a reason for him to have reacted so strongly, but the reaction from Rumple was a little saddening. I expected that Bae would realise the gravity of what he'd asked his father to do and felt guilty following that. It seems, though, that using the dagger to control the Dark One makes the wielder susceptible to the lures of darkness, because Bae was 100% on board with Rumple continuing to use dark magic after that.
I felt for Rumple again when he gave Bae the memory potion and Bae went from being on his side, to immediately hating him because he killed Beowulf. Rumple accepted being hated by his son in order to save him from darkness.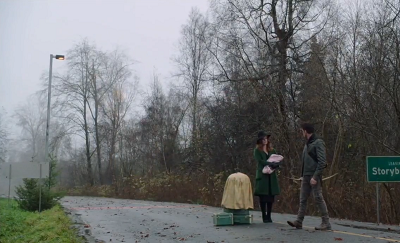 The good news about Robin 2.0 is that he didn't want Regina's potions for some nefarious reason and isn't actually a bad guy. The bad news is that he wanted to use it to break the protection spell on Storybrooke and run away from Regina, with the help of Zelena. This episode killed my dreams of an Outlaw Queen rekindling. Especially since Robin is supposed to be her true love. I so want Regina to get her happy ending and it seems to be drifting further and further away from her. It had to hurt her when he said that he wanted to get away from her because her comparing him to Robin 1.0 wasn't enabling him to start over.
For a moment I considered the possibility that he and Zelena may become a thing. Given the history between Regina, Robin 1.0 and Zelena that would be so unfair to Regina. Even worst than that would be Robin 2.0 and The Evil Queen. I do not want that to happen, but it looked like The Evil Queen was starting to cozy up to him a little, although, she does have a flirtatiousness about her naturally so I may be reading too much into it. The two of them seem to be well suited at least a little bit; he's a total scoundrel and she's, well, The Evil Queen. And her being Regina would mean she still ended up with her true love if that happens. I hope that I'm wrong about this.
If only Emma hadn't said anything before Hook could get his confession out, he wouldn't still have his secret weighing him down. The second she said yes he should have continued with his speech and told her about David's father. She'll take it hard, of course, but she'll appreciate his honesty and be able to move past it. I do not at all like that they have a secret between them and want Hook to just tell her already so it isn't a thing anymore. This drama is so unnecessary.
Random thoughts:
The CGI on these ogres is so bad.
Yea…we know Rumple didn't keep that promise.
Do not untie Gideon, Rumple.
Gideon lived in a cell?!
Has Hook been drinking all day?
Why are you wearing shoes in the house, Emma? And boots at that.
Once Upon a Time airs Sundays at 8 PM on ABC.
Tell us how can we improve this post?