SOME SPOILERS AHEAD.
Once Upon a Time is back! And for a while now, actually; I didn't know that the season had resumed. I need to keep up with these things better. Anyways.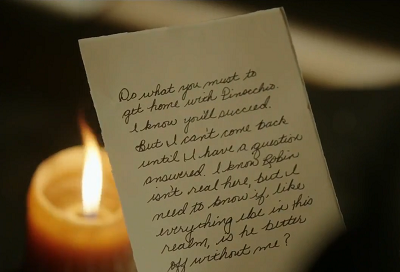 The second half of the season picked up right where the first half left off; with Emma and Regina losing their ticket home because the wish world's version of Robin stops and robs them. But Emma has the brilliant – I must say – idea of going to Pinocchio so that he can build a cabinet to transport them home, just like his father had when she was a little girl. While Emma and Pinocchio handled that, Regina pulled a Batman and snuck off to see if Robin, like the rest of the wish world's version of the Enchanted Forest, was better off without her. This story was far more interesting than Emma helping Pinocchio finding the confidence to build the cabinet.
I found it so unfair to Regina that Robin died and Emma got Hook back at the end of last season. So seeing them back together was a joy. Their getting captured twice felt very forced. Especially the first time since Regina knew very well that in the wish world she was still the Evil Queen, so to go to the tavern/pub not in disguise was a dumb thing to do. Of course once everyone scattered they would have notified the authorities, who would then swiftly come back and arrest her.
I get that she was caught up in her feelings, having seen Robin, but it looked like she wasn't thinking at all. Their two captures were just excuses to get the two of them alone together really. Their escape from Rumple didn't make sense either; he would have magicked that door shut, not just locked normally even though Regina had on the cuff that suppressed her magic. But nothing is stronger than the plot.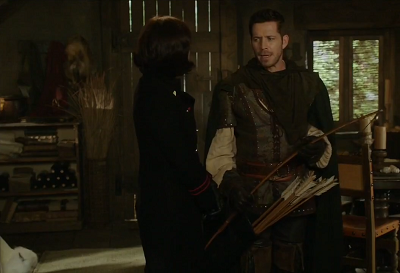 I was cheering on Regina to have faith and believe in her happy ending when Emma suggested she take the wish world's Robin with them. It seems that Emma's role for this episode was to inspire others to believe. Which I found very poetic since coming to believe in herself as the Saviour was her arc in the first season.
We all knew that taking Robin back with them would work; this show is about hope and happy endings, there was no way that Regina wouldn't get hers. Their attempt to build tension and cast doubt on whether or not they succeeded by delaying his return just failed. Now we get to see Regina and Robin fall in love all over again. The biggest question for me though is how he will react when he learns he has a child. Two in fact.
Over in the real world, Gideon reveals why it is that he is going to kill Emma; he wants to be the Saviour of the realm over which the Black Fairy resides. He says killing her will make him a hero, but I don't see how it would considering she is literally an innocent person who has done nothing wrong and is neither evil nor a villain. What he's actually doing is the complete opposite of what he thinks he's doing. But when you're raised by an evil fairy, I guess your sense of right and wrong is a little skewed.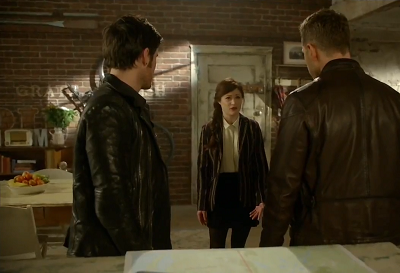 I don't buy into Belle's assertion that she can talk him down from it just because she's his mother. The reality of the situation is that she didn't raise him and so the two of them don't know each other. Yes he has a soft spot for her, but the two of them pretty much lack a meaningful connection as parent and child beyond just the blood relation. So she's being naive if she thinks she can just because she gave birth to him. But this is Once Upon a Time and she more than likely will be able to at some point, despite failing to do so in this episode.
I still hate that the writers made her sending him away into a mistake because I truly believe it was the right thing to do to keep him from Rumple. I thoroughly blame Rumple for all of this. I'm happy they finally stopped their bickering and were able to make up, but I do not like that Belle seems to hold herself as partly to blame for how Gideon turned out. She has no fault in this, in my opinion. What else could she have done when Rumple was going as far as he was?
I knew that Emma's vision wasn't going to come true in this episode. The details of the situation were different; her clothes were different and there were different people there than were in her vision. It looks like the writers are playing it off as perhaps that was the moment she was supposed to die (If so, why the lack of continuity?) and that she changed her fate. Or at least that that wasn't really it but it made her realise that she can change her fate and that was the first step in doing so. I'm confused about whether or not that was the moment.
Random thoughts:
Well, now we know how Emma got her last name.
Why is it always 28 years?
Hook is fat, old and incompetent! Ha!
Clearly he's unhappy Regina.
Believe in the heart of the chisel Pinocchio!
But she did tell you where she went Emma.
Once Upon a Time airs Sundays at 8 PM on ABC.
Tell us how can we improve this post?