Nokia has partnered up with the Orange Group (a French multinational telecommunications corporation) to develop future 5G mobile networks. This announcement was made on Nokia's official site in a press release that went on to state the following:
Joint definition and test platform deployment of 5G-based applications to enable new services for consumer and vertical markets
Companies will leverage ultra-low latency, highly reliable 5G communications using ultra-broadband, cloud RAN, massive MIMO, network slicing, energy efficiency and IoT applications
Joint, open innovation platforms to be established in France tapping local Nokia and Orange R&D expertise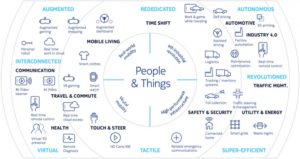 As with the first implementation of 4G technology, 5G promises to deliver great improvements to data speeds, improve network latency, as well as enable new capabilities for the "internet of things" to leverage.
The post on the website went on to say:
 Under a new collaboration agreement, Nokia and Orange will drive the definition and development of these new services, with a focus on making the transition from 4G to 5G network connectivity in the most efficient way in terms of power, operations, and cost effectiveness, and with the highest level of quality and reliability. Furthermore, the companies will build on existing joint innovation programs, as well as work with other partners, to develop, trial and introduce solutions that will make 5G a commercial reality and drive the digital transformation of vertical industries.
The higher bandwidth 5G will bring, will aid in applications such as 8K and VR gaming, which is great news for Netflix lovers and gamers respectively. 5G itself is still a developing technology, of which the average consumer will not yet comprehend till the appropriate technology is released to handle this massive upgrade to telecommunications.
Tell us how can we improve this post?