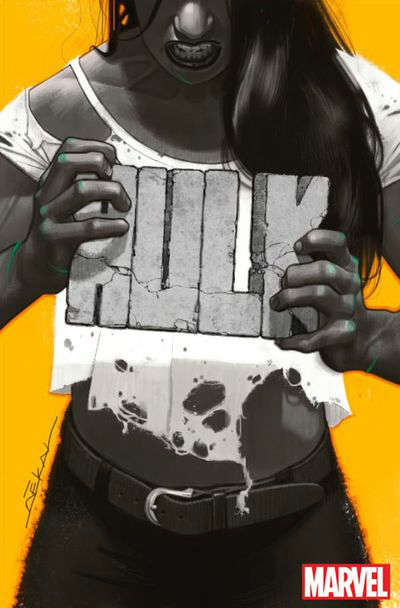 Hulk, the upcoming Jennifer Walters focused series, will be written and drawn by Mariko Tamaki and artist Nico Leon, respectively. It will see Walters dropping the "She" from her name and being known simply as "Hulk."
Marvel editor-in-chief Alex Alonso says, as quoted by A.V. Club:
"The title She-Hulk evokes light-hearted stories about a Jennifer Walters who is at peace with herself and in full control of her powers. This isn't that book. On the other hand, the title Hulk implies all of the baggage that comes with that comic's 50+ year history—the ongoing battle with the monster within—and that's why it's more appropriate for this series. Jen went through major trauma in Civil War II, and Mariko and Nico's story will deal with the fallout of that trauma—the anxiety and anger, sometimes self-destructive, that comes along with it. If there is light at the end of the tunnel, Jen is going to have to search hard for it, and she's going to have to battle with some pretty big monsters—including the one within—to find herself again."
Jennifer Walters, aka She-Hulk, is cousin to the original Hulk, Bruce Banner. She gained her powers after receiving a blood transfusion from him.
For much of Civil War II, she was in a coma after being near-fatally injured in a fight with Thanos. She recently woke up from her coma, covered in scars, and learned of Bruce's death.
Hulk will be launched in December.
Tell us how can we improve this post?