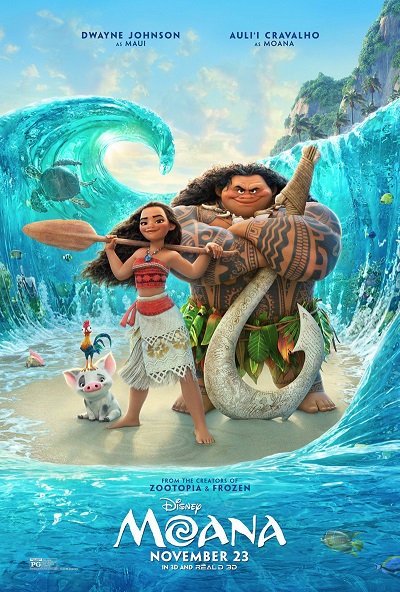 Moana is a 2016 Disney 3D computer animated musical film starring Dwayne 'The Rock' Johnson and Auli'i Cravalho in her acting debut. Written by Jared Bush and directed by  Ron Clements and John Musker with co-direction by Don Hall and Chris Williams and music by Lin-Manuel Miranda, Opetaia Foa'i and Mark Mancina, the film tells the story of the titular character, Moana, a teenage Polynesian girl from the island of Motunui, where her father is chief. Her long standing love of the ocean conflicts with her father's strictest law; never to sail past the reef. When her island is threatened, she must disobey her father and sail beyond the reef to find the demigod, Maui.
Johnson is perfectly cast as Maui. Beyond the fact that his facial expressions and mannerism were incorporated into the character's animation, Johnson's energy and personality are very well suited to a character like this. Hearing his voice come out of Maui's mouth is in no way disconcerting. Johnson gives Maui so much life and portrays him with a charisma that makes the audience not dislike him even when he is being unlikeable.
Maui's arrogance and bravado are counteracted by his wit and humour. He's a character that grows on you very quickly and in no time at all you forget that you're listening to Johnson and just see the character.
The veil between voice actor and character is much more readily lifted when it comes to Moana and Cravalho, pretty much because Cravalho is an unknown.  She does very well in her first roles as a voice actress – as an actress in general – and it's easy to see why she was chosen for the role. Cravalho lends an authenticity to Moana that makes her feel like real person and makes her moments of strength and weakness equally believable (which is also to the credit of the screenwriter). Moana is stubborn, determined and fearless and in some ways reminiscent of Ariel's daughter Melody from The Little Mermaid II: Return to the Sea; for obvious reasons.
Carvalho has a beautiful singing voice that gives power and emotion to every musical number she is a part of.
"We Know The Way", "You're Welcome" and "Shiny" are the best songs from the film. "We Know The Way" is reminiscent of songs from The Lion King and Pocahontas and it's finale at the very end is a soaring number that grips your heart and is a superb note – pun intended – on which to end the film. The latter two are fun and catchy feel good songs. "I Am Moana" is as inspiring and assuring as Frozen's "Let it Go", but it doesn't exactly have the punch that that song does; perhaps because Cravalho – as good a singer as she is – does not have the voice that Idina Menzel does.
The music in the film on the whole is amazing. It's memorable and emotive. From the soundtrack to the score, the songs are upbeat, uplifting and infectious and endow the film with a feeling of adventure.
The film is at times self-referential to Disney Princess tropes for the sake of humour. At one point it even gets a little Mad Max: Fury Road and even goes so far as to use a musical cue from that film. It was an interesting little easter egg. The action sequences are kinetic, but the film does slow down at times for the sake of story, plot and character development (which are delivered in info dumps). The down time, however, acts as a breather between the action set pieces. It's not exactly a bad thing that the film slows down, but you definitely feel it when it does.
At it's core, the film is about discovering and embracing who you are, which isn't too far off from the usual message(s) of Disney Princess films; more so those from the 90's and onward than those from the 30's, 40's and 50's. It doesn't really feel like a modern Disney film in the current Disney Revival era. It feels more like a Disney Renaissance film (The Little Mermaid, Beauty and the Beast, Herules etc). So if these newer Disney films have been, for you, lacking the heart that Disney films from your childhood had, this film definitely has it.
This film looks incredible. The visuals are stunning and the animation is flawless. There is a particular visual at the end of the film that is beautifully rendered and worthy of note.
Moana is in keeping with Disney's track record of making extraordinary films that are instant classics. It is perhaps the best of their recent princess films and definitely one of the best of all of the films in its Revival era and in their canon on the whole. Anyone who calls themselves a Disney fan should not hesitate to watch this film and they will certainly love it. Parents will enjoy seeing it as much as their children. It excels in every creative and technical area of film-making. It absolutely deserves a nomination for the upcoming Academy Awards.
---
Do yourself a favour and listen to the soundtrack.
Tell us how can we improve this post?