The Honey Jam Concert Launch saw the unveiling of the 2018 lineup featuring 16 acts including new faces and some returning alums doing special segments within the show.
Media, sponsors, artists, audition judges, workshop panellists, music industry representatives and supporters were invited to hear about their upcoming plans and to congratulate and cheer on the artists who will grace the Honey Jam stage and take part in the developmental programme.
Producer Ebonnie Rowe welcomed new sponsor Brydens Insurance and longtime sponsors Ian Donovan of Massy Properties, Larix from Blueprint Creative and also a Honey Jam alum, and DJ Simmons of Gine On Magazine spoke about the value of the programme that has kept them on board to support for many years.
New artist Sapphire spoke about her experiences so far in the programme, Alums Adaeze, Faith and Leigh Phillips reminisced about their journey, how much they learned, the contacts they made, how much they benefitted, the impact on their careers and that they all are still involved and participate as audition judges, workshop panellists, mentors and supporters. All three are returning to the stage on November 17 at Frank Collymore Hall doing special features within the show.
Attendees were surprised to hear that for the first time ever there will be 3 male acts featured in a special segment during the normally all female concert. Jabari Browne, brother of the most high profile Honey Jam alum, Nikita, was tapped to put together a small segment featuring himself, Kareem Agard and Chad Montplasir. Rowe said that for all the years she had been doing the programme in both Canada and Barbados, every year she would be asked about the inclusion of men. This year, after a comment by Audition Judge artist Island Levy who remarked that he wish there had been something like this for him, inspired her to find a way to include male vocalists without a huge change to the brand. Jabari indicated "I was honoured to be asked and we're all excited to take part and be the first ones invited. We've already started rehearsing and can't wait for the night of the concert to show you what we've put together."
They've got lots of giveaways for the Red Carpet Mix & Mingle, live painting by fine artist Shane Eastmond of 6PMSPLASH, a pop up with Eye Q Stylist Opticians where patrons can try on their fashionable eyewear, of course a great show and lively after party featuring the NJ30+ band. It promises to be a great night of entertainment!
Miss Universe Barbados Meghan Theobalds was on hand to give some encouraging and uplifting words, ending the evening with these words:
"This journey is very much like the one I just finished at Miss Universe Barbados and continue on my way to Thailand. This is a developmental programme that provides educational, mentoring and networking and performance opportunities for young artists. Miss Universe Barbados is a 3 month process of training 3 times a week, teaching all delegates how to become your very best selves, networking, educating ourselves on national and global issues that we care about and learning to walk the walk of altruism. That process encourages us to strive for our dreams and to work hard to support each other follow our dreams.

Just like Honey Jam – for a Miss Universe delegate it's about more than just the external. And for you more than just a voice. You have to learn the business side as well. Many of the Miss Universe Delegates have degrees or are in University in their final year. It is about the total package. What I wanted to share is that when women support each other we all thrive. They are our support. Other women are not our competition. Other women are our village!

What the public do not see are the hours and hours of hard work that go along with the process – the rehearsals, mentoring, practice. The journey is not for the audience it is for the artist. I spend 36 hours a week. I is our way to prove to ourselves that we have what it takes. that we are ready to face obstacles. That we learn tools to overcome the inevitable moments of self doubt, frustration, breakdown when it may not go your way that day. And yes I had all of that. What came from my breakdown was a breakthrough – that I wanted this and I had worked hard for it and I was going to do my best no matter what the result was. The result was not in my hands but how I performed and listened and absorbed what I was being taught, that was in my hands.

To the ladies about to embark on this incredible journey, I encourage you to learn as much as you can. Be your best self. Your task is to step up. Long after this process has ended, these lessons and memories and friendships for the rest of your lives. I wish you a journey of discovery and Joy."
Honey Jam Barbados 2018 Line Up: https://www.facebook.com/media/set/?set=a.1915536968528064&type=1&l=aa9db712e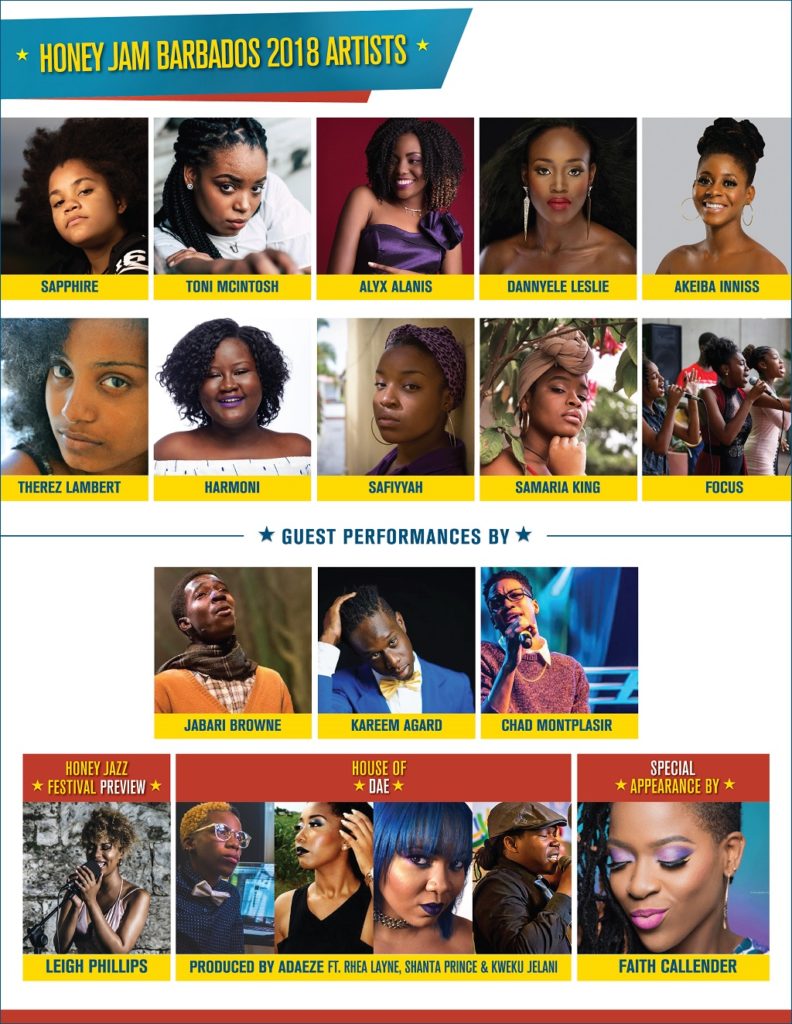 Tell us how can we improve this post?