Wednesday, 14 November 2018, Bridgetown, Barbados – The 2019 Barbados Independent Film Festival (BIFF) promises to be bigger and better than ever with an exciting line-up of local and international filmmakers and stars.  The ten-day Festival, 11 – 20 January 2019, will showcase over 40 thought-provoking films from around the world, many of them making their Caribbean premiere. Alongside multiple screening events, BIFF also features Master Classes and film discussions led by industry veterans and filmmakers, broadening its appeal and helping to inspire new generations of filmmakers.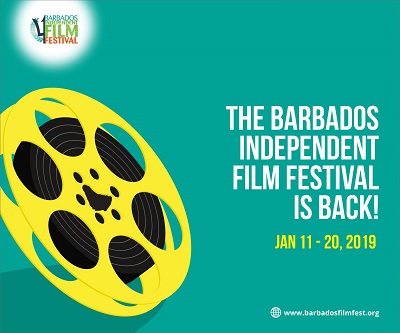 BIFF Co-Founder Sir Trevor Carmichael shared his thoughts on the third annual Festival: "The extended days will permit film lovers and filmmakers the opportunity to attend a variety of film premieres, master classes, and free activities without having to miss any of these exciting events.
"Of course, without the help of our dedicated sponsors such as First Citizens, the McNeel Foundation, Fairmont Royal Pavilion, Blueprint Creative, Capital Media HD, Diamonds International, the US Embassy, the Canadian High Commission and so many others, this simply wouldn't be possible," he added.
From its Walled Garden Theatre hub and beyond, the Festival takes advantage of Barbados' rich cultural heritage and tropical climate to host locally-inspired receptions that combine live entertainment, local cuisine and films geared to appeal to a broad range of tastes. Compelling stories about extraordinary musicians will be a featured strand of the 2019 Festival.
"Music is food for the soul and the theme for this coming Festival," Sir Trevor added. "With specially invited guests to perform, we look forward to showcasing some of Barbados' top musical talent over the ten-day period."
At the Opening Night Gala (Friday, 11 January), the Walled Garden Theatre rolls out the red carpet for the Caribbean premiere of V. Scott Balcerek's SATAN AND ADAM, which chronicles the unlikely pairing of one of the world's greatest blues duos: legendary one-man-band Sterling "Mr. Satan" Magee and harmonica master Adam Gussow.
The Festival's musical theme continues throughout the week, featuring:
UNBANNED: THE LEGEND OF AJ1 – Highlighting icons from across the cultural spectrum – including Spike Lee, Anthony Anderson, Michael B. Jordan, DJ Khaled, Lena Waithe, Kenya Barris, Jason Sudeikis, NBA stars Carmelo Anthony and Russell Westbrook, hip-hop legend Chuck D, as well as rising stars Gizzle, Christian Combs, and Kid Ink, and many more.
HUGO – Featuring the master film composer Howard Shore who worked on 98 blockbuster films and nearly all of Martin Scorsese's, including this family-friendly film classics
RUMBLE: INDIANS WHO ROCKED THE WORLD – chronicles the fascinating revelation that some of rock'n'roll's greatest talents were Native Americans. The film will be introduced by well-known rock guitarist Stevie Silas.
SING YOUR SONG – a tribute to legendary musician and civil rights champion Harry Belafonte, followed by live music from the master calypsonian's repertoire.
Additionally, BIFF's signature Cine Cuisine Night backed by Slow Food Barbados returns to its popular Copacabana Beach Club location. This year's Cine Cuisine Night will present WASTED: THE STORY OF FOOD WASTE, which was executive produced by the late Anthony Bourdain and features many celebrity chefs. The film's two filmmakers will hold a post-screening discussion on delicious, yet sustainable food.
Other Festival highlights include Barbadian films PANAMA DREAMS (Alison Saunders) and THE LAND WE CALL HOME (Stockton Miller); the modern Western LITTLE WOODS from filmmaker Nia DaCosta and starring Lily James and Tessa Thompson;  the Barbadian premiere of the Bahamian film CARGO, and a "Behind the Lens" double presentation featuring the dramas JINN (Nijla Mu'min) and MOKO JUMBIE (Vashti Anderson) with by a panel discussion on storytelling led by award-winning, female filmmakers including Lone Scherfig, Nia DaCosta, Nijla Mu'min and Vashti Anderson.
BIFF seeks to showcase the finest work of accomplished and emerging filmmakers and inspire future generations to tell their stories through film. BIFF's Collaboration Grant has resulted in two original short films that celebrate Barbados's rich stories: the first, SEASIDE STABLES: A GALLOP TO THE OCEAN explores the cultural relationship between racehorses and the beautiful, tranquil Caribbean Ocean along the shorelines of Pebbles Beach, Barbados.  The second, LIQUID GOLD: THE STORY OF RUM IN BARBADOS, produced by Bajan filmmaker Rommel Hall and American Dan Mirvish, will premiere at the opening night of BIFF 2019.  Another important element of BIFF are the masterclass series on independent filmmaking, screenwriting and directing – many of which are open to the general public.
For a complete schedule and more information about BIFF films, masterclasses, judges and events, please visit www.barbadosfilmfest.org.  All free and paid tickets can be found at Ticketpal.com under "BIFF".  Tickets go on sale Monday, 26 November.
Tell us how can we improve this post?