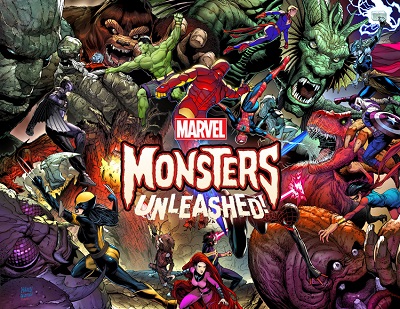 Earlier this month Marvel announced that the five issue, monsters versus superheroes title Monsters Unleashed – written by Cullen Bunn and illustrated by Steve McNiven, Leinil Yu, Adam Kubert, Salvador Larroca, and Greg Land (with each artist providing the artwork for each issue) – will be published bi-weekly starting in January 2017.
The comic book publisher has now revealed further details about the forthcoming event.
The cross over will see all of the monsters from Marvel's pre-superhero comic book days battling against its superhero characters. From 1973 to 1975, Curtis Magazines – owned by Marvel – published an eleven issue horror anthology magazine titled Monsters Unleashed.
Many of the monsters featured in the event are from titles such as Strange Tales, Where Creatures Roam and Tales of Suspense and were either created or co-created by Jack Kirby, who will have turned 100 in 2017
Writer Cullen Bunn was quoted by Entertainment Weekly as saying:
"It's an all hands on deck situation. Imagine something like the Hulk, only much bigger. With the destructive force those creatures have, the heroes will have to mobilize much more quickly. The heroes find themselves very quickly in a situation where they have no downtime, they have no chance to take a breath. They're moving constantly against what are essentially cataclysmic threats over and over again."
The event will not have many branded tie-in issues, thereby making it more accessible to readers whom are not familiar with the wider Marvel comics universe.
Tell us how can we improve this post?