We all need some triple-action VCP protection.
"In comedy, laughter settles all arguments." These are the words of the infamous creative writing instructor, Robert McKee. Those words rang true to me after witnessing the truly mesmerizing performance of Lord Zenn's Good Looking last Saturday night. It's only been a year since Jherad Alleyne, aka Lord Zenn, dominated the social media landscape in Barbados with his comedic short videos which garnered him notoriety. Mr 'Good Looking' himself has obviously noticed the power of his current status with his fans, and decided to take the plunge with a short stage play. Was the risk worth the reward?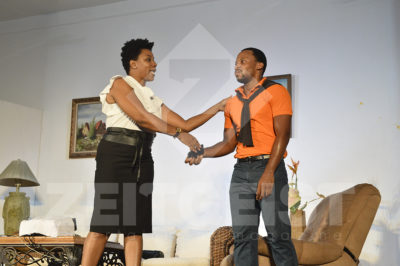 Before we answer that, let us have a brief synopsis of the play. Good Looking was written and co-directed by Annette Alleyne. It's about Tiquan (Jherad) following his dream to become a famous stripper, while keeping it a secret from his germophobic, narcissistic, sugar mama Gloria (Cassandra Odle). On Tiquan's journey to stardom, we also meet his crazy best friend known as Buddy (Nelieux) who's the catalyst behind Tiquan meeting the pretentious strip club owner known as 'Madame Xotic' (Yaisa Peter).
Along the way to achieving his dream, he has to deal with the occasional nagging phone calls from his fully audacious baby mother Sharkeisha (Kimberley Yearwood) and dodging the final character in the ensemble, the omniscient maid (Azariah Best), from telling Gloria about his plans. All of these unique and colourful characters are both witnesses and in many cases, causes of, Tiquan's ruined plans and eventual downfall.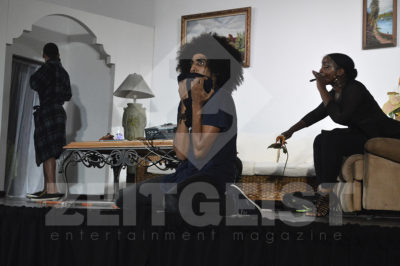 So what's so great about Good Looking? The characters and the first half of the script, especially before the intermission.
The humor drenched script is filled with many of today's current issues: gender roles in society, social classes and education levels. Gloria's grandiose sense of self-importance is what seemingly drew Tiquan to her, but in the same breathe, it's what drives Buddy and Xotic crazy. As outsiders looking in, Tiquan's making a stupid mistake by clinging to his stripping dreams and staying with Gloria. But that would defeat the purpose; Tiquan believes stripping is something he can be great at and something that will prove just how much of a man he is to everyone who doubts him. Because Gloria and her "big up" friends talk about scientific theories around him and put him down, in his mind, stripping will make him feel like a real man.
Is it misguided? Yes. Does it lead to just over two hours of hilarious dialogue however? Yes it does.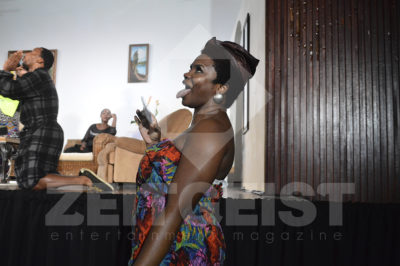 The characters that stand out in this play for me personally have to be Tiquan, Sharkeisha, and the Maid. Tiquan, for starters, was a well-developed character from beginning to end. I am sure all of us who had the pleasure of viewing the play felt sorry for him every time he tried to do something to further himself, only be stopped dead in his tracks because of some hi-jinx between his best friend and Madame Xotic.
Sharkeisha only had three appearances during the two hour play, but they all were memorable. Vibrant, booming and "ghetto" are all the perfect words to describe her performance; which resonated with the stereotypical crazy ex baby mummy. Speaking of caricatures, if Bajan sayings came to life, the maid in this play would've been the obvious vessel. There isn't a crazy situation in the play that the Maid doesn't have words for and we the audience thank her (well, actually him) for that.
It would be easy for me to finish there, however, there are some obvious gripes I had with the experience.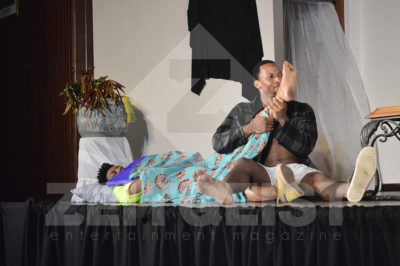 Some of the dialogue and transitions in the play were out of place and broke up the audience's immersion. After the intermission, which dragged on way too long, we missed the obvious climax of an almost seamless evening. In story-telling of all kinds we're taught to "show don't tell." What happened after the intermission was a drawn out recap of the party, that we the audience were looking forward to, along with all of the chaos that came with it. This in my humble opinion wasn't a wise choice, however it did not ruin the overall fun factor of the piece.
So to answer the question at the beginning, does this plunge into an onstage format work? Yes, in all honesty it does.
Good Looking is a great addition to the theatre landscape of late; the wit and colourful and outlandish characters on display were a welcome sight to behold. A sight I hope will continue in the near future.
Visit our Facebook page for photos from this production.
Tell us how can we improve this post?