Logitech, the brand synonymous with quality in the PC peripheral market, has released a new 4K webcam for consumers. The Logitech Brio 4K Pro Webcam launched yesterday for $199 dollars. A high price, but with it comes 4K recording with HDR and the company's latest RightLight features to improve low-light situations. HDR will improve image quality significantly in lowlight settings as well as aid the camera in other light related issues usually found on other competing webcams.
In the Brio, Logitech has included an infrared-based facial recognition system, which means you can use the Windows Hello feature in Windows 10 to log into a PC with just your face. Logitech is also supporting an impressive 5x zoom at 1080p and 60fps recording at the same resolution.
The Brio is available today directly from Logitech.com as well as from the company's resellers worldwide. The MSRP of the product is $199 in the U.S., £199 in the UK, and €239 in Europe.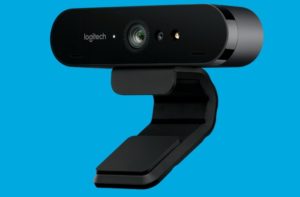 Technical Specifications
4K Ultra HD video calling (up to 4096 x 2160 pixels @ 30 fps)
1080p Full HD video calling (up to 1920 x 1080 pixels @ 30 or 60 fps)
720p HD video calling (up to 1280 x 720 pixels @ 30, 60, or 90 fps)
Plug-and-play USB connectivity
90 degree field of view (FOV) with two additional settings (65 degrees and 78 degrees) available with optional software download
5x digital zoom in Full HD
Autofocus
RightLight™ 3 with HDR for clear image in various lighting environments ranging from low light to direct sunlight
Built-in dual omni-directional mics with noise cancellation
Infrared sensor technology
Background replacement
External privacy shutter
Multiple mounting options, including clip and tripod mount
Supports multiple connection types, including USB 2.0 Type A and USB 3.0 Type A and C connections
Custom carrying case
Background replacement, a Logitech labs project powered by Personify
Tell us how can we improve this post?