First of all, let's talk about the location: Fiddlewood Park. Before this band launch I had never heard of it. Google Maps was in no way helpful in finding it and the only photo of it that was on there, at the time that I looked it up, was of a bush. That did not bode well. It was in the middle of Nowhere, St. Thomas with two of the closest locations on Google Maps being Vaucluse Race Track and Harrison's Cave. Not even my one friend who lives in St. Thomas knew where it was.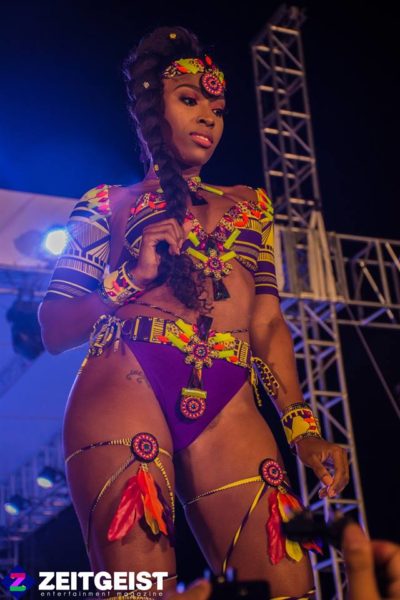 There weren't even any street lights on the main road, it was so out in the middle of nowhere. We were surrounded by bush, bush and more bush. Thankfully, directions were posted on Instagram and patrons didn't seem to have had a problem finding it. I could not have been the only one who was in constant fear of being bitten by a centipede, though. But onto the costume presentation.
The models, for the most part, weren't as high energy or danced as much as one would expect for a band launch. There was a model here and there who was very energetic, but overall that wasn't the case. There seemed to be more of an emphasis on their modelling, not performing, and these models really knew how to pose! It wasn't just the poses themselves, but the entire sequence of movements that preceded them. These models were fierce and had a lot of attitude.
Particularly the bald model in the "Beautiful Savage" section who was flamboyance personified. She was the bomb. Unfortunately, she suffered a nip slip. Her entire right breast came out of her costume in fact, but she put her costume back into place so casually, that if she was bothered it really didn't look like she was. The second model in the Iskaba section suffered a very minor nip slip – there was a lot of areola and no actual nipple – but that was more a case of the top not being an adequate size to cover her properly and not the costume partially coming off.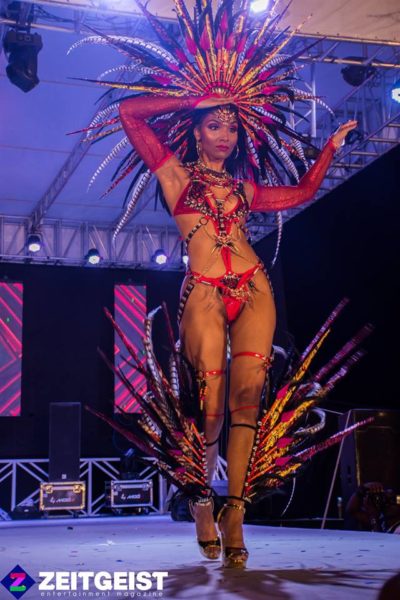 As for other wardrobe malfunctions, models wearing headdresses in "Forbidden", "Head Hunter" and "Chameleon" were having problems with them. They spent more or less the entirety of their time on stage holding them in place. One would hope that that was not an indication of how the headdresses will function once in the hands of customers on Kadooment Day. No one wants to bother with a disobedient headdress as they jump down Spring Garden Highway.
The MC also kept calling for someone to cut the smoke generated by the fog machines? No idea why, but it was weird.
As for the costumes themselves, they were very impressive. The designs were very creative and the use of African prints in some of them was truly inspired. Iskaba and Mesoa were standout sections with exceptional designs. The spiky feathers on Iskaba were to die for. I guess I should point out that before this year, I never paid attention to Crop Over, far less the costumes. So the fact one of Mesoa's costume had sleeves was what made that section stand out to me. If sleeves have made previous appearances on Kadooment costumes, I didn't see them, but it's truly something different.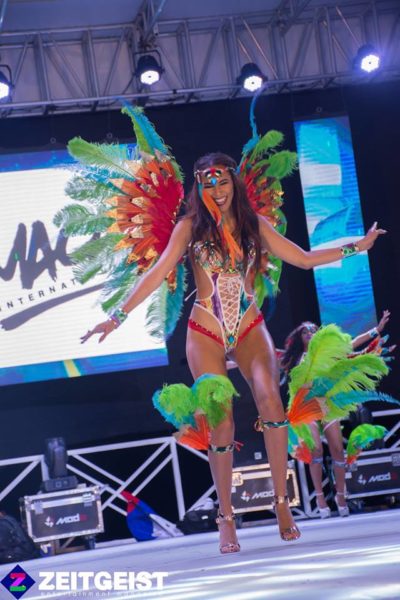 Virtually none of the costumes had the same cut or patterns and outside of differences in colours, prints, feathers and embellishments, they each had their own unique look. Even though they were all your basic one piece, monokini, bikini or two piece, each one was cut a different way to make it distinct and the use of colour in the costumes was incredible.
The only gripes I have the costumes were that, for starters, there were virtually no male costumes. Of the nine sections and thirty-two costumes presented, there were only three male models and two of them were in Beautiful Savage. Krave's male audience is undoubtedly getting the shaft. They have far fewer options than the female customer base. It may be a reflection of the demographics that make up Krave's customer base perhaps?
My second gripe with the costumes has to do with the theme juxtaposed with the designs of the costumes. In 2018 the word "savage" has a very different – and positive – meaning than it did in the past. However, to have the theme of the band be "Year of the Savage" and then have costumes that clearly draw inspiration from African and Native American peoples, peoples who were historical identified as "savages" to indicate that they were uncivilised and sub-human…one can see where it could be problematic.
All in all, though, it was a very good launch. The costumes were stunning and would look right at home as pieces featured in a Victoria's Secret fashion show. Although the models could have been more lively, they did well nonetheless. Krave killed it with their costume showcase.
Watch our highlight reel below. Visit our Facebook page for photos. Follow us on Instagram and Facebook for more!
Tell us how can we improve this post?