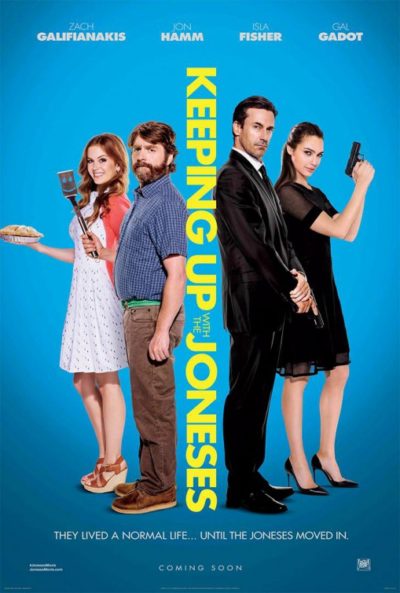 Keeping Up With the Joneses is a 2016 action, spy comedy written by Michael LeSieur and directed by Greg Mottola. The film stars Zach Galifianakis and Isla Fisher as Jeff and Karen Gaffney, a long married couple who become suspicious of their new neighbours Tim and Natalie Jones, played by John Hamm and Gal Gadot. When they uncover that Tim and Natalie are spies, they are pulled into an international conspiracy that threatens national security. Hijinks ensue.
The film establishes early on that Karen is paranoid and suspicious about everything. Even going so far as to have Jeff refer to incidences in which her suspicions were correct. So when she becomes suspicious of the Joneses it makes sense and doesn't seem out of character. When she goes so far as to follow Natalie however, it's annoying even though the audience knows that she is correct in being suspicious.
Once the Gaffneys learn that the Joneses are spies, they do something that is either sensible or foolish depending on your expectations of film characters, your impression of the Gaffneys themselves and what you as a viewer would do in such a situation.
The actors with the most chemistry between them were Galifianakis and Hamm. The married couples didn't have much between them; Galifianakis and Fisher and Hamm and Gadot did not feel like people who were in love with each other. They didn't even feel much like friends. Unlike Galifianakis and Hamm whose budding bromance was sweet and watching them bond was satisfying. Their interactions felt genuine.
Fisher and Gadot on the other hand, in their scenes together, did not play off of each other very well and their interactions felt forced.
Galifianakis, as the only comedian in the cast, was the funniest person on screen. Jeff was the most relatable character and Galifianakis played him to great and hilarious effect. He had the best and the most hilarious moments.
Overall the acting was decent. Gadot perhaps was a tad awkward in the lingerie scene from the trailer. It was not entirely clear if she meant what she was saying to Karen or if it was just some schpiel. That may well be the fault of the writing and direction, however.
The film has several laugh out loud funny moments, especially toward the end. It's a very funny film and for the most part the humour works very well. Even when you can see the joke coming it still lands.
As high as the stakes are said to be in the film, those stakes are never felt. The characters' lives never feel like they are in any real danger far less the United States.
The trailer does show the entirety of the film right up until a couple of minutes before the climax (it literally can't be much more than two minutes). Almost all of what is shown is out of context but much can be gathered as to the direction of the film. The only thing left out of it is what the Jones' mission is and some of the funnier moments to be found upon watching the film itself.
Keeping Up With the Joneses is watchable. It's a simple film with simple goals; to make you laugh and have a good time. And in that it succeeds. It's a lot of fun to watch, entertaining and enjoyable.
Tell us how can we improve this post?