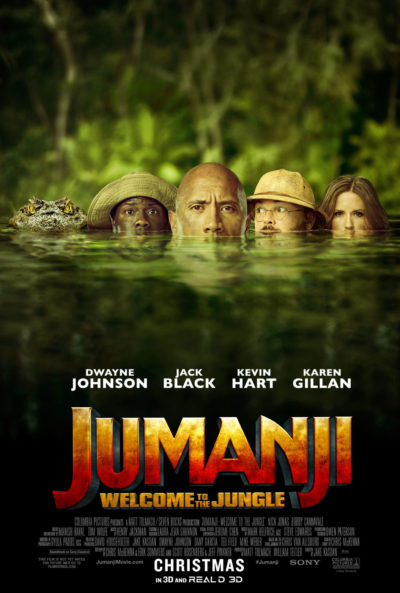 Jumanji: Welcome to the Jungle is the 2017 sequel to the 1995 film Jumanji. Starring Dwayne Johnson, Jack Black, Karen Gillan and Kevin Hart, the film was written by Chris McKenna, Erik Sommers, Scott Rosenberg and Jeff Pinkner and directed by Jake Kasdan. Four teenagers in detention – Spencer, Bethany, Martha and Fridge – are sucked into the game Jumanji, which has transformed itself from a board game into a video game. They must beat the game in order to escape and return to the real world.
If the trailers for this film made you want to watch it then you definitely should. It's just as fun and hilarious – maybe even more so – as they made it look. It even unintentionally (or maybe it was intentional) made a joke about white parenting versus black parenting. You'll know the moment when you see it.
If you have even the most basic or casual knowledge of gaming, the films explanations of gaming related things threatens to become irritating. But it is necessary to explain how the world of the film – or rather, the game – works to audience members who are unfamiliar with gaming. Thankfully, the film only offers such explanations twice.
The film does a good job of setting up who each of the for main characters are and even makes two of them (Bethany and Fridge) fairly unlikeable. Particularly Bethany, who is the most insufferable of all of them at the start of the film. Considering that the audience is supposed to root for these characters, it is a pretty bold thing to do to make the audience hate them.
However, once they enter the game – and the film doesn't waste much time in getting to that – Bethany goes from being the worst character to the best. And that is wholly due in fact to Jack Black. He outshines every other actor in the film and is the main source of its comedy. Within a short period of time he transforms the character from utterly detestable to absurdly loveable. Her reaction to her in-game avatar is the funniest, as is her enthusiasm with discovering the wonders of having a penis. Seriously. Plus, she is perhaps the one character who experiences the most growth.
Shockingly, Dwayne Johnson is not the most charming person on screen as he usually is. In fact he (and Hart) are the weakest members of the cast. Johnson's performance as a neurotic, skinny, nerd, who is afraid of everything just doesn't work that well and isn't all that believable. He has the dialogue and the actions to characterise him as such, but he doesn't really sell it.
Kevin Hart does what he does in every role, which is be loud. If Kevin Hart doing Kevin Hart-isms is your thing, then you'll love him in this role. He's not bad, or good, or anything, really. He's just Kevin Hart. However, he does have great chemistry with Johnson and their characters' deepening respect for each other and friendship feels genuine.
Karen Gillan's Martha is kind of just there. She doesn't really stand out, which makes sense since she is the shy, introverted one in the castm which Gillan portrayed well. But she doesn't have much of a character beyond that and having a crush on Spencer. She does come into her own by the end of the film. But for the most part, she's largely forgettable. Like Johnson and Hart, Gillan and Black had great chemistry and played off of each other well.
The two actors who did not have any chemistry were Johnson and Gillan. Their confession scene was so awkward and not just because of that [SPOILER: Highlight to reveal] sloppy, disgusting kiss [SPOILER]. In that moment it's hard to stay immersed in the film because the idea of those two actors doing that on screen is just strange. It's not Spencer/Dr. Smolder Bravestone and Martha/Ruby Roundhouse that the audience sees, it's Dwayne Johnson and Karen Gilan.
Jumanji: Welcome to the Jungle is a competently made film that is very enjoyable to watch and fun for the entire family. It has a simple story and plot that is uncomplicated and easy to follow, likeable characters and decent acting from most of the cast and outstanding acting from Jack Black. It may not be the sequel anyone asked for, but fans of the first film should not be disappointed. Fans of this film, perhaps, would not be upset if it too had a follow up. A virtual reality game next time perhaps?
Tell us how can we improve this post?