SOME SPOILERS AHEAD.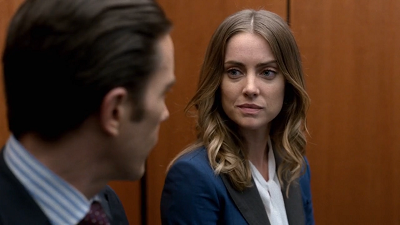 I think I have some sort of understanding of Joy as a character and why she's so contradictory. She does actually care about things and have a heart, she's just good at compartmentalising her feelings and pushing down her conscience when she's doing something that's not exactly right or ethical, but is in the best interest of Rand Enterprises. Like with the lawsuit concerning their plant and the fifteen cases of cancer that sprung up among the residents in the area surrounding it. She knows that the right thing to do would be to help those families, but Rand isn't legally responsible (not that that's been proven yet), so to settle with them would be unwise. It was especially difficult for her to do what she did because of Harold and his cancer battle.
I didn't like how the sad, cancer mother cornered Danny and set him up in order to blackmail Rand. She had a moral leg to stand on and I sympathised with her before that. I firmly sided with Ward in not settling the case, although Joy and the other members of the board had valid arguments (that I agreed with) as to why they should have. I really wanted to see what Danny would have said if he'd attended the meeting, but he was busy elsewhere.
I feel like Ward really should have consulted with Harold about the lawsuit. Harold may not be the best of persons, but his input there would have been valuable. That was not the time to act out and be defiant toward his father. The lawsuit is a great threat to Rand and even more so since the video with Danny leaked. His refusing to settle probably was an extension of his defiance.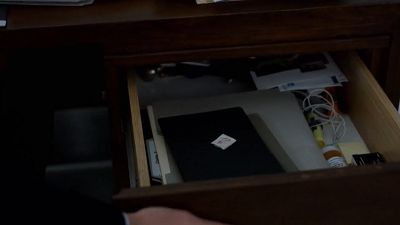 I didn't think anything of Ward keeping the heroin in his desk after his "meeting" with Danny, besides it maybe being found in his desk and him getting into trouble for that. I wouldn't have thought that he had a substance abuse problem. He does drink a lot of bourbon, though.
Following up on the package that had been sent to him by the triad in the last episode, Danny tries to find proof that The Hand is using Rand Enterprises to smuggle heroin when Ward doesn't believe him. Danny is now actively pursuing The Hand, trying to get them out of Rand and defeating them on the whole.
For his first outing as a vigilante/(super)hero, I thought that Danny did pretty well. Taking along Colleen as back up instead of going alone was a good move. It was smart of him to take a phone and record what was going on with the shipment at the pier. I thought that he'd take a photo and set off the flash, though, since he's new to smart phone technology.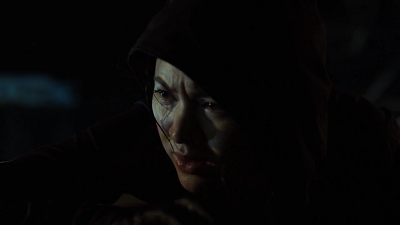 Like, Colleen, I was skeptical of Danny's assertion that the shipment was the heroin that The Hand was smuggling. Once he found the chemist, Randovan, it made sense why they had shipped so much equipment and not the heroin itself.
When Claire showed up in the episode, I expected either Colleen or Danny to get hurt; there's not need for Night Nurse in an episode unless someone gets gravely injured. Instead, it was Randovan that she had to tend to. I held my breath thinking that she may just suggest calling up one of her other superhero friends, to help Danny take on The Hand, when she told him that he couldn't do it alone. I knew that wouldn't happen, because this isn't The Defenders, but still.
Unfortunately, The Hand knows that the Iron Fist is in New York and in pursuit of them. Danny no longer has the element of surprise. Now they're going to go after him. I don't believe that what they want with Rand is as simple as just drug smuggling. It has to be a part of whatever their plan for Elektra/Black Sky is.
Random thoughts:
They have a heroin addict on hand to test new drugs?
Claire!
Ward flipping off Harold in his office was hilarious.
Too bad Danny doesn't know that Claire can help with this…
They bought the pier to smuggle drugs?
Is this nunchaku display supposed to be impressive?
Does Danny have a driver's licence now?
Is Claire going to be the one to bring together The Defenders?
All 13 episodes of Iron Fist are currently available for streaming on Netflix.
Tell us how can we improve this post?