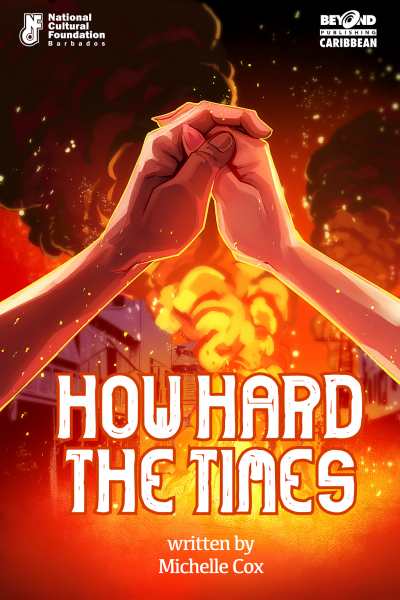 Last Monday the National Cultural Foundation (NCF) announced the commencement of its Day of National Significance Public Awareness Campaign. As part of the campaign, the NCF has produced a radio drama and published a comic. Both are inspired by the 1937 Labour Rebellion, which the Day of National Significance commemorates ever year on July 26th. They are adapted from the Michelle Cox play How Hard The Times, which is based on a poetry collection written by Anthony Hinkson, her father.
The radio drama airs on Mondays on VOB 92.9 at 6:15 p.m. and repeats on Q100.7 at 8:45 p.m. Episodes are available for download on the NCF website at 9:00 p.m. Scripted by prolific Barbadian writer Shakirah Bourne, the radio drama stars Peta Alleyne as Maisie, Simon Alleyne as Neville, Shannon Arthur as Keith and Older Keith, Brandon Blackman as M.C and Big Benjie, Kyle Cozier as Briggs, Patrick Foster as Major Thorpe, Janelle Gilkes as Kemar and Pearl and Daana Linton as Betty.
The first five pages of the comic were released on June 21st at 8:00 p.m. and new pages will be issued every Friday thereafter for five weeks until July 26th, the Day of National Significance. The comic is adapted and drawn by Nigel Lynch and Tristan Roach of Beyond Publishing Caribbean, respectively. Beyond Publishing Caribbean is a Barbadian comics and graphic novel publishing company, responsible for the Barbadian created comics Hard Ears, Life and Death in Paradise and Heartman, among others. It is coloured and edited by Edward "King" Bola and Kamaria Connell, respectively.
Ayesha Gibson-Gill, Literary Arts Cultural Officer at the NCF and producer of this segment of the campaign, said to the Foundation:
"It will demonstrate that we have interesting stories and amazing artists…It is a way to engage with history that is not necessarily being taught at all levels in the schools anymore in a very light, interactive and fun way…We absorbed it and gave it our own aesthetic. It is so beautifully rendered that comic book geeks of all ages will be interested."
This year's efforts are a departure from the NCF's past observance of the day, which has included stage theatre and folk concerts. The decision to create a radio drama and comic book was made in order to "[attract] an expanded audience of differing age demographics…"
Listen to the radio drama here and read the comic here.
Tell us how can we improve this post?