SOME SPOILERS AHEAD.
And just when we thought that Annalise would finally get some much needed help…she didn't.
I wish her suspension had stuck and the Keating Five hadn't discovered that the new kid was behind the "KILLER" posters. Firstly, the discovery was anticlimactic. Secondly, what the hell is new kid's problem with her? Thirdly, now she has no reason to seek out help.
Annalise going to the AA meeting was a step in the right direction. She needs help. She knows it, the school president knows it, Wes knows it, the others know it, Nate knows it, the audience knows it. Everyone knows it. She needs help! Dammit writers, let her get it! They are truly doing her character a disservice by keeping her in this state.
Has she not hit rock bottom yet? I'd say she has. Drunk calling Nate? Drinking herself silly to the point that Wes has to take care of her? If she hasn't hit rock bottom yet she's pretty darn close.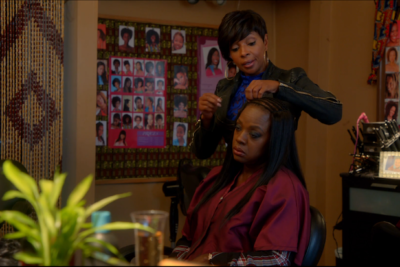 I loved the scene of her in the salon getting her weave installed (I thought she wore wigs though?). It was probably the most sista-ly thing to ever happen on the show – though not an entirely uncommon image seen in motion pictures.
It was mundane in the best way and showed a different side of Annalise, in a very different setting. She actually has friends! Or something close to it. The atmosphere, their rapport, their camaraderie was everything!
What is it with Frank and killing fathers? He tried to kill his own as a teen, he killed Wes' and he killed Bonnie's.
Given how close he seemed to be with his  family in that one episode in which he took home Laurel, I'm surprised he tried to kill his father. Also, I have no gauge for old he was supposed to be in that flashback because he looked no younger or different; except for the hair.
Bonnie hugging Frank when she saw him and thanking him for killing her father was unexpected but not surprising.
I didn't fully understand the depths of their connection and understanding of each other until this episode. There was a tenderness between them that I don't recall having seen before and he seemed to be taking care of her as much as she was taking care of him.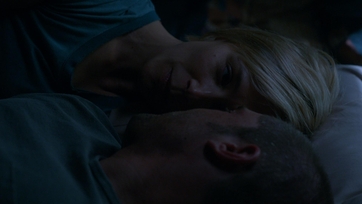 It was pretty obvious that they'd end up sleeping together after Frank sold her that dream of the life she could have if she ran away with him. I don't think he necessarily meant that she was to have that life with him, I think he meant in general.
Although, given their shared history and their respective damage, I think they could work together. Not as a couple per say, just as two people who care about each other and are trying to find some semblance of joy and contentedness.
Bonnie and Frank are two screwed up people who need love and understanding, patience and compassion and deserve to be happy.
It only occurred to me this week that perhaps Laurel wasn't pursuing Frank so aggressively because she's lovesick, but because she's known that she's pregnant this entire time.
I assumed that her pregnancy occurred during the events that we've been seeing this season, but there are three weeks left until the fire and we haven't seen her have sex with anyone. So I think it's reasonable to think that she started the season already pregnant.
But, Wes is about to break up with Meggie. She could sleep with him next week and two weeks is enough time for a pregnancy to be detectable.
We have more clues about who is under the sheet now; it's not Michaela and the person is male. That leaves Wes, Connor, Asher, Frank and Nate. At this point I can't see it being Connor, Asher or Nate. I don't think that thus far the narrative has given reason for it to be. So right now, in my mind, the only two candidates are Wes and Frank.
Random thoughts:
The school president is right; it's not cute anymore.
Damn Michaela!
Asher teasing Michaela is the cutest thing.
Nate was shirtless in this episode!
How to Get Away With Murder airs Thursdays at 10 PM on ABC.
Tell us how can we improve this post?