Kaetan desu! (*≧▽≦)
In our last episode thanks to Tsukishima's efforts , Karasuma managed to pull off Total Defense tactic against Shiratorizawa Academy. As a game resumed Saori noticesthat the tactic was done so that Ushijima would spike to NIshinoya. Yacchi describes it as mobbing where smaller birds will attack larger birds of prey in groups in order to drive them away, which impresses the alumni. Suga says that even if they aren't able to completely block the spikes, the Total Defense tactic will allow to fight against Ushijima.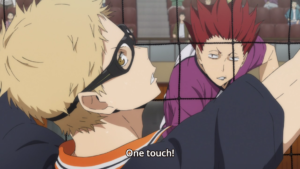 Azumame serves and in goes in, even though it is perceived as out by Ohira. The next serve is perceived properly and Shirabu sets up an attack with Ohira as opposed to Ushijima. Instead of going to spike, Ohira doe a feint that Daichi barely gets back over but it quickly dispersed by Tendo, giving Shiratorizawa the point. This now puts Ushijima at the back to serve. When he does so, Karasuno can't set up an attack because of the force of the serve so they pass it over. The Shiratorizawa team goes to set up an attack. Kageyama is so busy trying to figure out who will spike that he doesn't notice in time that Shirabu, their setter, is executing a dump. Tsukishima tries to create a one-touch situation but his timing is too late and the set point comes around in Shiratorizawa's favor. Ushijima serves and under a cover, Tanaka gets Karasuno a point which makes for a deuce. Ushijima is done serving and Hinata is once again rotated in. Before he serves, Tsukishima makes a proposition to Hinata that if Shiratorizawa receives the serve properly, they will attempt to do a quick so he should keep his eyes on their number 5 Tendo. Hinata executes this, and creates another one-touch situation. Tanaka and Hinata believe an attack will be set-up but Kageyama ignores them and does a return dump (stubborn guy), awarding Karasuno with a point.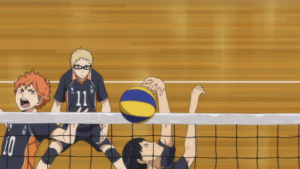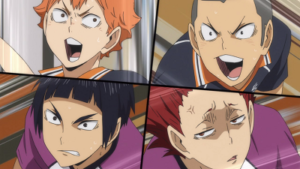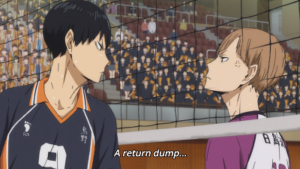 The score is now 25-24, with the set point advantage to Karasuno, but Ohira quickly scores, evening out the playing field once more. It is made obvious that there a lot more pressure to score twice as both sides get equal opportunities to score. Ukai says they need to use this time to scrape away at the strengths of the opposing team's sharpened defense staying calm and enhancing their persistence leading to a tremendous energy output to score two points. Another strong serve from Shiratorizawa and the ball goes long. Kageyama tries to push it over but Tendo keeps up the ball with his foot, creating a chance for Karasuno to score. Hinata runs up to the net and creates a distraction for Tendo and Shirabu, so that Kageyama can set to Tanaka with the minimum amount of blockers and score. (nice decoying Hinata) This actually makes the Shiratorizawa coach call for their first timeout.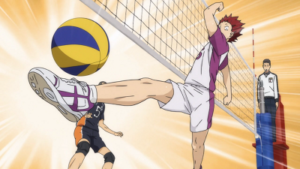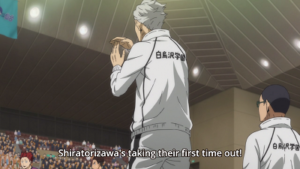 The score remains at deuce, with both sides refusing to give up. This time, Shiratorizawa brings in Eita Semi as a pinch server, but he proves he can also take on the role of a setter, and gets Goshiki to score. Semi serves again and the ball goes up short on Karasuno's side, but that is what Kaegayama was waiting for and he and Hinata successfully execute a quick. Tendo comes back in and several points are exchanged between both sides. As Tsukishima heads back in, he thinks up a plan for overcoming the opponent setter and bringing their arrogance down a notch by continuing to pile on pressure and stress, showing them that they will not get their way so easily as with previous opponents. He creates a one-touch situation and Hinata finally makes a move and scores, breaking Karasuno away from Shiratorizawa.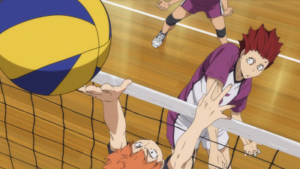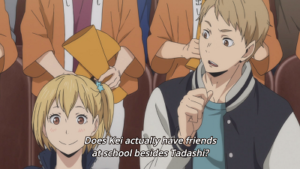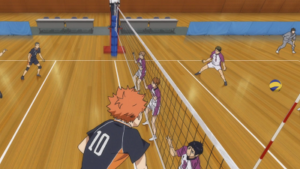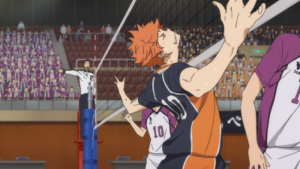 Hinata's coring of points seems to have irritated Ushiima and he tells Shirabu to gather all the sets towards him alone. Hinata serves again and although the ball seems off, Ushijima spikes it past all three blockers as if there was never a problem. This man is MAD. Goshiki serves at 29-29 each for Shiratorizawa and Karasuno pulls off a synchronized attack and gets the point. Daichi serves and Shiratorizawa tries to set up Ushijima's spike, but Tsukishima's timing guides the ball to Nishinoya, which upsets Shirabu.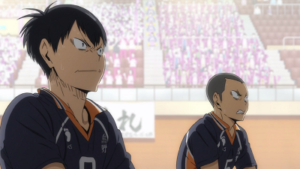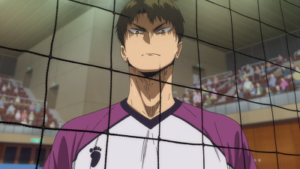 Karasuno returns it over. Shirabu, frustrated by all the other failed setups, sets up what he thinks will be a winning spike from Ushijima, but this is what Tsukishima was patiently awaiting amidst all the stress that he was piling on. He gets to where he knows Ushijima will aim and shocks everyone by completely blocking Ushijima's spike back onto his side………………………………………………………………………………………………………….AAAAAAAAAAAAAAAAAAAAAAAAAAAAAAAAHHHHHHHHHHHHHHHHHHHHHHHHHHHHHHHHH!!!!!!!!!!!!!!!!!!!!!!!!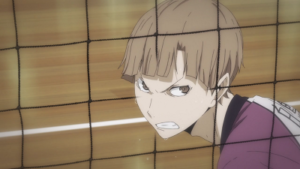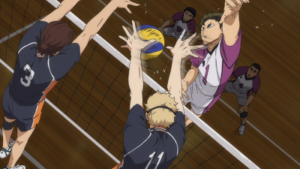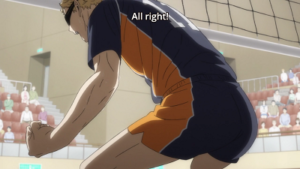 They won the set!!!!!!!!!!!!! Remembering the advice he received from the joint training camp, Tsukishima realizes that his moment has finally come around and he becomes enraptured by the sport. Sugawaru apologies to Yamaguchi for his earlier comment as he noticed that he was making a weird face then. Yamaguchi says that despite his looks, Tsukishima hates losing so he knew that he would do something. Hinata tries to congratulate Tsukishima but he tells them to not make a fuss as the game is only now beginning. See you next week!!!!!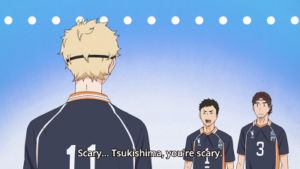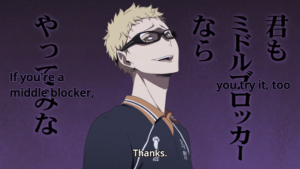 Season 3 of Haikyuu!! airs on Crunchyroll every Friday at 2:30PM (AST
)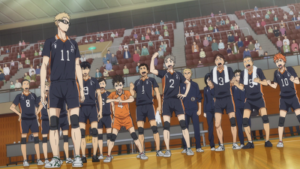 Tell us how can we improve this post?